Photon Imperial Crimson
Part of a sampler, later a bomber, $7, 8.9% ABV
Purchased at the brewery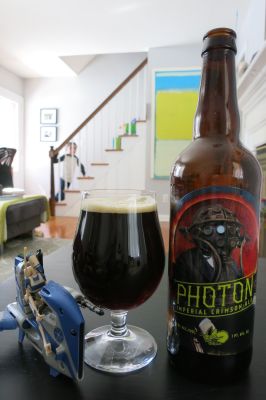 Here's the thing. A few things, actually. Great breweries are great not only because they produce great beer, but they consistently produce great beer. The NEBCO's and Trilliums and Farmsteads and Tree Houses of the (little part of my) world never* put out sub-par offerings.
*Except back when they did, ahem oldtimeSeaHagahemTreeHouseMerryMintStoutahem.
Now, comparing Firefly to those giants of New England isn't fair to Firefly. Firefly fills its niche wonderfully and I love them for it. And they put out some really good beers. But some of their beers, like this Imperial Crimson (whatever that is), have not been consistent. When I originally had this, in the autumn of 2014, it was pretty terrible. I graded it a D and noted, "a mess. No idea what's going on here. Muddled and off."
Fast forward to the early spring of 2015, Firefly bottles the stuff and voila! It's good! Still a bit confused, but it's still good. Way better than the 'D' effort I had had 7 months prior.
So what does this mean? It means that a) beer reviews from nascent breweries are probably unfair, b) randomly hitting a brewery once or twice and deciding whether they are "good" or 'bad" is probably unfair, c) some brewers and breweries can and do improve recipes for a multitude of reasons. Let's break these down.
A) I've thought a lot about this and decided that I don't really care. If you open a business and sell products to people, those products should not only be good, but they should reflect your skills as a producer of products. If you open a brewery and your beer sucks off the bat, you weren't ready to open a brewery and sell beer. Now, I am always careful to note that the brewery is new and let's give them some time and all that caveat crap, but still… don't sell me crap on day one, day 100, or day 1,000.
B) I'm a gainfully employed married father of two. I have a house and a duty to my family to, you know, be a husband and a father. I'm also not an alcoholic and haven't even been drunk in years. There are 25 breweries in Connecticut now and special releases every week. This website isn't my job. Don't be ridiculous.
C) Totally! But here's a funny thing – good brewers improve upon recipes. Crap brewers usually don't. Weird, I know. Dana Bourque at Firefly is a good brewer. Remember the first go at the Cone Flakes DIPA? That beer was iNsAnE! Dana toned it down and now Cone Flakes is developing a nice fanbase for Firefly. Shebeen has messed with their cucumber-wasabi nightmare a bunch of times and it still sucks. See the difference?
Firefly Says:
A deep, rich, and warming winter ale. Flavors of caramel and roast compliment a foundation of bready Munich and Pale malts. A touch of palisade hops provides a balancing bitterness and a flavor reminiscent or dried orange peel.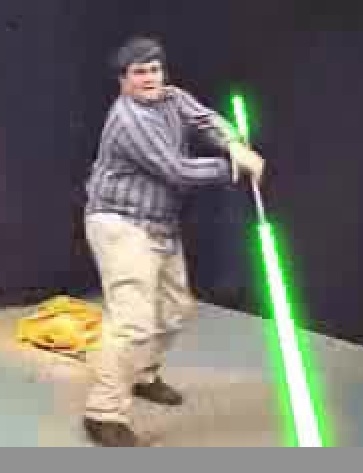 Yeah, like I said, there's a lot going on here. And perhaps that's why it was initially somewhat difficult to deal with. And lucky for Firefly, I sat on the review for months, happened to find myself with the brewery-only released bomber of the same beer (in name only), and now I am happy to write a generally positive review.
The dominant flavors here are the malts and caramel. The hops are definitely present, and not just as a counterbalance to the malts. I got not "touch of orange peel", but that's fine. I've come to expect Firefly to over-describe some of their efforts. And really, if an amber ale is sort of a transitional species between browns and Pales, and crimson ales are the same as ambers, the Photon fits in nicely. Amp up the ABV and call it an imperial and here we are. A decent beer with really cool label art.
Oh yeah – the Battle Droid chilling out next to the glass in the first picture? He's lame; a first generation battle droid. One with no armor against lightsabers and almost no intelligence. But they were cheap and easily produced I suppose. Later, when Lord Vader had greater means, he was able to commission a slightly more intelligent droid fighting force.
Now that's what I call a parallel, man.
(Not really.)
Overall Rating: D… then B
Rating vs. Similar style: n/a
Firefly Hollow Brewing Company
Back to CTMQ's Reviews of Firefly beers
Back to CTMQ¹s Connecticut Beer Page
Back to CT Breweries page