Black Hog's Piglet DIPA
Black Hog Brewing
As the Connecticut brewing scene continues to get ever more crowded, my work here on these pages is getting more and more confusing (and redundant, but that's a whole other issue). After all, it's pretty easy to mix up things like our Black Pond Brewing with Black Hog Brewing… which may get mixed up with the forthcoming Hog River Brewing that may call to mind Tidal River Brewing.
Then we have beer names, something proving to be a finite thing, apparently. Heck, I just had Pigtail Porter at Veracious, which shouldn't be confused with Black Hog's line of "pig" beers. On this page, I'll discuss the Piglet DIPA and the Hog Water IPA, but Black Hog also has their Disco Pig series, the Iron Hog IPA, and a new series called Bush Pig which I guess will be kettle sours.
It's endless. (And this was written in early 2016… when this page used to combine two Black Hog pig beers but now only has one, but who cares.)
Black Hog Brewing Piglet DIPA
1 pint, $?, 8.8% ABV
Purchased at Camille's Pizza, Tolland
August 2015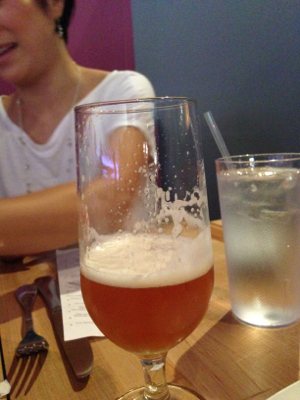 Let's talk about the good stuff first: Camille's Pizza is awesome. The owners are fantastic people who happen to be very kind and charitable. They also make great pizza and I'm telling you, their Toscano Salad is perhaps the best salad… ever.
It's so freaking good: mixed greens, fresh mozzarella, olives, tomato, roasted peppers, artichoke, warm polenta croutons, homemade balsamic dressing… those polenta croutons are works of genius and I can't believe they haven't taken over the salad world.
Camille's also always has an excellent tap list as well. When listing "the best restaurants with the best tap lists," you must include this place or your list is useless.
I can be certain that there were better choices on offer when I ordered this Black Hog Piglet DIPA, but I am who I am* and I do what I do.
*An idiot.
(That whole intro is "funnier" when the Hog Water review was included on this page.)
Black Hog says:
Black Hog Brewing Co. presents Piglet, our big tropical fruit and citrus hop-forward Double IPA.

A hop-lover's dream with Columbus, Simcoe, and Amarillo, along with over 2 lbs of Azaca dry-hopped in every barrel! Born in the Pacific Northwest, Azacca is named for the Haitian God of Agriculture – and it's soon to become the next great American hop.

Oink and Enjoy!
Sounds good on paper. (Have I mentioned how good Camille's Pizza pizzas are? They're really, really good. So good, in fact, that I could quickly forget this mess of a beer. Let's turn to some guy on Beer Advocate for his thoughts:
"the taste is dank hops but with more citrus than the aroma indicated. Floral notes as well. Dank, resinous finish. Hints of garlic and onion, maybe. Oily mouthfeel. Mild alcohol burn. Overall, solid Imperial IPA.
Hm. I don't know about you, but that doesn't sound remotely like a "solid Imperial IPA" to me at all. It sounds like a brewery who doesn't know how best to handle all those hops. The oiliness, the vegetal notes, the poor disguising of the nearly 9% worth of ethanol in the brew…
With five hundred better DIPA's out there, this one is entirely forgettable. It almost completely lacked aroma and had a very odd flavor – probably from the overabundance of hop oils that nearly floated on this beer. It was more bitter than they wanted it to be as well.
Like some other Black Hog IPA/DIPA's, this beer is probably better now than it originally was. You can find out for yourself I guess.
Overall Rating: C-
Rating vs. Similar style: D
Black Hog Brewing Company
CTMQ's Reviews of Black Hog beers
CTMQ's Connecticut Beer Page
CTMQ's CT Breweries page