Pineapple Gose
32 oz Growlette, $8?, 5.5% ABV
Purchased at the brewery, Plainville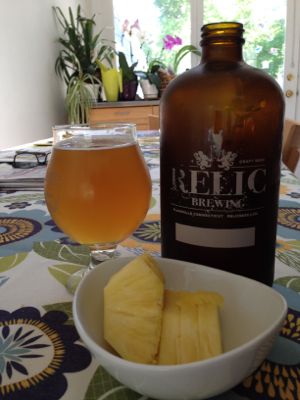 Let's be honest here. When you first heard that Relic had put out a gose, you probably raised your eyebrows… Right?
I did. And while the brewery has begun to slowly move away from that "Relic taste" with its foray into the world of (non-Belgian) IPA's, one never knows… And a gose with that yeasty "Relic taste" would not be to my taste's liking.
I'll kill the suspense: This beer had none of that "Relic taste." (And if it did, it was masked/dominated by the pineapple anyway.)
And I liked it.
Because Relic is so boutique/nano/small-batch or whatever the proper term is now, we all know that the in-house batches of new beers may be slightly different each time. Relic has that "luxury" to tweak and improve upon the beers as he goes along. I have no idea which "batch" of the gose I had, but I did hear from several people that there were fairly noticeable differences.
Relic says:
balanced gose with pineapple
Well. Okay.
Ironically, if a "balanced gose" is a nice mix of tartness, saltiness, and some vegetal/fruitiness, I feel that Relic missed the mark here a bit, as the pineapple dominated the beer.
Not to the point of calling it a "pineapple beer," but it was a bit much – and lacking in that salty counterpoint I look for in these things. And while it also wasn't as "bright" and crisp as I'd like, it did have a bit of the tartness, so while it was an enjoyable effort, I can't really say it was a "classic gose."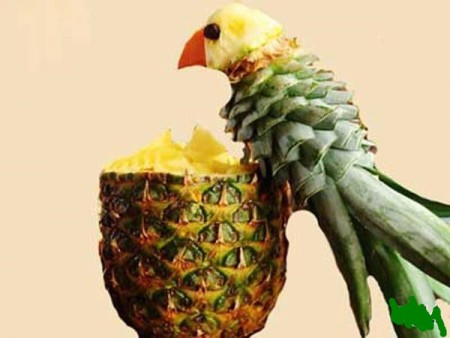 You know who loves "classic goses?" My wife. I mention this because many people – including many "craft beer people," rather hate them. So I was thinking about it the other day (after, sigh, another $100 visit to OEC with her) and it's actually quite simple to understand.
Hoang is Vietnamese. Vietnamese cuisine is one of the best in the world – and it's also fairly unique. Everything is fresh and vibrant. Herbs are not accents, they are eaten, whole, with the dish. And if you want to explore new combinations of sweet, salty, sour, spicy, Vietnamese cuisine is your best bet.
(Read Graham Holliday's Eating Viet Nam. It's great.)
The best way to eat pineapple, to her, is to get your slices ready in a bowl. Put together a little side dish with salt on one side and crushed red pepper (in lieu of actual pieces of a hot pepper) on the other. Pick up pineapple chunk with chopsticks, dip in salt, dip in hot pepper, enjoy.
As you can imagine, this is an explosion of sweet, salt, fire. (The snack described above is rookie material, I know.) Vietnamese food is amazing – nothing is simple about it… except it's all so simple.
And great goses are amazing too – the perfect balance of salt and tart and maybe some sweet. And while they are also very much a matter of taste, nailing that combination in a beer is not easy.
For me, Relic just missed on this one; too much sweet, too little salt/tart. But it was still a good effort and I'm happy to see Relic moving forward with some of these different types of non-farmhouse beers.
Overall Rating: B-
Rating vs. Similar style: C+
Relic Brewing
Back to CTMQ's Reviews of Relic Beers
Back to CTMQ's Connecticut Beer Page
Back to CT Breweries page