Powder Hollow Brewery
Enfield
Note: This is now an archived page. At some point, perhaps even before you read this, all of my CT Beer Review pages will suffer this same, sad fate. After much reflection in late 2017, I decided that my beer reviews would come to an end. For more on that decision, go here.
A visit to Powder Hollow Brewery is here.
The Beers:
1929 Prohibition Porter, B
Extra Super Bangin, F
Holiday Spiced Ale, F
Hey Joon, C+
Hop Hazard DIPA, B-
Jungle Juice APA, F
Lift Your Kilt, C+
Mellow Mayhem RIS, B-
Strawberry Fields, F
West Coast IPA, B
…………………………………………………………..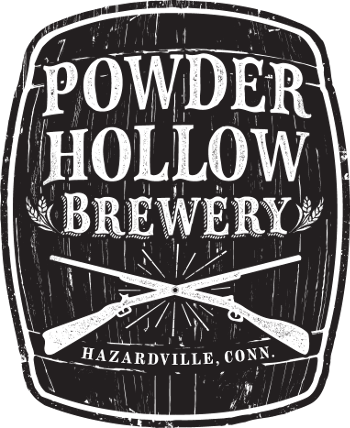 It's amazing to me how many different models of breweries there are in Connecticut. Back in the day, we had brewpubs and we had a handful of little breweries. Some laws were changed by our governor who seems obsessed with changing liquor laws and from those changes came all sorts of brewery models.
One of the more intriguing varieties is the "Neighborhood sit-down taproom brewery." Firefly was probably the first, but within a couple years we got Broad Brook, Two Roads, and many others that are just as much "bar" as they are brewery. (And many other breweries have been changing over to the different license lately in order to serve pints.)
Powder Hollow is a true, born and raised, neighborhood brewery-bar. Some guys found a building on busy route 190 in Enfield and made it an inviting, homey, brewery-bar. On my first visit, I was very impressed with the work that was put into the place's physical appeal. The fact that I wasn't impressed with the beer wasn't really the point. I visited during their first few weeks, and I decided that it's wholly unfair to judge a brewery on its first efforts out of the gate.
I can judge them for opening up with like 9 beers on tap and for constantly having a TON of beers flowing. It's enough to make a jerk like me wonder how the heck they are producing so many different styles so soon. But whatever, if the beer's good, it's good.
We shall see.
My visit to the brewery
Powder Hollow Brewery
CTMQ's page on CT Breweries and Brewpubs
CTMQ Drinks a lot of CT Beer