Broad Brook Brewing's Promiscuous IPA
One Pint, $7, 6.5% ABV
Purchased at Bobby V's, Windsor Locks
October 2017
Man, remember 2001 Nelly Furtado? She of "I'm Like a Bird" fame? Cute, poppy, safe, and sanitized?
Man, remember 2015 beer? That of the "IBU's and bitterness or bust" fame? Cute, hoppy, safe, and filtered?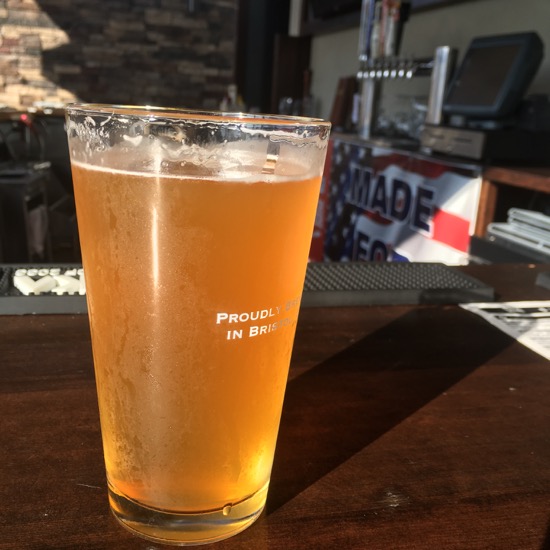 Well, market forces being what they are, Nelly Furtado hooked up with Timbaland and got all sexy on us – and scored a hit with her "Promiscuous."
Those same market forces have pushed some of our more "classical" brewers like Broad Brook into brewing up some nu-style IPA's recently with names like Euphoria, Lucid Dreams, and Promiscuous – as well as a reformulated Jigawatts.
It should be noted, however, that Broad Brook is still pumping out their more traditional beers as well and certainly haven't given up on their usual line up. (Please don't.)
Regardless of where your personal tastes lie, here we are. Broad Brook Brewing, who is close to leaving Broad Brook for Suffield, are in the fruity IPA game. They aren't yet calling them "New England IPA's" as far as I know. (Even if they've contracted Dean McKeever of Tree House fame to do some can art for them.)
But they do call them all "unfiltered IPA's." It's almost like they are part of the nascent backlash movement against all things "NEIPA." I'll keep my eye on this very important delineation.
Broad Brook says:
This Unfiltered IPA is a flavor beast with considerable amounts of Amarillo, Mandarina Bavaria and Gorst Valley Skyrocket hops that explode with tropical fruit lusciousness. A blend of malts fortifies a sturdy body followed by a burst of intense hoppy aromas with a bit of earthy dankness. Fermenting with English ale yeast helps enrich the hoppy profile along with multiple dry hopping additions producing an incredible balance between tropical flavors and hop bitterness.
And here's the thing – the Promiscuous IPA is decidedly not a "NEIPA." Sure, it's an IPA. And It's "tropical." And it's unfiltered.
But it's not sludgy. Or opaque. Or green. Or sweet.
And I dig that. Promiscuous isn't "soft," as it had a much tighter carbonation profile than the darling beers of the moment. But more importantly, it had a wonderful, palate-slapping bitterness to it!
Hooray! The fruitiness of this beer is more "pithy" or "rindy" if that was a word. It's like an alternate universe New England IPA where the aroma is all tropical fruit, but the taste retains what an IPA always was for decades.
I found it to be a little bit too "pithy" though. I like what they're doing here, but I feel they went a smidge too far with the citrus bitterness thing though. That's what it tasted like; pith bitterness more than hoppy bitterness.
But still, I liked it.
And I still like Nelly Furtado, even if her makeover was shameless and even a bit corny.
Overall Rating: B+
Rating vs. Similar style: B+
Broad Brook Brewing Company
CTMQ's Reviews of Broad Brook beers
CTMQ's Connecticut Beer Page
CTMQ's Breweries page