Queen Anne's Revenge Porter
1 22 oz bottle, $8.99, 7.75% ABV
Purchased at Liquor Depot, New Britain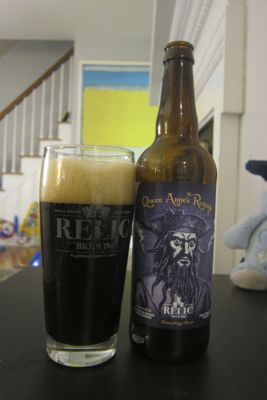 This is the extremely rare Relic bomber that has been repeatedly brewed and released over the years of Relic's existence. I've lost count of how many bottles tireless brewer/owner Mark has released, but there have been a lot. And of those, only a few select ones are redone and re-released.
(I'm not talking about the 4-packs Relic does up at Hooker, I'm talking about the 22 oz bottles.)
And, for what it's worth, Queen Anne's is certainly a good pick to keep doing. Of course, since this is Relic we're talking about, each batch is probably a little bit different. Hoppier one time, perhaps some more chocolate malts another. It's the Relic way.
Some people love that about the tiny Plainville brewery, some people yearn for a more consistent product. And I think Mark is striving for the latter now, as he has become firmly entrenched in the CT brewing scene. It's crazy to think that Relic is now one of the "older" breweries, isn't it?
I mean, if you say NEBCO, Hooker, Olde Burnside, and Cottrell are the old school ones, who's the next oldest? I'll give you one guess.
It's Relic.
Crazy, right? Right. And this porter was one of Relic's earliest releases if I recall correctly. Back then, Relic had wackier descriptions on the labels:
Relic says:
A juxtaposition of the senses; this ye brew has the appearance of a porter, but with extra-hoppy characteristics. Yer Queen Anne's Revenge was the flagship of the notorious pirate Blackbeard.
Whoa. Pirate Talk and everything. This beer's earlier releases were also back when Relic wasn't too big on the whole hops thing. So I find it mildly interesting that the label claims "extra-hoppy characteristics." And with the word "flagship" in there, was there a plan at one point to make this beer a Relic flagship? Hmmmm.
When Mark added the beer to Untappd, he described it thusly:
Roasty Strong 1800 Porter with lots of brown malt and British chocolate, high load of Columbus hops. Some people pour it directly on pancakes.
I don't know what an 1800 porter is, and I surely don't know anyone who puts beer on pancakes. Drunk Mark wrote that one. Let's move on.
Another beautiful label from Relic, but certainly not exactly original. Someone at some point pointed out that other beer labels "feature that same picture!" as if that picture of Blackbeard isn't universal at this point.
What I find more interesting, and this is simply bound to happen these days, is that there seem to be a dozen other beers named "Queen Anne's Revenge."
From Mystery Brewing in NC, "This beer was designed to be a darker version of an English-style IPA, to show off the soft bitterness of traditional English hops but to balance them with the rich chocolate of roasted malt." Weeeeiiirrrd.
Back Bay Brewing's version is an imperial Stout. Assawoman Bay Brewing's is a pilsner. On and on it goes.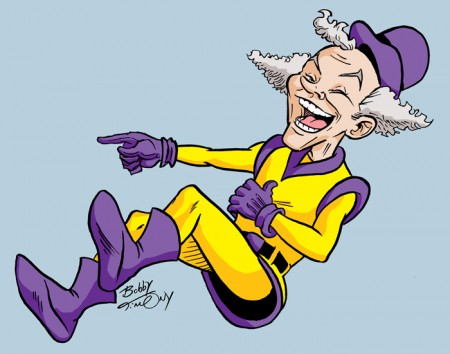 The point here is NOT that Relic somehow "stole" anything. (Or that anyone "stole" anything from Relic, which would be an easier case to make based on untappd add dates.) No, the point is that there are so many beers being produced these days, that we've literally run out of English language words to name them.
For real. Peak Lexicon.
If I had a brewery, I'd just make up words to name my beers. Pure gibberish. Total Mr. Mxyzptlk move.
Of course, I'm here solely to talk about Relic's Queen Anne's Revenge. It is good. I've returned to it a few times of the years and it's always been a good porter. It perhaps a bit more zing than a sweeter, smoother porter, but I have always kind of liked that.
A consistent winner from Relic.
Overall Rating: A-
Rating vs. Similar style: A-
Relic Brewing
Back to CTMQ's Reviews of Relic Beers
Back to CTMQ's Connecticut Beer Page
Back to CT Breweries page