Overshores QWAD
1 bottle, $? 11.1% ABV
Purchased at I forget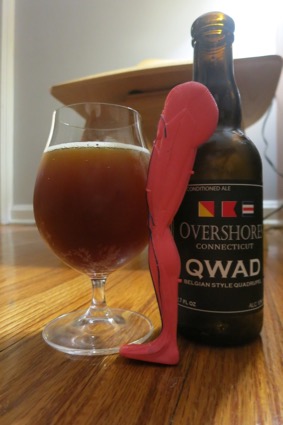 Connecticut's Overshores Brewery, once one of two all-Belgian inspired breweries (with the Relic of yore), then the only one, now one of two again (hello, Brewery Legitimus), has banged out some great beers over the last couple of years. They've progressed through their Simpel, to their tripel, and now on to a quad. It's only natural.
Quads are strong beers. Quads are strong all-terrain vehicles. Quads are colloquially college dorm set-ups. I don't know why Overshores branded this beer as QWAD, but who cares. Let's talk about the other quad in this picture: Quads are also strong mammalian leg muscles.
It looks delicious, doesn't it? That marbling… that bloody musculature. Mm-mm. Overshores is fond of suggesting food pairings on their beer labels. For QWAD, they suggest "goat cheese, dates, almonds, and bacon." Okay. I suggest human meat as well. Humeat. Soylent Green. Delicious.
For those of you too young, or too out of touch with one of the more notorious pop culture references of the last 50 years, Soylent Green was a 1973 Charlton Heston movie. It was far more prescient than people give it credit for – mostly because the movie kind of sucked. In it, greenhouse gases and overpopulation have brought the world to the brink. Food is scarce. Well, food as we knew it is scarce. As there is plenty of soylent green.
Because, as Heston intones, "Soylent Green is people!"
And yes, one assumes people ate people with beer in the movie. So why not some QWAD with your neighbor's quad?
What would that quad taste like? Jeffrey Dahmer is dead, so we can't ask him. But believe it or not, some British nutter did his best to mimic a quad burger. And his name? Greg Foot.
Never again wonder why you read my beer reviews.
Greg Foot removed a piece of his thigh, cooked it, smelt it and then made a burger close to what his actual flesh would taste like — but without actually eating it.

"Even if it was legal, I wouldn't want to sacrifice a whole arm to make a real burger," he says.

Foot joined a scientist to smell the aromas of his cooked thigh meat.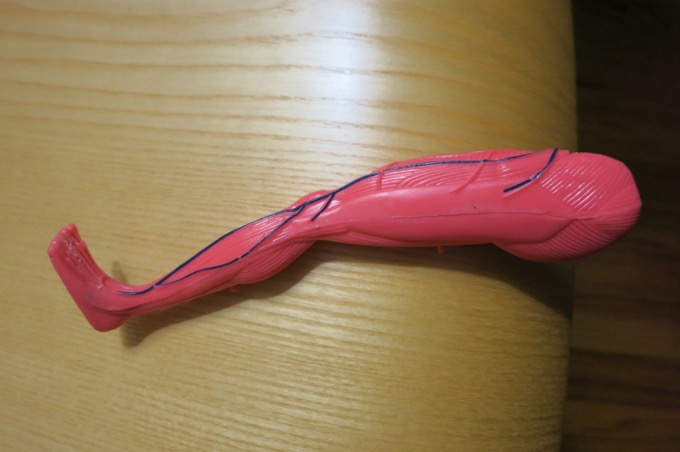 You could say that Foot only dipped his toe into cannibalism. If we held his feet to the fire, um, he'd probably eat them. Anyway…
"We're actually a lot more like the animals we eat than we think," Foot explained.
Well, yeah, dude. We're mammals. Pigs and cows and lambs and goats are mammals as well. We eat their muscles. Why would our quads be much different? (According to this article, Mr. Foot could have legally eaten his own meat in the US. Apparently, we have no laws against cannibalism, per se. But of course obtaining human meat would most certainly require something illegal, unless you rip out a piece of your own leg muscle. Next time, Mr. Foot, next time.)
But I'm still interested in what I would taste like for real. Some great stuff in this article from The Guardian, of all places.
Of course, there is one form of human meat that's considered just about acceptable to eat. Many people choose to eat the placenta after childbirth, a practice known as "placentophagy". To prepare it, you need to remove the umbilical cord and membrane, and then treat it in a similar fashion to liver, which according to Hugh Fearnley-Whittingstall is roughly what the result tastes like. You can chop it up and fry it, or mince it to make quite a rich Bolognese. That's all very lovely, but like the liver the placenta probably isn't that representative of the general taste of human flesh.
Yes, there are way, way, way too many videos on YouTube of people eating their own/their partner's placenta.
But let's move to the good stuff. No, no, Overshores, hold on. Not talking about your beer just yet. We're talking about honest to goodness real cannibalism. Turns out, some cannibals have talked.
German Armin Meiwes filmed himself killing, disembowelling and cutting up the corpse of computer engineer Bernd Brandes, 42, whom he had met after posting messages in Internet chatrooms seeking "men for slaughter."
"I sauteed the steak of Bernd, with salt, pepper, garlic and nutmeg. I had it with Princess croquettes, Brussels sprouts and a green pepper sauce," said Meiwes. He said the meat was a little tough.
"The flesh tastes like pork, a little bit more bitter, stronger. It tastes quite good," he said.
The Guardian article also mentions William Buehler Seabrook, "a journalist with the New York Times who traveled extensively in West Africa nearly a century ago. Fascinated with the concept of cannibalism, he persuaded a medical intern at the Sorbonne to give him a chunk of human meat from the body of a healthy man killed in an accident, which he cooked and ate, describing is as follows":
"It was like good, fully developed veal, not young, but not yet beef. It was very definitely like that, and it was not like any other meat I had ever tasted. It was so nearly like good, fully developed veal that I think no person with a palate of ordinary, normal sensitiveness could distinguish it from veal. It was mild, good meat with no other sharply defined or highly characteristic taste such as for instance, goat, high game, and pork have."
More? You want more? Okay, apparently cannibalism is a thing in Germany and Poland, as there were several cases back in the day of serial killers pickling and cooking up their victims. The best part? They sold the human meat as "pork" and "hot dogs." Seriously.
Go read about Karl Denke and Fritz Haarmann and Karl Grossman.
Yeah. "Grossman."
Ok, ok. I hear you. Enough about delicious quads and more about the delicious QWAD. This is a big beer, as you'd guess. It being a quadrupel and all. The aroma is sweet and there are some saisony notes somehow, but once in the glass, it's all quad.
It drinks pretty sweet too, but well within the style. Overshores used something called jaggery instead of the usual candi sugars to handle the fermentation. I have no idea why, but this may have given the QWAD a slightly different, more vegetal flavor than a typical quad.
But I rather enjoyed the QWAD. It was smooth and balanced and not too hot at all for such a high ABV. The sweetness wasn't over the line for me and "Belgian" attributes were all present.
Well done, Overshores. Now who's hungry?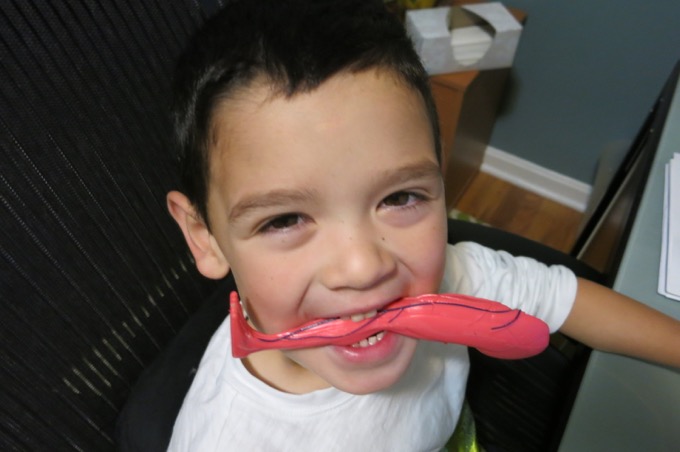 Overall Rating: A-
Rating vs. Similar style: A-
Overshores Brewing Company
Back to CTMQ's Reviews of Overshores beers
Back to CTMQ's Connecticut Beer Page
Back to CT Breweries page