Rakautra IWA
Six-pack, $11?, 7% ABV
Purchased at the brewery, Bloomfield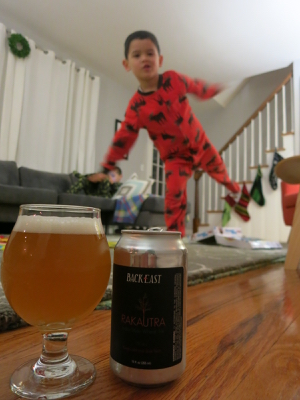 I have so much to say about Back East. With my new commitment to reviewing one beer per brewery at a time, alphabetically by brewery name, I found myself sitting here staring at the line-up of Back East brews in my "To Review Queue."
In addition to the Rakautra, there's the BOMO Pilsner, the 2016 Spring Ale, Wakatu, Tony Goes Dancing, the two Berliners… all new (late 2015/early 2016) beers, all somewhere on the scale of excellent to great. Back East has had homeruns before this recent spate of grand slams, but it's a new era for the Bloomfield brewery.
Some releases have resulted in lines out the door. What the hell is going on?
(By the way, "what the hell is going on" in this picture is I thought "Rakautra" sounded vaguely like a yoga pose, so I told my son to do one. That was going to be my theme for this page. But then I wrote this page and forgot all about that. Good job, Calvin.)
A few things. Most importantly, Back East's previous head brewer, a good dude named Mike Smith, moved on to pursue other things (notably "The Comic Book Story of Beer") which meant that a new head brewer had to be hired.
Enter: Stephen Andrews. More on him in a bit. Stay out in the waiting room for a minute buddy.
Back East had a lot of good things going for them by Christmas of 2015: they already had their own canning line, which is quite a nice thing to have. They had one of the better distribution footprints, at least as far as I care about. They expanded their taproom which now includes a comfortable little living room set up. They had secured a goodly amount of tap lines and relationships with bars and restaurants since their inception.
(Hint to sales guys struggling to get tap lines: It pays to be nice. Trust me.)
But Back East also seems to have adapted their whole model to the 2016 way of life. They did seasonals and smaller releases before, but someone – whether it was Tony or Ed or Stephen or… who cares, really – someone said, "Let's do a few smaller batches of some slightly more niche styles, and only release them in cans at the brewery and maybe to a few of our better bar/restaurant accounts."
And here we are.
Okay new head brewer Stephen Andrews, you can come in now. Hello. Welcome to CTMQ, where I write crap about you, your beer, and put words in your mouth and thoughts in your head. Hell, I might even conduct a fake interview with you completely without your knowledge to end this Rakautra review. You'll love it. Just ask anyone* in your line of business in Connecticut.
*This is a lie. A really ridiculous, totally Rich lie.
See, I have no idea if the Rakautra was Stephen's beer. I'm just going with the notion that it is. Of all the beers I mentioned at the top, this is the one that told me that not only were you here, you were here to show the Connecticut beer world what the eff was up.
Back East says:
Rakautra is an India Wheat Ale brewed with Rakau hops from New Zealand and Citra hops from the Pacific Northwest. Hazy, soft, and delicate on the palate, this beer is packed with passion fruit and peach aromas and juicy hop flavors.
You know what I love most about this? I love that they call it an "India Wheat Ale." Because, WTF is an "India Wheat Ale?" To me, it's a brewery with a new brewer and a slightly new direction saying, "You know what? You're all swimming in a circle jerk of —" errr, no. That's a horrific image. I mean, really. Taken literally, that's just awful. Sorry.
Where was I? Oh yeah, the IWA. I love that because, to me, it's sort of a thumb in the eye of a world swimming in IPA's. Of course Back East has a line-up of IPA's and DIPA's, and of course if you drank the Rakautra you'd call it an IPA. But screw you, because it's an IWA.
A really really delicious IWA. This beer announced to the (tiny, insular, trend-driven) Connecticut beer scene that Back East was ready to roll with the big boys.
The aroma on a fresh pour of Rakautra is wonderful. Transporting. One of the best smelling beers I've ever had. And fortunately, the combination of the Rakau and Citra hops in the wheat ale follow through on taste. I love this beer. I love it so much. Someday I'll even figure out how to pronounce its name correctly.
And fortunately, it seems like the "I only drink [insert Whales Here] crowd started to catch on through early 2016. I mean, I was first back on December 18, 2015. Okay, I wasn't technically the FIRST first, but the very first tweet about it was from a dude who apparently works/worked/volunteers for Back East, do he doesn't count.)
And then, yeah, those other new Back East beers started catching a little fire too. And rightfully so.
Oh, snap. New Head Brewer Stephen Andrews? You've been standing here the whole time? This is awkward. Um, loved this beer, dude. I suppose I owe you a proper introduction.
Tell us your story then. Make it good, as tens of thousands of people are reading this. Impress us. How did you get into this stuff?
"The brewing bug hit me early on when I was 19. Most of my friends were attending culinary school (and would eventually become chefs in NYC) and I was always jealous of their creative career path."
Wait a minute, when you were 19? How did you know you were making good beer if you couldn't even taste it? Weird. Anyway, so you were jelly of your chef friends. Did you brew in your garage like most everyone else? There's no other way, right?
"I made the leap and attended brewing school at Siebel Institute of Technology in Chicago and Doemens Academie in Munich. After several months of travel in Europe I returned to the US and attained a Certificate in Brewing from the Institute of Brewing and Distilling based in London."
Oh. When I said "impress us," I didn't really expect you to "blow us away." Dang. So that's cool though, at least you were able to then jump into an awesome top tier brewing position right away.
"With these in hand I was finally able to get my foot in the door at a small brewery in Connecticut cleaning tanks."
Damn. That's rough. And you can say "Hooker Brewing" here you know. And in Connecticut, Hooker isn't small. Was there a point when you were cleaning a tank that had the Hooker Watermelon Ale in it for the 19th time (because it takes 22 scrubs to remove the watermelon residue) when you screamed, "Siebel and Doemens HAD NO COURSE ON FARKING WATERMELONS?!" You don't have to answer that. Go on.
"After several years I climbed the ranks and eventually became head brewer. Seeking more knowledge, I then took a position at Brooklyn Brewery in New York."
Rad. Hooker is a freaking incubator for brewers at other Connecticut breweries, which is great. Anyway, Brooklyn huh? They do some good stuff with barrel aging and stuff. Were you able to play around with that at all?
"This was my introduction to wood aging beer and I was immediately hooked."
I see. Hey, have you read Adam Rogers' book Proof? It's really good and has a lot of o-chem stuff for the layman regarding barrel aging and such and –
"I was on a quick work trip to the Nya Carnegie brewery in Stockholm when I fell in love with Scandinavia."
Way to cut me off, dude. Scandinavia, huh? I'd like to retire there myself. Have you ever heard of the Nogne O Bryggeri in Norway? I think it's in Grimstad.
"Around the same time, Nøgne Ø was looking to take their barrel aging program to the next level. I am excited to say that it became a perfect fit and I could not be more proud to be working with some of the most talented brewers and passionate colleagues I have ever had the chance of knowing. I look forward to pushing the boundaries of what we know barrel aged beer to be and to be constantly innovating."
Really? So you got a job leading the barrel program at Nogne O Bryggeri? That's pretty incredible. Quite a step up from cleaning watermelon tanks in Bloomfield, CT. But as we know, the call of the Fields of Bloom is impossible to ignore. You came back here to work; now at Back East. And we drinkers are very lucky for that.
"I still lead the barrel program in Norway and fly back over there a few times every year to check in on things."
Wow, that's impressive. And really cool. Next time you go, can you hook me up with all sorts of Nøgne Ø barrel hvaler? See, I am so into whales, bro, that I know how to say "whales" in Norwegian.
"I've got actual work to do. Are we done here?"
Yes. Thank you. But about those hvaler…
Overall Rating: A+
Rating vs. Similar style: A+
Back East Brewing
Back to CTMQ's Reviews of Back East's beers
Back to CTMQ's Connecticut Beer Page
Back to CT Breweries page