Red Zone Douple Red Ale
22 oz bottle, $10, 10.5% ABV
Purchased at the brewery, Manchester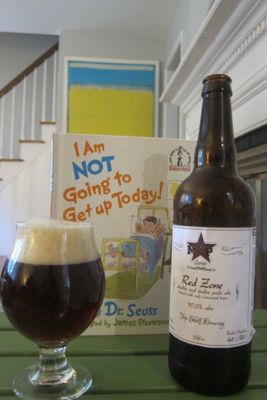 A few of you may know that I had some serious difficulties with Top Shelf's first several offerings during their inaugural year in Manchester. (TL/DR: Their beer was pretty terrible.)
But I'm a forgiving man (I'm a parent of a very difficult special needs kid… I have to be) and someone I trusted urged me to give them another shot. This was way back in the autumn of 2014 when I had not yet totally given up on chasing Connecticut beers I don't care to chase.
So I found myself detouring to Top Shelf on my way to a UConn tailgate. This detour was not without some irony, as I was going to my friend Jay's tailgate which consisted of nothing but New England Sea Hag. And Lasting Brass's Sour Batch #2. And the Lawson/Otter Creek Double Dose. So yeah, three of the best beers in the world were in front of me and I had made the effort to grab a Top Shelf bomber of something called a "double red ale."
I ran in and bought a bottle and ran out. I had good beer and good friends to get to.
Oh, but I must mention that I got bottle #60 of 120. I often poke fun at people who give a crap about what number is on their bottles. I love how NEBCO will sell you a #313 and a #3 to the next guy in line. Because the numbers mean nothing.
But Top Shelf still plays the numbers game. But I note my numbered bottle because I picked it up like 2 weeks or so after the release of these 120 rarezwhalez.
Bro.
This was the first (I think?) of a new "series" of "premium" offerings. (Read: $10/bottle beers.)
Top Shelf says:
Our MVP series showcases the most valuable offerings our brewery produces. These beers will be high gravity, full of flavor and of course top shelf quality. One can expect these offerings many times throughout the year and they will be sure to be a one of a kind experience.
Okay. I won't make a comment about "top shelf quality," because, like I said, I'm a forgiving man.
Red Zone is a red double IPA that has been brewed only with centennial hops. This beer bosts (sic) floral and citrus notes throughout. A hope forward IPA with a malt backbone, it packs a punch for sure. Sit down with a good friend and enjoy.
Hm. This has to be decent, right?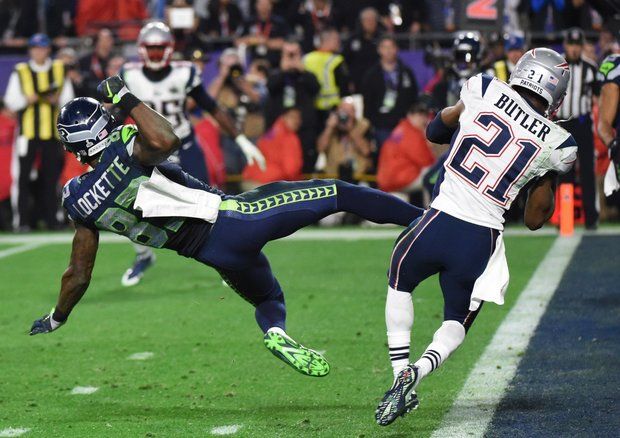 And it did have decent qualities – the 10.5% was well hidden. It was somewhat unique; not a DIPA or a black IPA, but a sort of red DIPA I guess. The intent was noble. And the execution was better than I expected.
However, this beer was not without its flaws. It was tinny and so dry as to be a detriment. The slight bitterness was fine, but it also had a weird resinous linger on the tongue. I don't like that.
In football, the red zone is the area near the offensive end zone – 20 yards and in. I liken this beer to the Seattle Seahawks' final red zone performance in the 2015 Super Bowl. They executed well and got lucky near the end zone. All the elements were there for a score, but they screwed up.
Oh. So. Close.
And maybe for Top Shelf, that's a good thing. Perhaps they've turned the corner from terrible beers in 2013 and early 2014 and things will only continue to improve in 2015 and beyond. If that's the case, I'll be making more visits to Manchester… the problem is, in today's Connecticut beer landscape, second chances are hard to come by.
Fourth chances are pretty much impossible. But third chances? I'm open to that.
Overall Rating: B-
Rating vs. Similar style: C
Top Shelf Brewing Company
Back to CTMQ's Reviews of Top Shelf beers
Back to CTMQ¹s Connecticut Beer Page
Back to CT Breweries page