Three-and-a-Half Years Old? A True CT Relic
Relic Brewing, Plainville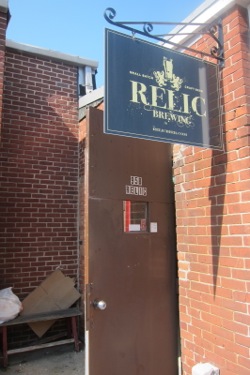 This is weird: Writing about visiting Relic after visiting Relic many times over the course of three years. Also weird: Writing about visiting Relic for a readership that has probably all visited Relic multiple times over the last three-plus years.
But hey, it's what I do. I have such a massive backlog of stuff to write about, it's not all that surprising to me that I've never written this page before now (October 2015), but I know that it is for some readers. I have my reasons for procrastinating on this, which will probably bear itself out over the next thousand words or so.
And yes, while there are 10,000 words-worth of stuff to say about Relic, I will do my best to limit myself.
There are many things with which to begin any discussion about Relic: Now three-and-a-half years old, they are actually one of the "old heads" of the Connecticut brewing scene. When they (and I say "they" when Relic was and still pretty much is only Mark Sigman) opened on a crappy late winter's day in 2012, the only other breweries in operation were Cottrell, Cavalry (RIP), Hooker, Olde Burnside, and New England. That's it… and that's crazy to think about today.
They were a true "nano" operation too, as Relic began as what literally looked like some guy's homebrewing operation in his garage. In effect, that's pretty much what Relic was. Mark deserves props for taking the plunge and making a go of what was then, a pretty crazy idea in Connecticut. He brought the now-standard 32 ounce growlettes to the fore. He was, as far as I know, the first to self-distribute in the state.
And he absolutely was the first Connecticut brewery to utilize Twitter to build buzz and business. All this stuff is standard now in 2015, but a "Twitter using, 32-oz filling, self-distributing, nano-brewery" in early 2012 was a gutsy, gutsy thing. Props.
In the beginning, Mark didn't give a crap about the "visitor experience." The "tasting room" was, literally, about 10 square feet. I don't feel like searching back for all my old pictures of it, but if you never saw it, trust me, it was crazy small. And littered with buckets and sacks of malt and stuff. There was a punk DIY atmosphere there that superseded all other DIY punk attitudes at the 10,000 other breweries who co-opt that now.
Relic grew beyond that tiny – and I mean TINY – space and expanded to a larger (but still small) space right next door. The parking lot is still cratered like the moon, but a visit now is a rather pleasant experience.
Mark brought a different philosophy to his brewing. It was, and still is, pretty unique in Connecticut. From, say, mid-2012 up until, say, early 2015, Mark brewed, man. Like, insanely brewed. Relic pumped out so many different beers it seemed impossible. Not only that, but they were putting an absurd number of them into bombers for sale and distribution.
By my count, Relic has put over 40 beers into 22-ounce bombers. Probably around 43 or 44 I think. For a three-barrel brewery in three years… Amazing. Relic never had a flagship beer, something I've always felt hindered the brewery's growth.
Apparently now in 2015, that has changed along with a lot of what Relic has always been about. They now "rent space" at Hooker in Bloomfield and "partner" brew a few beers up there. This gives Relic greater distribution, better consistency of product*, a flagship ale**, and hoppy offerings**.
*I should tackle this last, but whatever. Quickly, Relic has suffered in the past from its size and lack of, how do I say this, quality control? Example: Relic lagers in the winter, as that's the only way they can get the fermenters cold enough to do what lagers need to do. There have been other issues in the past and this has resulted in a few undrinkable beers over the years. The result of this situation was Band-Aid beers – again, to be clear in the past. This is pretty much bound to happen when your operation was banging out new beers every other day.
Far beyond the "farmhouse funk" that Relic often goes for in their 67 iterations of Belgian beers. This, plus the "Relic taste" that many of their beers have had, has resulted in tiny Relic being quite a polarizing operation. Lots of lots of people – knowledgeable people – LOVE Relic. Like, really, really love it. Just as many dismiss them as a quirky, yeast factory with pretty bottle labels.
To that latter group, I say: give Relic another try. I've had no issues with a Relic beer since early 2014.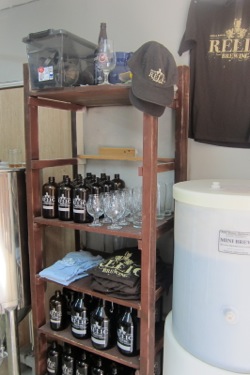 Me? I'm in the middle. It seems Relic has slowed down with the number of beers they brew – at least for distribution. Massively. In fact, here in late 2015, I'm not even sure they have put out any bombers for distribution for 6 months. There has definitely been a change in philosophy in Plainville.
**Flagship – thanks to the relationship with Hooker, I think Relic can now say that they have at least one! It took three years, but yes, I think they have a flagship ale or two. Which leads me to…
***IPA's and DIPA's! Mark has told me, many times over the years, "I don't like hoppy IPA's." And that's cool. I don't like spiced beers. But the market has spoken and now, again thanks to Hooker to a degree, Relic does an IPA and a DIPA (!) Not only that, the tasting room constantly now has "double dry hopped" whatever. This isn't a knock at all; I have no issue with changing one's business to match market conditions and a tiny brewery like Relic simply must do this to survive.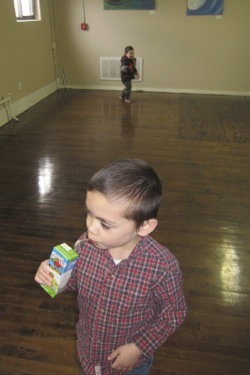 I think this Hooker thing is working out pretty well for Relic. The Huntress DIPA and Tropicale IPA are both pretty good and are always available. Heck, Whole Foods (v.Bishop's Corner in West Hartford) has the Rel-ookers as an endcap year round. Good for Relic.
Relic is a fun little brewery to visit. Yup, those are my boys enjoying the new space here to the right. Relic hands out free samples and Mark is always more than willing to share the stories behind each beer. He's traveled the world and I always enjoy chatting with him about travel and recent great meals at local restaurants. There is always cool local art up on the walls and the crowd at the bar are always pretty chill and interesting to talk to – if you're the type of person to actually do that. I'm not, but I'm not a good person.
Oh, and one last thing – Relic is very lucky in that it shares a hometown with J. Timothy's Taverne right up the road. One of the best true "beer bars," J Tim's has constantly supported Relic since the first day Relic could provide logs of their beer. It's a cool relationship and I can't remember a time when there wasn't at least one Relic tap line running there over the last three years.
So if you need a Relic fix when the brewery isn't open, just go to J Tim's, as they are probably Relic's number one supporter when you think of it.
Relic filled a niche in our state that needed to be filled. Belgian, unique, funky, low-key, free samples, the best label art in the state (some examples)… it has a lot going for it. And I'm personally happy they seem to have chilled out a little bit and are now focusing on what they do best.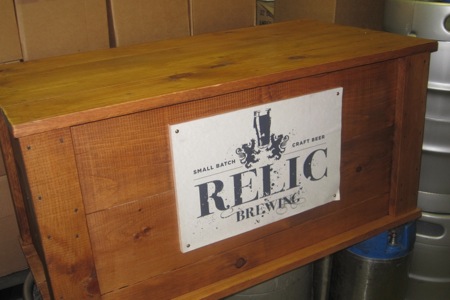 Since the entire operation is so small and probably, I'm assuming, operates on a fairly thin margin, they may change up with they do again in short order – rendering this page hopelessly out-of-date.
And that, in fact, is why I'll always have a soft spot for Mark and his brewery.
My Relic Brewing Beer Reviews
Relic Brewing Company
CTMQ's page on CT Breweries and Brewpubs
My Relic Brewing Reviews