Relic Brewing Women Beers
(Madeline, Genevieve, Hypatia, Lucretzia, Violette)
Variable styles, prices, purchase places, ABV's
Calm down y'all. I'm not getting lazy.
I'm getting smart. Or, more accurately, "smarter." I've a ways to go before one would consider me "smart." After all, this page contains "reviews" of beers that are mostly retired, most likely never to be brewed again. (But who really knows.) This page will also surely be too long, like always.
But it also has some stock photos of "Women and Beer."
Relic Brewing of Plainville has been at it for just over four years as of today (February 2016). Relic has gone through a rather huge change in those four years. To that, some would say "Good!" Others would say "Bad!" Still others would say, "Who cares as long as everyone is relatively happy!" (I'm in this last camp.)
Relic's entire "thing" was to be a Belgian/Farmhouse brewery. Owner/brewer Mark has also been forthright about a few things: he loves the Belgian family of beers, he loves the "funk," he loves experimentation, he loves cool label art, he loves creating series of beers, and he dislikes hops, hoppy beers, IPA's, DIPA's, etc.
Cool.
So for three years, Relic built up a fanbase of people who loved his yeasty, funky, farmhouse brews. And Mark pumped them out, bottling a ton of them, like no one else in Connecticut. Relic released something like 35 beers in the 22-ounce bomber format in those three years.
Then something happened. Mark began contract brewing smaller format beers at Hooker Brewing in Bloomfield. The first two were decidedly Relic: Biere de Noel and Demiana. The next three, Tropicale, The Huntress and The Fletcher, were decidedly not. The latter three sold pretty well. They enjoyed Hooker's larger capacity and brewing consistency. They appear, to this day, on endcaps at Whole Foods stores.
Market conditions being what they are, it is my feeling that Mark saw the writing on the wall: IPA's and the like better than his preferred styles. A visit to Relic's homebase now will most likely result in tastings of an IPA, a "double dry-hopped" IPA, maybe a stout, maybe a porter, and, once in a while, some sort of Relic relic like a saison or Belgian strong.
My, how things have changed in Plainville.
I imagine this changeover was difficult for Mark, at least from a "purity of mission" standpoint. And even from a business standpoint. But he is to be lauded for doing so, and I hope it has reaped financial rewards for him as well. That would at least take the sting off of changing it all up to comply with the market demand.
Relic has released a grand total of zero new bombers for distribution in the last… let's say… eight months? A year? As far as the brewery-only bombers, there have only been a few – and they've been very limited quantities at that. Those big bottles, the TTB labeling hassles, the hand filling and labeling… at least they aren't dealing with that crap anymore.
I've no idea what the next couple of years will bring from Relic. A return to the roots? Well, I think the next RelOoker release is to be a DIPA. If that offers a clue, at least for the short-term.
Anyway, since I had them, let's get to them. The Relic Women Beers.
…………………………………………………….
Brewery-Only Women Beers
Let's first run through the ones I won't be reviewing. Other breweries, from Hill-Farmstead to Cold Creek in Ellington like to name beers after women. I don't have any issue with it. I'm merely reporting on it.
Kate: Witbier
Anyssa: Belgian Strong
Indira: Belgian
Lorette: Belgian Table Beer
Abbygail: Saison
Serafina: Belgian Strong
Stella: IPA
Hey, how did that last one sneak in there? There's also the distributed Demiana, but that deserved its own review. Let's move on.
…………………………………………………….
The Five 22-Ounce Bomber Relic Women Beers of Days Gone By
Relic Madeline Belgian Blonde Ale
1 22 oz bottle, $?, 6.5% ABV
Purchased at I forget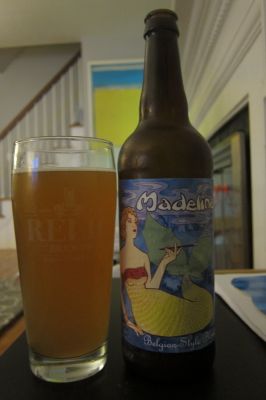 We'll start with the only Relic Woman Beer that has been released more than once. It was also the very first of these Woman Beers AND it doesn't really belong with the other four below. I believe the following four were part of a series, whereas the Madeline was not. The label art backs up this hypothesis as well.
But I'm lumping it in with the rest because a) It's a Relic Woman Named Beer and b) it was/is a classic Relic Belgian beer.
At first pass, Madeline seems like it's a corruption of Magdelene, which comes from Saint Mary Magdelene. But alas, that doesn't really seem to pass my rigorous muster. So we're stuck with Madeline, the children's book character. The books focus on a group of girls in a Catholic boarding school in Paris. Madeline is the smallest of the girls. She is seven years old, and the only redhead. She is the bravest and most outgoing of the girls.
Eh, she doesn't really fit either. The Madeline of the label art is a (literally) smokin' mermaid. And if you look closely, you can even see her slightly misplaced nipples. But then again, who's to say where mermaid nipples would be? Oh well… the beer.
Relic Says:
Authentic Belgian style blonde ale
I read somewhere this beer used "authentic Trappist yeast." I have a note that says it uses "Chimay yeast strains."
I had the Madeline back in 2013 when Relic was at its height of, um, some issues. From all reports, those issues are long past and haven't resurfaced at all in the past couple years. But my notes on this beer were:
"Not bad, good bones. Some phenols. Wish they weren't here."
I did have a sample some time later at the brewery and it was as Mark intended it to be – a classic Belgian ale, rife with that funky yeast, but cut with some brightness as well. Certainly not good enough for me to have sought out a bottle when it was re-released in late 2015, but probably loved by many.
Overall Rating: C-
Rating vs. Similar style: C+
…………………………………………………….
Relic Hypatia Belgian Pale Ale
1 22 oz bottle, $?, 6.4% ABV
Purchased at I forget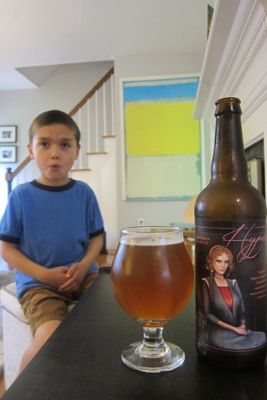 Perhaps my favorite aspect of Relic's Women Beers is that they have put me on a path to learning all about some pretty great women of history. (That, and having picture of my sons posing like the women on the bottles of course.)
Hypatia was quite awesome. She was also Greek and therefore probably did not have the milky-white skin of Relic's Hypatia, but let's not dwell on that.
She lived around 400 AD and, get this – she was a mathematician, astronomer, and philosopher. Not only that, she moved to Alexandria and became a highly-regarded teacher of all this stuff. She is said to have been a genius. Men respected her and looked up to her and sought out her teachings. Over one-thousand years ago!
All you wanted to know about Hypatia.
As for the beer…
Relic Says:
The balanced Belgian style pale ale marries a flavorful blend of continental yeasts with American hops for a crisp citrus forward finish.
This was one of Relic's early forays into the world of "pale ales." Note that it was still a "Belgian style," because it had to be, being from Relic, which meant that it retained that Relic yeast and flavor profile above anything else. There was no "citrus forward finish" for me; just a sort or chalky resin with a bit of funky mustiness.
Hypatia of Alexandria was impressive. Hypatia of Plainville was not.
Overall Rating: C-
Rating vs. Similar style: D
…………………………………………………….
Relic Genevieve Saison
1 22 oz bottle, $8.49, 8% ABV
Purchased at Worldwide Wine & Spirits, Southington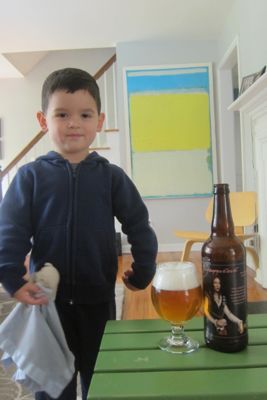 Okay then, here's the Genevieve. Genevieve was a French woman who lived pretty much contemporaneously with ol' Hypatia. She seems to have been born a few years after the Grecian died.
Funny, while Hypatia was schooling dudes in math and astronomy, Genevieve was all about the Christianity up in western Europe. (If curious, I'm much more a fan of Hypatia, the woman.) In 451 Genevieve led a "prayer marathon" that was said to have saved Paris by diverting Attila's Huns away from the city. When Childeric I besieged the city in 464 and conquered it, she acted as an intermediary between the city and its conqueror, collecting food and convincing Childeric to release his prisoners.
Geneviève had frequent visions of heavenly saints and angels. She reported her visions and prophecies, until her enemies conspired to drown her in a lake of fire. In other words, she was the opposite of Hypatia. The life of her remains is actually more interesting, but hey, thanks to Relic now know about this (now) patron saint.
Anyway, the beer…
Relic Says:
Fruity, complex and floral, this provision strength Saison is single hopped with Amarillo and fermented with a blend of yeasts.
Those "yeasts" were of course Brettanomyces which of course worked their way into nearly every Relic beer for its first few years. The use of Amarillo here was a bit strange to me, and frankly, didn't really work. "Didn't work" in that the yeast and saisony-ness of the beer overwhelmed the hop characteristics.
I tried praying to Genevieve, but it didn't work and I never got any hop bit or floral notes with this beer. It was oddly fruity, though, which made it interesting – as did the bumped up ABV. Not my favorite, but at least it had something different going on.
Overall Rating: C
Rating vs. Similar style: C-
…………………………………………………….
Relic Lucretzia Belgian Strong Dark/Abbey Ale
1 22 oz bottle, $7.99, 6.7% ABV
Purchased at Harvest Fine Wine, West Hartford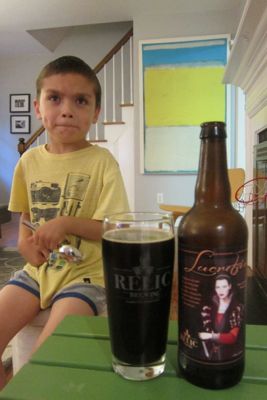 Look closely at this picture here. Lucretzia herself is holding a knife, ominously. My son Damian is wielding a spoon, goofily. (I can't trust the boy with a knife.) I'm committed, people. Or should be committed.
Or something.
Even if this beer was terrible, I wouldn't care, because it afforded me some fantastic reading about one Lucretzia Borgia. Hoo boy, what a woman. She and her family lived The Game of Thrones, man.
Lucrezia's family politics became subject matter for The Prince, where well-implemented ruthlessness represents a practical component of Machiavellian politics. Lucrezia was cast as a femme fatale, a role in which she has been portrayed in many artworks, novels and films.
Several rumours have persisted throughout the years, primarily speculating as to the nature of the extravagant parties thrown by the Borgia family. Many of these concern allegations of incest, poisoning, and murder on her part. You need to read about these 15th century people. Good times.
And… the beer:
This Belgian-style dark ale has rich chocolate roast flavors firmly balanced by a strong pitch of Columbus hops; unique abbey yeasts add subtle spice and fruit.
Just realized that Relic did brew this again in late 2015, but didn't bottle it. Or maybe they did, I don't really know. I tend to like Relic's old dark beer lineup. They usually always had some interesting things going on, from coffee to chocolate to raisins and other fruit. The Lucretzia was no different, but it was always still a "Relic" beer.
The "pitch of Columbus hops" may have been pitched over the top of the kettle and onto the floor though. This surely was another hit with the Relic yeast fans, but for me, again, I think the beer would have been better without that yeast profile. It was made well, with good intent, but the flavor just didn't suit me.
Overall Rating: C
Rating vs. Similar style: C-
…………………………………………………….
Relic Violette
1 22 oz bottle, $7.99, 8.3% ABV
Purchased at I forget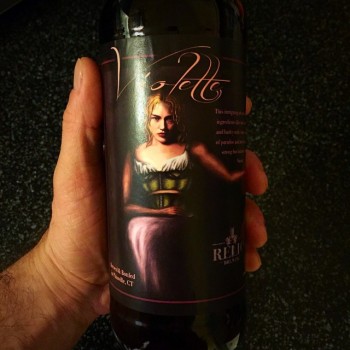 Ah, the mysterious Violette, named for… no one I could discern. But that come hither look of Ms. Violette there on the label makes me not care. She looks like Kate Winslet. You not be aware of Kate Winslet's finest performance, but it's clearly in the wonderful Ricky Gervais comedy series "Extras."
Here's a great scene which made me become a fan of hers. Too bad they cut it off right before another great joke.
This picture isn't mine. I lost mine. I'm sorry. But at least the guy I stole if from off of untappd is also named Steve, so we share a kinship.
Anyway,
This intriguing ale mixes farmhouse ingredients like oats, wheat, corn and barley with spices, grains of paradise, and meyer lemons for a strong but balanced flavorful saison.
I think Violette was the most unheralded of the Relic Woman Named Beers. It was a mess; a crazy mix of this and that – and I liked it. No one is reading down this far, so I'll end this now.
Overall Rating: B
Rating vs. Similar style: B+
Relic Brewing
Back to CTMQ's Reviews of Relic Beers
Back to CTMQ's Connecticut Beer Page
Back to CT Breweries page