Requiem for a Hop and a Dream Part 1
Steady Habit Brewing Beers through September 2016
If you actually care to read/skim/look for funny pictures on this page, you are surely aware of the sea change at Steady Habit: Founder/brewer Jon Peterson is no longer there. You've probably heard bits and pieces of why that is. I'm not going to give any of the stories you may or may not have heard any legs though. Steady Habit is moving ahead with new ownership and a new brewer, and Jon is moving ahead with a new job at Top Shelf* in Manchester.

If/when the name changes, as I've advocated, don't give me crap for not remembering to update this page.
Why am I bothering with this page? I don't know, really. Respect for Jon's work while in Haddam at Steady Habit? Yeah, to an extent. To satisfy my OCD and to clear off a bunch of drafts from my "to-do" list? Yeah, that's the bigger reason. It's all about me.
Let's get to it.
Hop and a Dreams/Bogan's Family Reunion/Method IPA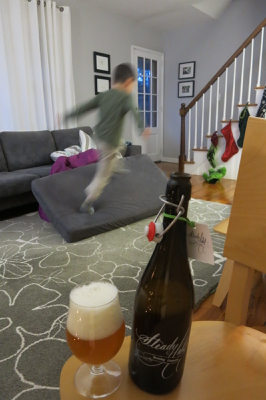 The way the "Hop and a Dream" series worked was that Steady Habit would make a beer and call it "Hop and a Dream – Equinox" or whatever. I have no idea how many they did (Untappd lists around 15, but some of those might be repeats.)
I'm not fronting on the naming convention, just trying to explain it.
When a "Hop and a Dream" beer was "dialed in," as the kids say, it was moved to permanent status and got a new name. The two beers I know of that achieved this lofty status were the 100% Mosaic (Method IPA) and the 100% Galaxy (Bogans Family Reunion).
Brewed with 100% Mosaic hops, Method IPA graduated from our test batch series, "A Hop And A Dream," and enters into our regular rotation. This beer was made with those who love the Mosaic hop in mind. 7.3 ABV
So there you go.
Bogans was a 6% ABV IPA. I had another one; the one pictured with my son "hopping" on one of his homemade Ninja Warrior creations, but I have no clue which one it was.
But I know it was good.
These beers are in Jon Peterson's wheelhouse. I've written often about how we all lurve us some" new" hops. And how therefore, we must lurve every beer from every brewery that just dumps a crapload of them into a beer and calls it a "super hoppy hopped up hop-lovers hop dream hoptastic IPA!"
Except it's not that easy. I've had oily super hoppy hopped up hop-lovers hop dream hoptastic IPAs. I've had Mosaic ones that taste like onion grass that a cat peed on. These beers are not as easy to brew as everyone thinks.
"Bogans Family Reunion," by the way, is a pretty funny beer name. Since the beer is made with Galaxy hops, and Galaxy hops are from Australia, we must look down under for the derivation of the name.
In short, a "bogan" is the Australian term for "white trash." Knowing Jon and his self-deprecating humor, he has referred to himself as "Bridgeport white trash." So I'm guessing he had a good chuckle naming this beer.
Urban dictionary has some wonderful "definitions" of bogan. You should read them.
I guess this is where I should mention Steady Habit's first (and thus far, only) canning attempt. It went down in August 2016 and there were two beers on the line that fateful day: Method IPA and Coalesce DIPA.
I happened to be there while the canning run was happening. (Yeah, yeah, I know… you probably wouldn't have been invited in on a random Tuesday morning or whatever it was. I was off with my sons and we were passing by Haddam and I hadn't seen Jon in forever, so I popped in to say hello. Whatever.)
I reviewed the Method IPA back when it was Hop and a Dream – Method.
Then I had the Method out of a can with no top or label on it yet and it was perfect. I'm lucky. Because…
This was the first ever canning run with a brand new machine and unfortunately, the seamer sent to us by the manufacturer created some defective cans.
Poor seams mean oxidation and oxidation means poor beer… and ultimately, upset consumers. Hell, the spoiled beer at least allowed people to overlook the horrible labels with the ink that ran as soon as condensation appeared.
On top of all of that, the run was infinitesimal. When I was there and was told of the number of cans that would be available, I kind of wondered why they were bothering at all. But what do I know.
While Steady Habit moves forward with a new and competent brewer, I sort of hope they don't name any more beers "Hop and a Dream." Steady Habit was Jon's "dream," y'know? It just seems pretty personal to him. They can, of course, continue to name all their beers the same.
I just think they should retire this series name. I'm sentimental like that.
Overall Rating of all 3: A
Rating vs. Similar style: A+

Coalesce DIPA
7.8% DIPA, procured at the brewery, Haddam
Assuming you just read the above, you are now aware that Steady Habit canned Coalesce in August 2016. And that there were issues. And that I circumvented those issues by happening by the brewery while the canning was happening.
And surely you now know that I bust in to any brewery whenever I like and announce, "Hark! Steve is here! Kiss my ring and give me free beer!" And that's exactly what happened that day in August 2016. It was awesome.
In truth, what was pretty awesome was the Coalesce DIPA. After all, this beer is brewed with Nelson and Citra and a competent brewery can't really mess up that hop bill.
co·a·lesce verb come together and form one mass or whole.
Yeah. So. Um. About that can seaming problem. What are the chances? You give your beer a pretty good beer name and then you can it and the cans don't "coalesce" and consumers get pissed.
It's actually kind of funny in hindsight. (Note to Jon: Name your Nelson/Citra beer at Top Shelf* "Hindsight." I'll chuckle.)
Anyway, this beer – when you have it as intended – is as good as you'd think it would be. Jon nails these new style ales and this was always one of his best.
As mentioned, the new Steady Habit will continue to brew Jon's recipes and use the same names (which, again, is perfectly fine), but has stated that they will not be able to continue brewing Coalesce simply because those dang Nelson hops are so dang hard to come by these days.
Such is life.
Overall Rating: A
Rating vs. Similar style: A

Yeah Nah Bro DIPA
8% DIPA, purchased at the brewery, Haddam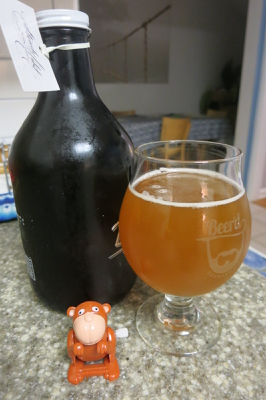 Do I like doing these long "review" pages with a bunch of beers grouped together?
Yeah nah bro.
Do I think combining a bunch of beers is the best way to connect with my beer reading audience?
Yeah nah bro.
Do I expect you to know why I keep asking rhetorical questions?
Yeah nah bro.
If you're not a Kiwi or a hobbit, you may not be familiar with the New Zealand slang "Yeah Nah." As you've gleaned, it means, "no, not really." (I wonder if they have posters on college dorm common area walls that say, "Yeah nah means yeah nah." Cause that would be awesome.
You can learn some more Kiwi slang here.
This DIPA was brewed with Kohatu hops which, of course, come from New Zealand. Now that we have Bogans Family Reunion and Yeah Nah Bro, I want to give Jon credit for being creative with this stuff. Here's a "Yeah Nah" tee shirt in the Steady Habit font.
The beer was very good, as all of Steady Habit's DIPAs are. Should I continue?
Yeah nah bro.
Overall Rating: A
Rating vs. Similar style: A

Humorous Attempts At Being Good Stout
8% stout, purchased the brewery, Haddam
See now, this is a stellar beer name. There's a lot going on here and a lot of backstory that I've made up.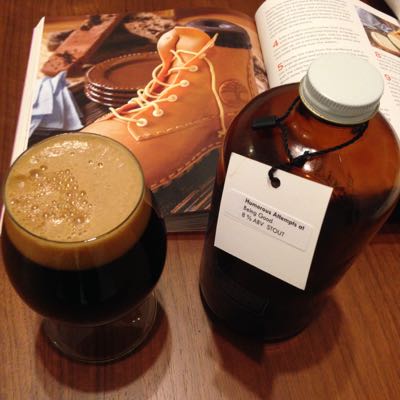 But let's start with this picture. It comes from a cake decorating book. That boot is a cake. For real. That book is the best. It pretends that clowns like you and me can make these ridiculously intricate cakes. But even better, it pretends that people would even want to make/eat a steel-toed work boat cake.
WHO THE HELL WANTS A BOOT CAKE?
My kids love this book and we have many "inside" jokes about many of the cakes, but man, this one gets us every time. "Papa? Look. Who wants a boot cake?"
It is a good question.
Another good question – Could Steady Habit brew a lineup of good dark beers?
Yes. Yes they could. (And presumably still can… it's hard not to write this whole page in the past tense. I don't wish to imply that they are no longer or even no longer able to make good beer.)
This beer was released after a difficult stretch for Jon and the brewery. Something to do with their well water and its chemistry that got all messed up. Then there were batches dumped and Saturdays with little to no beer available. It was rough. Negative reviews on the review sites… a few bros bailed on the brewery and frankly, they had a point.
So "A Humorous Attempt at Being Good" was sort of a shot fired. As in, "hey, we can make good beer! And damn, this was a good beer.
An experimental 8% ABV Stout brewed with Almond, Vanilla and Coconut.
Of course, the beer's name and ingredients also refer to Good Humor ice cream products. How cute!
I'm pretty tough on sweet stouts. Most of them are just too much for me. I understand their appeal, but usually much prefer some bitter roastiness. Somehow, this beer as well as the Big Bad Bunny Stout both worked for me. This one rode the edge a bit closer than the BBB though.
I don't know what I'm saying. It doesn't matter at this point. Who wants a boot cake?
Overall Rating: B+
Rating vs. Similar style: A-

In Robust We Trust Porter
6.8% Robust porter, purchased Eli Cannon's, Middletown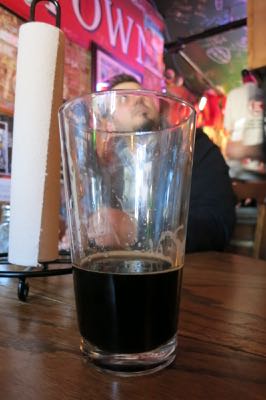 A couple things about this beer here. It was a very good beer to be sure. It was, I believe, the first beer Steady Habit distributed and Eli's was the first place they had an account? I'm more or less making this up as I type, as it was nearly two years ago and why would I even know or care about some arcane fact like that?
Because you put your robust trust in me to know useless stuff like that?
Well, stop doing that.
After all, I didn't even know that "robust porter" was a thing separate from a regular ol' porter. It turns out that it is according to the BJCP.
Although a rather broad style open to brewer interpretation, it may be distinguished from Stout as lacking a strong roasted barley character. It differs from a brown porter in that a black patent or roasted grain character is usually present, and it can be stronger in alcohol. Roast intensity and malt flavors can also vary significantly. May or may not have a strong hop character, and may or may not have significant fermentation by-products; thus may seem to have an "American" or "English" character.
I assume most brewers use the "robust" thing when their porters are above about 5.5% ABV or something. In Robust We Trust didn't really knock me off my wobbly, ancient, graffiti-covered stool at Eli's with overwhelming roastiness though.
The other thing about that picture above I wanted to mention is … any guesses who that guy is through the pint glass?
Does his handsome visage leave a Lasting impression on you? Hmmmmm?
Hey listen man, I don't drink beers with just anyone. As I explained five minutes ago, "I'm CTMQ Steve!" Okay, okay, that's just so stupid I can't even pretend anymore.
Anyway, I won't reveal who that is until Part 2 of my "Requiem for a Hop and a Dream" two-part series of Steady Habit: The Jon 1.75 Years reviews.
You can stop wondering, as it's available to read now here.
I bet you can't wait.
Overall Rating: A
Rating vs. Similar style: A