Requiem for a Hop and a Dream Part 2
Steady Habit Brewing Beers through September 2016
Here's part one if you're interested.
If you actually care to read/skim/look for funny pictures on this page, you are surely aware of the sea change at Steady Habit: Founder/brewer Jon Peterson is no longer there. Steady Habit is moving ahead with new ownership and a new brewer, and Jon is moving ahead with a new job at Top Shelf* in Manchester.
*Or whatever it's called when you happen to read this.
Let's wrap up with a few more "original Steady Habit" reviews. I realize that doing this for one brewery and not everyone that loses its brewer is weird and silly. But whatever… I started it, so I may as well finish it out.
Our Daily Bread IPA
6% ABV, purchased at the brewery, Haddam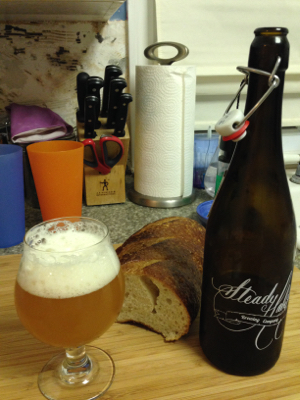 Our Father who art in heaven,
Hallowed be thy name.
Thy kingdom come.
Thy will be done
on earth as it is in heaven.
Give us this day our daily bread,
and forgive us our trespasses,
as we forgive those who trespass against us,
and lead us not into temptation,
but deliver us from evil.
For thine is the kingdom,
and the power, and the glory,
for ever
Amen.
I still remember the Lord's Prayer – this version of it anyway. This is the version drilled into my brain at my parent's church. It is a very important prayer. You could say it's Christianity's flagship prayer.
Our Daily Bread was to be Steady Habit's flagship beer. That was the plan, anyway. But just like the church I went to every Sunday for 17 years tried to make the Lord's Prayer a daily, available, important part of my life and failed miserably, Steady Habit never really made this beer available enough to even remotely be considered a flagship beer.
Steady Habit said, at one point:
Our Daily Bread is a special beer to us. We truly enjoy drinking this beer as much as we can. Lately it hasn't been too often as we need to sell it to keep our doors open! When I first made Our Daily Bread my goal was to make an IPA that was in my personal preference in ABV for an IPA I can drink any time, any day and more than one. 6% ABV is right where I wanted to be to accomplish this. This way I would be able to keep it lighter and crushable, but still pack a bunch of hop flavor into the beer. Since we've opened the brewery we have worked non-stop at trying to get this beer to taste the same as it did when brewed at home. I can say that, as of today, we are becoming more and more satisfied with the results. Enjoy!
Four things:
1. The Our Daily Bread I had was great. Just a straight up IPA like IPA's are meant to be. With Sea Hag as my standard bearer, ODB was "keeping it real, son." Drinking this, "I'm in heaven." A "shining star."
2. I hate the adjective "crushable."
3. I have a problem when breweries say things like, "we are trying… we are getting there… we are dialing it in." I know this is the new normal for many small breweries, and I get it. I do. But I don't know man, you're a business. By doing this, you're admitting to me that the previous version(s) of the beer were not so good, and that the current iteration isn't right where you want it to be. As a consumer, this bothers me. If I write a book, the only version that you'll ever see and read will be the final, ultimate, edited, retooled, rewritten, re-edited version. Y'know?
4. New school breweries, which Steady Habit has always been, have moved away from the whole flagship idea over the past few years. I used to be bothered by this – Relic was clearly the first in Connecticut to change up the model with regards to flagships. Looking back now, in October 2016, Mark was actually a visionary – for several reasons. (Although, I could argue myself and say that the Hooker-brewed Relics are now their flagships and that has helped Relic to a large degree so… yeah. I'm sticking to it. Breweries need flagships. But Mark was still a visionary. So there.)
Overall Rating: A
Rating vs. Similar style: A

Lasting Habit DIPA
8% DIPA, procured at the brewery, Haddam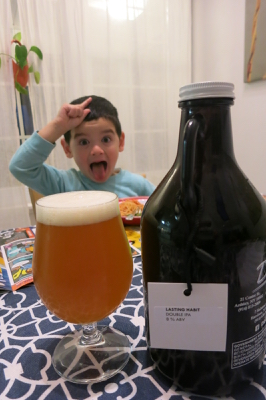 I really have nothing to say about this perfect beer other than it was a perfect beer brewed by two friends who know what they're doing.
At the end of Part 1 there's a picture of my Steady Habit Robust Porter. There's a guy in that picture. That guy is the elusive Ed Silva, a.k.a. Lasting Brass owner/brewer. Lasting Brass is opening soon in the Oakville section of Watertown, right on the Waterbury border. I've made no secret about my love for Ed and his beers.
As great as Jon's Steady Habit ale line-up was, it would be hard to argue that some of his best were the Sparkle Boots collaboration with Kent Falls and this one with Lasting Brass. Not a knock on Jon or Steady Habit at all; just the way it is. I'll let Jon write the rest.
Steady Habit said:
…Our buddy, Ed Silva, of the soon-to-be-open, Lasting Brass Brewing. We are releasing our Double IPA we brewed with Ed a few weeks back! The beer is called "Lasting Habit." It is 8% alcohol by volume and we hopped it with 2 hops in the boil, 2 hops in the whirlpool and finished it off with 3 different hops for the dry hop. This was a very fun beer for me, although we did sit there scratching our heads a little bit at first. The way we approached it was Ed would design the malt bill and I would do the hop bill. It was a lot of fun bouncing different ideas off of each other and getting the beer exactly where we wanted it to be. When we tasted the beer for the first time we both thought we had something real nice to drink on our hands! We truly hope you enjoy this collaborative effort, we definitely poured our heart and soul into this beer. For those who aren't familiar with Ed, Ed is starting his own brewery in Watertown, CT. Ed makes phenomenal beer and has a great following of people who can't wait until he opens his doors. I am a huge fan of all of his beers and I think he is a great guy and I hope we can continue to collaborate in the future. One thing is for sure, Ed will be very successful with "Lasting Brass Brewing."
Yeah. All of that.
Overall Rating: A+
Rating vs. Similar style: A+

Dirty Habit
Wild Ale, procured at the brewery, Haddam
I don't know what's going to happen with this beer. It's done. It's bottled. It's sitting in boxes in Haddam at Steady Habit as I type this. And it's freaking delicious.
This is the second (and final) collaboration between Steady Habit and Lasting Brass. I have no idea, but I'd guess that there won't be any more simply because Jon is no longer at Steady Habit. So no more clever beer names like "Dirty Habit" and "Lasting Habit."
As you see in the picture, my son is picking his nose; a dirty habit. You surely noticed that this picture was taken at the house we stay at in Cape Cod because no freaking way would my wife own that couch or glassware – love you, baby! But you also noticed that the bottle has no label. Since I got it for free during off hours, I guess the feds won't have an issue with me writing about the beer.
It's a sour/wild ale that was aged on peaches in red wine barrels. And it works. It really, really works. The base beer was perfectly tart and the peaches added a nice sweetness. The barrel imparted wine flavor, not barrel flavor, which made it even better.
Lasting Brass will have sours and wilds for you in 2017 and I can assure you: they will be as great as Kent Falls' and as creative as OEC's. Okay, that last bit isn't true, but Fellini wasn't as creative as OEC.
Trust me.
There's nothing more to say because I don't even know if this beer will ever be released. If it is, GO GET SOME.
So since I'm nearly at the end of any "Original Steady Habit" ramblings, I'd just like to point out that it's pretty amazing when you sit and think about the four breweries Jon was able to collaborate with: Kent Falls, Lasting Brass, Fox Farm, and Relic.
That speaks to Jon's credibility as a brewer and a human.
Who knows what Steady Habit will bring in the future or what Jon will cook up at his new job in Manchester. Let's just revel in what he was able to do in Haddam for one more beer (below) and then collectively move on.
Overall Rating: A
Rating vs. Similar style: A+

And finally, we end with the aptly named…
He Died With His Boots On DIPA
8% ABV, Purchased at the brewery, Haddam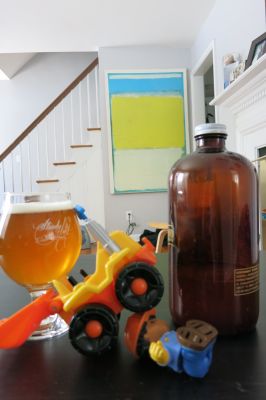 While Jon isn't dead, "his" Steady Habit is. That's just a fact. The new team at the brewery has only just begun brewing as I write this, so no one knows how the beers will be down the road. I know that Austin Japs, the new brewer there, comes very highly recommended. In speaking with a couple friends at Hooker, they couldn't have been more positive in their praise of Austin as a person and as a brewer.
I have no reason to doubt them.
Jon has moved on. I have moved on. We should, perhaps, take a moment to "pour some out" for our homie Jon. He Died With His Boots On is the perfect choice.
Wait.
No it's not. Don't waste this 8% nearly perfect double IPA you idiot. Eh, you know what? Jon deserves only the best. Pour some out.
Steady Habit Says:
One of my grandfather's favorite sayings when he would tell me stories as a child was, "He Died With His Boots On." Having served in the Army during World War II, he has plenty of stories to tell. I wanted my favorite "Double IPA" that we brew to be named after him in some way or another and this just worked out perfectly. I couldn't tell you how much my grandfather means to me in words so I've decided to put that gratitude into liquid form.
*Wipes tear*
Yo, HDWHBO is excellent. Hey, remember back in the day (2015) when you could get a highly-hopped DIPA that allowed some light to filter through? Ahhh, good times.
Now, I wouldn't necessarily call this beer a "NEIPA" but it does have some of those qualities: the fruity hops with low to no bitterness, the low to no malt profile, the bouquet of fruits you never eat aroma… Just another fantastic effort from Jon at Steady Habit.
And so, my friends, thus closes the chapter on Jon Peterson beers at Steady Habit. His run lasted from January 30, 2015 through September 20, 2016. He is now brewing at what was Top Shelf but is now _________ (Again, I'm assuming a new name if only because I told the Twitter/Redditverses they should rename and rebrand.)
As for Steady Habit going forward, I'll certainly check it out. How ever you approach them from here on out is your prerogative. Whatever whispers you've heard, you may choose to believe or disbelieve them. And as far as I'm concerned, I will approach them like I do any other brewery… with an open mind, an honest viewpoint, and with a Fizzics (as seen on ABC's Shark Tank) under my arm.
And as for Jon? He "died" with his boots on. (But not really. He's alive. And brewing! Everyone will be okay. I promise.)
Overall Rating: A
Rating vs. Similar style: A