Half Full Rise and Shine Coffee Porter
6-Pack, $11.99, 8.5% ABV
Purchased at M&R Farmington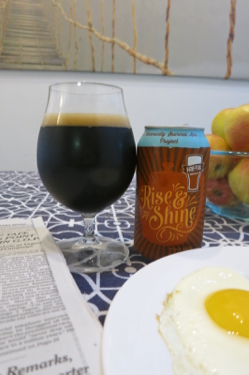 There I was, tooling around running errands and stopping into an M&R. I almost never go into M&R's, but they sometimes have some Connecticut stuff that my regular stores don't.
They also have carpeting which I just find weird and creepy. Not as weird and creepy as a bar with carpeting (shout out to that weird and creepy heroin-slash-booze bar that used to be on Arch Street in New Britain that we'd stupidly hit up at closing time back in the day!), but weird and creepy nonetheless.
Anyway, I saw this Rise and Shine Coffee Porter at M&R and since I don't know their policies, I was afraid to break the six-pack. I prefer buying singles of unknown-quality beer. Because I'm not an alcoholic. You see.
I sighed and bought the whole dang sixer. I can't pretend I was too happy about this, as Half Full tends to disappoint on occasion. Not that their stuff is "bad" at all; just not exciting.
Sunny-side up egg on my face!
This is the best beer I've ever had from Half Full and not only was I happy to have a full six-pack, I wound up buying another six-pack to bring to a party the other day. And note: while the Sea Hag I brought (required) was most appreciated, this stuff was one of the most talked-up beers of the day.
No, not by me. I don't talk at parties.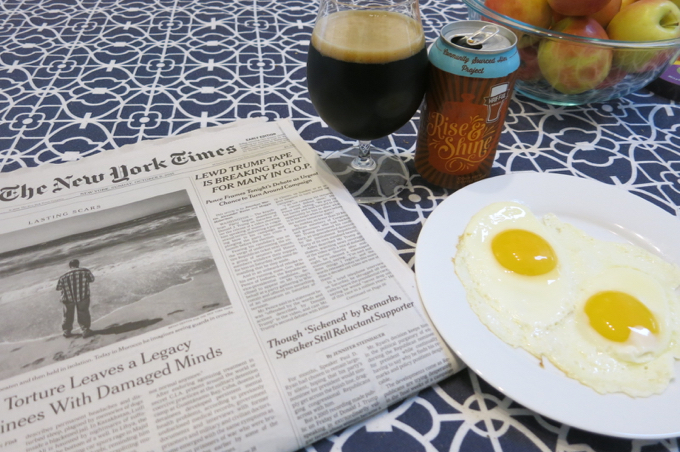 If I did, I'd drop some science about Half Full's hip new "CSA Project." What is that?
It's all part of a new collaboration-based series of beers, through what they are calling the Community Sourced Ales Project ("CSA Project"). The CSA Project will highlight collaborations with both brewers and other craft–centric local businesses.
That's cool. I'll be interested to see where it goes from here. I see that they have some honey kolsch on their website at the moment, which means they sourced some local honey.
The collaboration with Rise Coffee started innocently enough. Rise Coffee was looking for space to start brewing and packaging their newly developed cold-brew coffee, and they stopped by Half Full to check out the facility. A conversation was sparked, and a year later, a beer was brewed.
And like I said, it's a damn good beer. I like that it's a porter. A robust 8.5% porter at that. It is carbonated and relatively light and full of coffee flavor. Note: if you don't like coffee, you will not like this beer. I love coffee and I love this beer.
Rise and Shine is not bitter, acidic, or overpowering. It has been brewed with a perfect ratio of porter malts to coffee whatever. As for the higher ABV, man, you'd never guess it. This beer is so non-boozy I almost disbelieve it's 8.5%.
Okay, this is random but it cracks me up for some reason. I got a bunch of the above information from this article on some outfit called "Hey Stamford."
Heck, I'm stealing this picture from them too: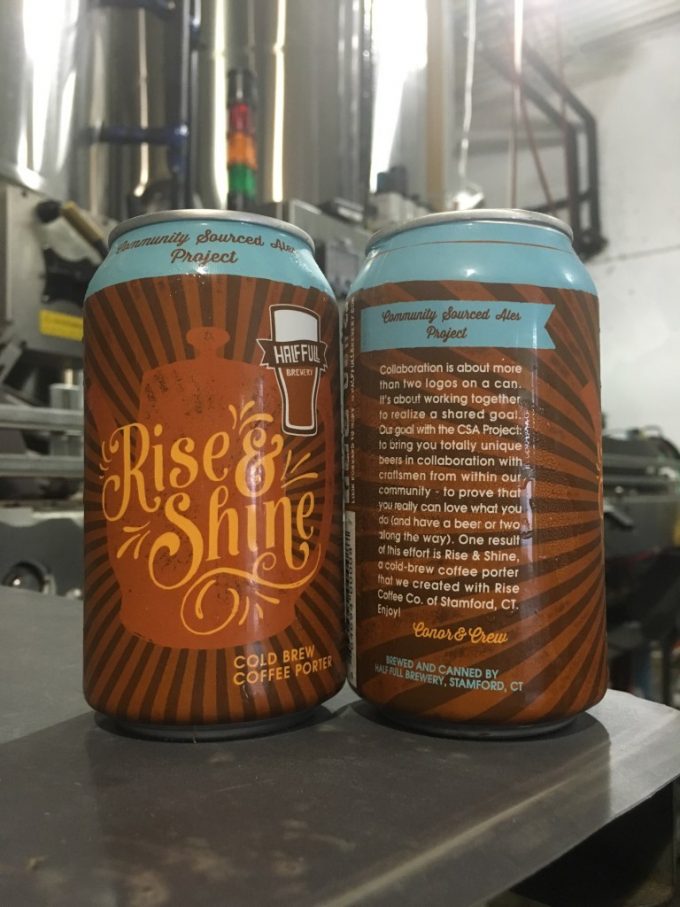 Beneath the picture, the article quotes Jordan Giles, Half Full's Director of Marketing. The stuff about "At the Half Full Brewery we believe that collaboration is about more than two logos on a can," etc. The quotes attributed to Giles are directly off the back of the can. So which is it? Did Giles just give the reporter a direct can read? Or did the reporter attribute the back of the can to Giles?
It's not like "Hey Stamford" was trying to hide anything, with the giant can quote picture is immediately above the Giles quote in the article.
I "crack up" at some really stupid stuff, huh? Anyway, let's finish out with another "quote" from Tom Price, Director of Brewing Operations at Half Full.
"To make Rise & Shine, we took a big, bad porter and added a smooth coffee kick, courtesy of Stamford's own Rise Coffee," says Tom Price, Director of Brewing Operations at Half Full. "Rise & Shine has a full roasty body, moderate bitterness, notes of dark coffee, and rounds out with a complex yet smooth finish."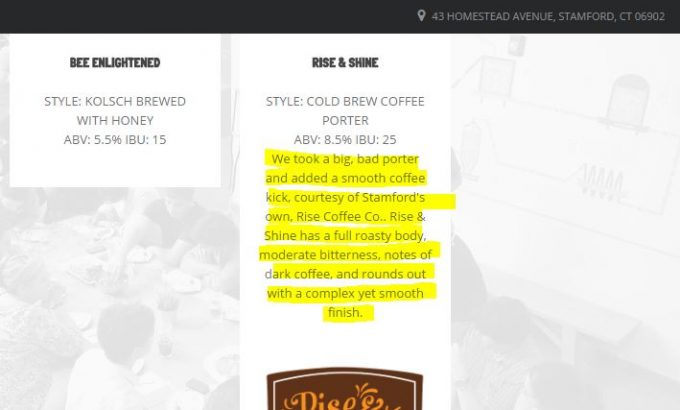 The above is from Half Full's site. Again, I am chuckling at the thought of Mr. Price just reading the blurb about the beer and the "Hey Stamford" mystery writer transcribing it dutifully. Or did Half Full create a press release and "Hey Stamford" printed it?
Either way, none of this is remotely "wrong" at all. Yeah, I'm guessing this was a press release. Which… good for Half Full.
The only thing that's important here is that this beer is delicious.
Overall Rating: A+
Rating vs. Similar style: A+
Half Full Brewery
Back to CTMQ's Reviews of Half Full's beers
Back to CTMQ's Connecticut Beer Page
Back to CT Breweries page