Roxbury Land Trust
Roxbury, New Milford, & Woodbury
I am in my 12th year of writing CTMQ and am just getting around to putting a page together for the Roxbury Land Trust. Now, you may be thinking, "but Steve, my man, you're but one person. And this is Roxbury we're talking about. Give youself a break."
And you have a point, of course, except I have this running joke with my friend Peter Marteka. Peter writes the Outdoors column for the Hartford Courant and he lives even further away from from Roxbury than I do. But dang, he has hiked many of the land trust's preserves and seems to really focus on some of the gems there. (I guess that could be a clever pun with Roxbury's former diamond mines and such, but it was wholly unintentional.)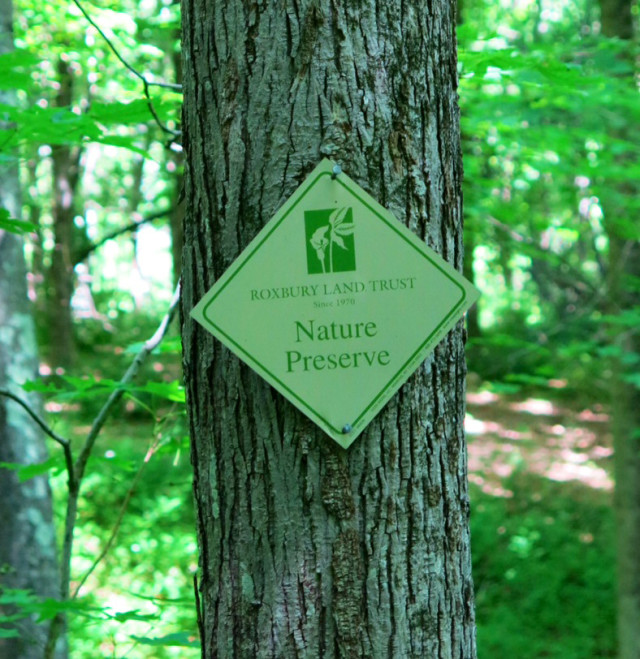 So every time he writes up something else in Roxbury, I tell him I've not yet hiked in Roxbury and he yells at me.
But this is a start!
The RLT had rather impressive founders.
When Charles Pratt, Mitchell Gratwick and Harold Birchall sat around the kitchen table in Pratt's Roxbury home in 1970, they may have seemed an unlikely trio to found the Roxbury Land Trust. Birchall was a local dairy farmer and the town's First Selectman from 1968-1981, Pratt, a nationally known photographer whose family started the Pratt Institute, and Gratwick, a doctor and the retired headmaster of the Horace Mann School in New York. But the three men had one thing in common: an abiding love of Roxbury's rural landscape and a deep conviction that something had to be done to preserve the land and the quality of the water in its rivers and brooks.
The RLT's website has the organization's whole history and it is as impressive as any other land trust's past.
Now that this page exists, perhaps I'll be inspired to get out there and walk around. Although, I think it would be funny to just keep avoiding it for 20 years just to drive Peter crazy.
Roxbury Land Trust
Properties and Maps

The Preserves/Hikes:
If linked, I've hiked it.
Roxbury
Allen S. Hurlburt Preserve
Baldwin Preserve & Bray Preserve
Battle Swamp Brook Preserve & Raven Rock Preserve
Brian E. Tierney Preserve
Emily Griffith Beardsley Preserve & Humphrey Preserve
Horrigan Family Preserve (Potential future trails)
Gavel Family Farm Preserve
The Greenbelt
Lilly Preserve
Mine Hill Preserve
Natalie White Preserve
Orzech Family Preserve
River's Edge Preserve
River Road Preserve, Erbacher Preserve & Golden Harvest Preserve
van Deusen Preserve
New Milford
Carter Preserve
Woodbury
The Greenbelt

Roxbury Land Trust
CTMQ's Land Trust Trails Page