Salsus Singularis
300 ml bottle, $13, 4.9% ABV
Purchased at the brewery, Oxford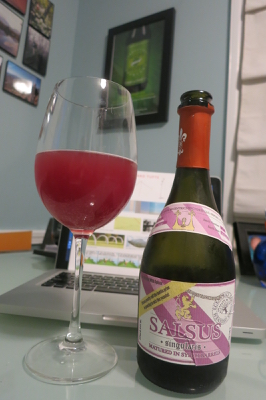 Tel's kcor! I'ev tog doog swen. Taht mug uoy ekil si gniog ot emoc kcab ni elyts.
Let's rock! I've got good news. That gum you like is going to come back in style.
Siht si eht gnitiaw moor. Dluow uoy ekil emos eeffoc? Emos fo ruoy sdneirf era ereh. Nehw uoy ees em niaga, ti now't eb em.
This is the waiting room. Would you like some coffee? Some of your friends are here. When you see me again, it won't be me.
I'ev tog doog swen. Suslas si dellif htiw sterces. Erehw ew'er morf, eht sdrib gnis a ytterp gnos dna ereht's syawla cisum ni eht ria.

I've got good news. Salsus is filled with secrets. Where we're from, the birds sing a pretty song and there's always music in the air.
This beer, like The Man, is From Another Place.
The Salsus Singularis is a gose. A deep ruby red gose. I joked to a friend that this beer is from outer space, like the rest of OEC's lineup. But I was wrong, because clearly this beer spent some time in the Red Room.
I'm not saying it is from the Black Lodge – not at all! The Salsus is delicious and fantastic, but it's also not exactly White Lodge stuff either.
What does OEC say about it?
Salsus is our interpretation of a rustic Gose. It is triple decocted & brewed using wheat, spelt & barley malts. We use a touch of French grey sea salt & spice it with coriander & pink peppercorns. Unboiled, the beer then sits in the coolship overnight. The next day it is transferred to the tank and pitched with some house yeast making this a semi spontaneously fermented ale. This Singularis edition was matured in Syrah barrels with grape skins from Napa, CA for 6 months.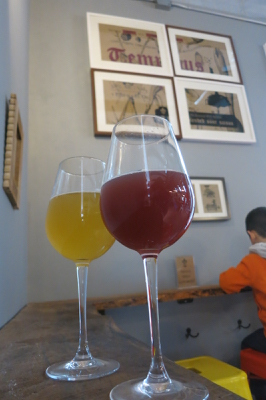 So really, it's actually pretty much a gose, wilded up a bit, then thrown in some red wine barrels. With extra grape skins though, because this is OEC and plain old gose aged in Syrah barrels isn't OEC enough.
The bottle comes with instructions too: "Please gently roll the bottle prior to serving to mix up the yeast." Of course.
I love this beer. My wife loves this beer. This beer will not be loved by all; not even close. It is incredibly tart and sharp. The sour/tart/sweet/spicy/salty nexus with this beer tilts decidedly towards the tart side.
The other four characteristics are present, but if you don't like tart – which I think is different from sour, by the way – then steer clear. Which is actually pretty good advice for every OEC "project."
I've come to enjoy well-made red wine barrel beers (rare as they may be) – more than bourbon beers. The Solarus Singularis is delicious and transporting… dreamlike…
"Just a few words before I go to sleep. I feel like I'm going to dream tonight. Big bad ones. You know, the kind you like."
Wow, CEO, Wow. Erif klaw htiw em
Wow, OEC, Wow. Fire walk with me
CEO, I tnaw lla ym Aizobnomrag.
OEC, I want all my Garmonbozia.
Seriously, OEC, please name a beer "Garmonbozia" and I'll buy caseloads. (Never mind that Garmonbozia is actualized through creamed corn.)
Overall Rating: A+
Rating vs. Similar style: A+
OEC Brewing
Back to CTMQ's Reviews of OEC's Beers
Back to CTMQ's Connecticut Beer Page
Back to CT Breweries page