No one cares, but "behind the scenes" at CTMQ HQ, I've been cleaning up a bunch of unwritten old beer review pages. And by "cleaning up," I mean deleting.
This mostly means just forgetting about old beers that haven't been brewed in over a year and won't ever be brewed again. Even I don't care about them.
Then I came across three drafts of the three rye porter variants from Shebeen… and here we are. They still brew it, and during all the Shebeen turmoil of 2014-15, the standard version was always their best beer to me.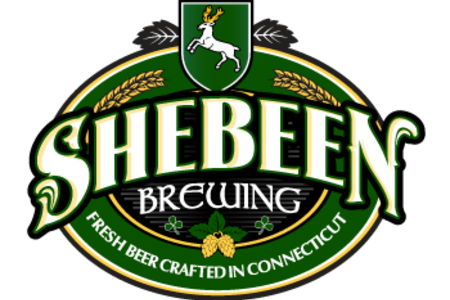 And now, in early 2017, we've come full circle. After several people helmed the Shebeen brewing ship over the last few year, owner Rich Visco is back in charge of the recipes and execution again… at least for now.
(The spate of decent beers from the brewery in 2016 were brewed by Matt Bellamare who has moved on to a job at Two Roads.)
The tale of the multiple rye porters is a cautionary, crazy, sad, and fun one. So let's dive in.
Shebeen Rye Porter
Flip-top Growler thing, $5, 4.4% ABV
Purchased at the Brewery, Wolcott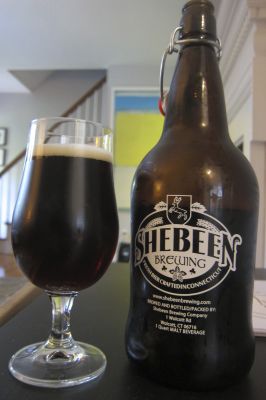 Here it is, folks! Extreme rarez!
Yes, this is the only large vessel of beer I've ever bought from the Wolcott brewery (circa July 2013). Of course, as you probably know, I've bought every canned and bottled Shebeen effort in the interim, but I certainly didn't remember that I bought this bomber directly.
And I bought it for good reason; the rye porter was/is very good. (And hell, five bucks for this thing is/was a darn good deal.)
I bought it following a visit to the taproom with my family. So much has changed since then in the Connecticut brewing scene. Those were the days of, "Hey, Shebeen's this new brewery with the nice staff and sure they brew some crazy wacky stuff, but whatever, I just can't believe we have almost 10 breweries in our little state now!"
Good times.
The IPA's and pales I had that day were terrible. The cannoli beer was… a beer with cannoli stuff on the rim. But the dark beers were good, and again, the rye porter was really good.
Nice, subtle, hint of the caraway spice which worked well in the decent porter base.
Shebeen Says:
Tons of rye makes this porter very flavorful but light in body. It's a session beer that is very drinkable but hints of interesting characteristics from the dark wheat and just the right amount of hops.
I'd posit that all porters are "session beers," but whatever. Not a big deal.
Imagine if Shebeen focused on these darker, flavorful, more traditional beers but with a very slight twist in 2013 onward instead of… instead of whatever it was they did.
Of course, even a solid porter like this had to be put through the Shebeen ringer… many, many times. Keep reading.
Overall Rating: A-
Rating vs. Similar style: A
Double Rye Porter
Large glass as part of a $5 sampling, 7.5% ABV
Purchased at the Brewery, Wolcott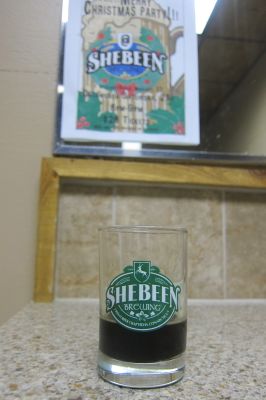 Everyone, including me, should have stopped after that straight-up rye porter. Now, I must say that everything on this page is referring to beers made in the 2013-14 timeframe, so it's ridiculous to conflate anything on this page with 2017 and beyond.
Or is it? I mean, the same guy owns the joint and is now back to brewing again. One would certainly hope that he's learned a few things over the years with regards to marketing and what not to say publicly.
I can't quite figure all this rye stuff out, but when I had them, there was the double and the barrel-aged versions in addition to the standard.
Now, it appears the two have merged somehow? But I highly doubt that, as it's not like you'd market a beer as a double rye porter and not mention it spent time in a barrel in its name.
Shebeen Says:
This Double Rye Porter has the same flavors as our Rye Porter but twice the body and taste. It has gobs of rye, dark wheat and roasted barley and its aged to perfection in a brandy/bourbon barrel.
I don't know what's going on (other than a transcription error). The double rye porter I had was nowhere near as good (to me) than the non double rye.
Too much rye. Too much heat. Way too much booze for a porter. See what I mean? Just keep these things simple, people. It's better for us all.
Overall Rating:C
Rating vs. Similar style: n/a
Bourbon Barrel Aged Double Rye Porter
Large glass as part of a $5 sampling, 10% ABV
Purchased at the brewery, Wolcott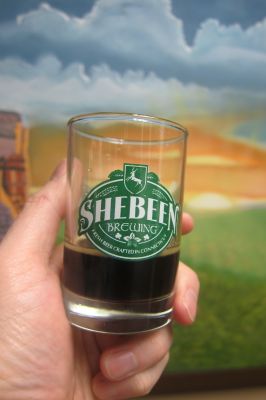 Hey, I liked my Barrel-Aged Double Rye Porter from Shebeen of 2013! It retained all the characteristics of what made the rye porter good while imparting a decent amount of barrel/whiskey flavor that didn't overwhelm the base beer.
Somehow the sweetness of the booze in this version worked better with the hotness and high ABV.
At the time, I surely thought, hey, this new creative little brewery has some serious promise.
Then it all fell apart.
With this very beer right here.
Shebeen had made a few gaffes before the great Rye Porter Fiascos of late 2014, and even though they received more attention, it's these that really had me scratching my head.
One was done fairly quietly. Shebeen notoriously had major glycol-system issues, meaning that fermentation temps were way too high and not easily controlled.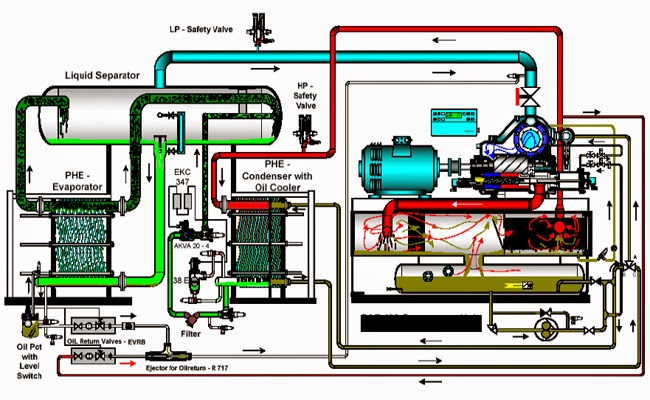 The following bit is "insider" but it was also made public. I believe it to be true, even if it was written by a disgruntled former employee.
During one rye porter brew session, they stuck the mash on the Rye Porter, and [due to undersized glycol system] burned the Double Rye Porter which resulted in a second batch of extract base beer being made to cover up the burnt taste.
Okay. That's not the worst thing I've ever heard. But then it gets funky. At one point, Shebeen dumped this burnt rye porter into a barrel in an effort to mask the poor beer. Or so a mole says… I can't verify that ever happened, but even if it did, still not the worst thing ever.
Regardless, my versions of the rye porter were all okay.
But this. This is the worst thing ever, again from the former employee (though this was well-known "in the community.")
The unused portion of that extract brew was served as "bubblegum".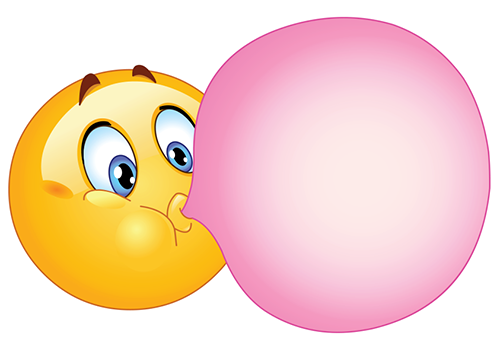 Looking back, this was the event that sealed the deal for me on Shebeen for period of time. It wasn't the crap-talking NEBCO or poorly worded quotes in the press. It was serving a mistake beer, brewed at too-high temps resulting in a gross bubblegum ester-mess, as a quirky sweet beer.
This just told me that they really didn't care. Perhaps now they do in 2017 (one would certainly hope), but at the time (2014), you couldn't convince me otherwise.
The kicker? There are two, actually. One, the Bubblegum Ale was served as a "Mug Club Exclusive" (way to treat your loyal patrons like garbage) and the other was that this was made public.
No, really. For real.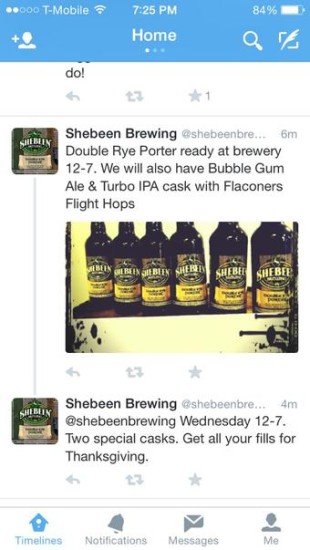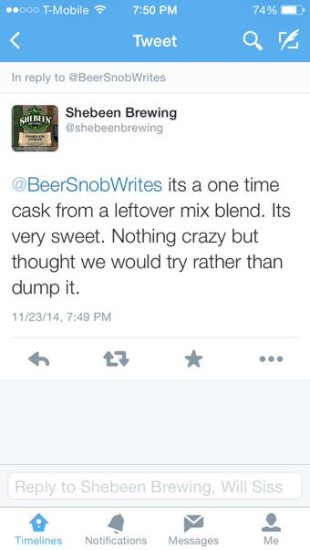 Sigh. Now that Rich is back in charge of brewing for the time being, one hopes he has relinquished social media and stuff to someone else. Though, let's be honest, a bunch of you jerks hope he's still at it.
Anyway, to sum up: Breweries, don't use extract to make your beer. Have a proper glycol system and clean your tuns and tanks thoroughly. Don't sell mistakes. Respect your customers.
Seems pretty simple.
(Though, since they're now out of business I can tell you that Top Shelf was guilty of all that crap in spades. We as consumers should be happy they are no longer in the brewing business, and I just hope they run their restaurants with a stronger concern for quality than they ran their brewery with. Sheesh.)
Overall Rating: A
Rating vs. Similar style: n/a
Shebeen Brewing Company
CTMQ's Reviews of Shebeen beers
CTMQ's Connecticut Beer Page
CTMQ's CT Breweries page