Kent Falls Brewing's Lime Zest Gose,
16.9 oz bottle, $7.50, 4.6% ABV
Purchased every bottle I found at MaxBev and CBC, West Hartford
Originally published October 2015; slightly updated December 2017
[2016 Update: Kent Falls had to change the name of this beer from Shower Beer to the far more mundane Lime Zest Gose shortly after its release. As a result, it is now part of the Cease and Desist Series of CT Beer reviews. I've updated this page at the bottom. The beer is still great, and the story is moderately funny.]
Before we get going, I want to be sure you know that this exists.
Seriously, who in the world would set up a camera in the bathroom in order to snap a picture of oneself with a beer? And then put it online for the world to see?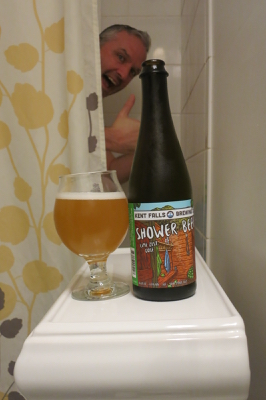 What is wrong with people these days?! I just don't get it.
When I learned of this beer and its name, I remember thinking that there must be some wacky Kent Falls story about a shower and the beer. I have been to Kent Falls and my son had to use the bathroom. Since the brewery wasn't yet open to the public and since the guys behind the farm brewery actually run a farm and actually live at that farm, there was an actual shower in the actual farmhouse's actual bathroom in which I actually spent some time.
It's a small shower; just a stall as I recall and the bathroom was typical of what you'd expect from a single (?) guy working 18 hour days at a farm brewery's bathroom to look like.
I (of course, duh) stole some Ambien and Mach 4 razorblades and continued my afternoon with Barry and Derek. In other words, I totally expected this Shower Beer to have some tie in to that little shower being very close to where the Shower Beer was brewed.
But Kent Falls Says:
This beer was no small challenge. Reconfiguring packaging plans (again), zesting and juicing 400 limes by hand (thank you Jeff) among them. But we are extremely excited about the end result. Snappy sourness up front, a super smooth run of fresh lime and a mouthwateringly salty finish that will leave you thirsting for more.
Kent Falls also basically said this is just a "shower beer," which is apparently more of a thing than I ever knew.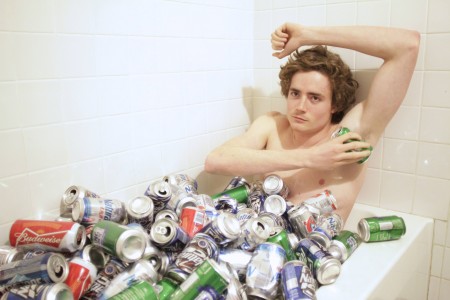 Back in the day when I was at college, we'd bring our "shower beers" to the showers sometimes before a night out. My brew of choice in 1994 was, of course, Golden Anniversary. My roommate swore by that swill and liked to convince guests that the "Gold Medal Winner" badge on the can actually meant something.
With beer like, ahem, the Golden Shower Beer, is that it never mattered if shower water got into the can. (Or shampoo or urine or whatever effluvia happens to float around in communal showers.)
But with Kent Falls' Shower Beer, I would not want to take it into a shower. It's far too wonderful to chance it.
I love this beer. I think it may be my 2015 "New Connecticut Beer of the Year" Award winner. I can say with 100% confidence that it is definitely in the top three or four.
Once again, I am blown away by the crispy clean brightness of another Kent Falls beer. In the case of this gose, the lime gives just the right amount of citrus bite – and you can tell that this is real lime too. It is slightly sour and slightly salty and light and sweet baby Jesus, I just want to drink this everywhere.
Except, ironically, in the shower.
When Kent Falls were asked to not use "Shower Beer" in commerce, it inspired a pretty funny blog post from them. "Dusche Bier." Heh. Also note the crappy photo editing from that blog post was later translated to the bottle's actual label. Again, heh.
Anyway, let's give a shout out to the mighty Champion Brewing Company of Charlottesville, Virginia and their Bohemian Pilsner called "Shower Beer." I merely wanted to draw your attention to this brewery and this beer, just to be sure you do not confuse Kent Falls' bottled lime zest gose with Champion Brewing Company's canned Bohemian Pilsner, 425 miles to the south.
(Honestly, I support naming rights and all of that and don't really have an issue with Champion's request that Kent Falls change the name. I am curious, though, why so many breweries with self-expressed "punk rock values" sort of co-opt the straight-edge X in their logos. And, while "punk rock values" are separate from such things, having grown up in the punk rock scene, it's weird that so many Champion beers are named for military weaponry and stuff. Maybe it's ironic? I have no idea. I'm sure their beer is good.)
Overall Rating: A+
Rating vs. Similar style: A+
Kent Falls Brewing
CTMQ's Reviews of Kent Falls beers
CTMQ's Connecticut Beer Page
CTMQ's CT Breweries page