Silk City Saison
12 oz can, $1.49, 6% ABV
Purchased at the Manchester Wine & Liquors, Manchester
May 2015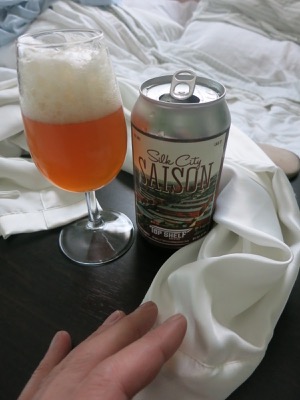 At some point in mid-2014, Top Shelf acquired some of Firefly Hollow Brewing's equipment. Some tanks of some sort. By that time, I had written off Top Shelf stuff as bottom shelf stuff. In fact, it was a random Saturday quick stop at the small Manchester brewery, angry family in the car, that made me take stock of my life.
Why am I dragging my beleaguered family to a brewery I'm not such a fan of so I can buy a bomber I very most likely won't like? What was wrong with me?
These were good questions. So I stopped. I stopped "accidentally" winding up at breweries with my family in tow. I stopped hate-buying beer. I stopped caring about special releases and brewery openings and all of that stuff.
I had to.
It's been a year since that epiphany, and I've settled in to a nice rhythm of Connecticut beer drinking and writing. If I'm in a store and see some bottles or cans of Connecticut beer that I've never had, I'll still buy it – no matter what it is. And since we live in a time when we can buy singles of stuff, I have no reason not to.
So there I was, in Manchester Wine & Liquors, a store about which I've heard lots of great things, poking around. Oh, that's right, Top Shelf is canning now!
I had heard rumblings that things had turned around with Top Shelf. But I've heard a lot of crazy things over the years. The last two bombers I bought from them were palatable, so I was willing to give them a 5th (or so) chance.
I bought all three available cans.
Top Shelf says:
Silk City is a highly attenuated, farmhouse ale with low bitterness and hints of pepper and spice. Keeping with tradition, the earthy nose leads to a very dry finish. Best enjoyed after your weekend chores.
I was skeptical. Highly. These guys are doing a saison? A "traditional" one?
At the least, the name is a nice nod to their hometown, as Manchester was the Silk City back in the day. There are still all sorts of local businesses named "Silk City" Something in town, and the excellent Manchester Historical Society has several properties that evoke the silk mills of the past. Hell, you can go live in the Silk Mill right up the road from Top Shelf.
I like silk (those are silkworms, by the way) and I like a good saison…
But no way was this a good sais—hey! What thuh? The Silk City Saison is not bad! In fact, it's pretty good! And it is very traditional: crisp, spicy, dry, clean. There was none of that Top Shelf Band-Aid or vomit of beers gone by! Instead of a funky tartness due to crap QC, there was no funk and a slight tartness due to good QC.
I liked this beer. I really liked that my first foray back into those murky Top Shelf waters was positive. And I really, really liked that – at first blush –it seems like the guys who poured their hearts and souls into making a go at running a brewery seem to have turned things around!
Was it the new (actually old, but whatever) equipment from Firefly? Did they hire the new head brewer they were looking for a few months out of the gate? Or did they simply clean up their processes at the brewery? Most likely all three – as all three needed to be addressed.
We have all sorts of good Connecticut saisons now, and some are quite excellent. Silk City hasn't made me think about getting in line for their Friday limited releases just yet, but I'm happy to say that they've canned a good beer I wouldn't shy away from giving to friends.
Overall Rating: B
Rating vs. Similar style: B
Top Shelf Brewing Company
Back to CTMQ's Reviews of Top Shelf beers
Back to CTMQ's Connecticut Beer Page
Back to CT Breweries page