Final Giant Willimantic Brewing Round-Up
Six more different beers over the years
All purchased at Willibrew, Willimantic
I wrote this a few months ago with regards to a previous "WilliBrew Round-Up":
This may will be my swan song to WilliBrew – and most brewpub – beer "reviews." I don't know… they have never felt the same to me as the production brewery review pages I write. Or at the very least, I'll probably be "reviewing" their beers like I'm going to do on this page: Very quickly and many all at once.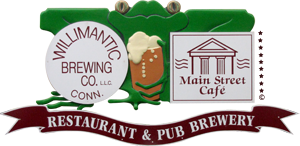 Let's get to it:
Take Time IPA
1 pint, 6.7 % ABV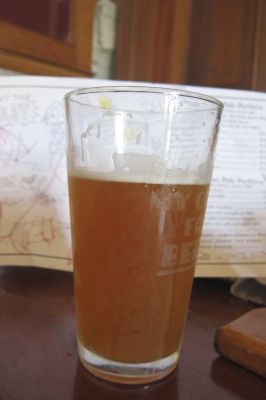 Willibrew has brewed a lot of IPA's. For the most part, they are all good. Including this one.
For whatever reason, the Take Time IPA doesn't seem to exist on any of the rating sites, most likely meaning they've never repeated it after the one time it was brewed. I just happened to have it. A whole pint of it. See? Look at that picture.
So you're probably never going to have Take Time in your life. Or, if you do, it has a different name and none of us will ever know if it is the same recipe as the Take Time. Maybe the dude who brewed it was Ben Braddock who left WilliBrew and is on the cusp of opening his own Hog River Brewing in Hartford? And maybe he'll brew Take Time there? I have no idea. Why am I reviewing this beer?
Willibrew says:
In these times of hustle and bustle we brew this unfiltered IPA with Pilsner, Aromatic, Wheat, and Vienna Malts, hopped with CTZ and Zythos. Take time to savor your friends, family and beers!
Sounds delicious. And I gave it an A rating at the time I had it. By the way, the line above: Take time to savor your friends, family and beers! is clearly secret code that Braddock brewed this beer.
For as we all know, "Ben Braddock" certainly savored friends and family that one time in that 1967 movie…
The film tells the story of 21-year-old Benjamin Braddock, a recent college graduate with no well-defined aim in life, who is seduced by an older woman, Mrs. Robinson, and then proceeds to fall in love with her daughter Elaine.
Hey, it happens. Especially when beer is involved.
You know what I'm talkin' 'bout.
Overall Rating: A
Rating vs. Similar style: A
………………………………………………………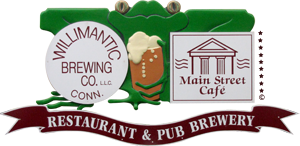 Workingman's Wheat
Sampler, 4.6 % ABV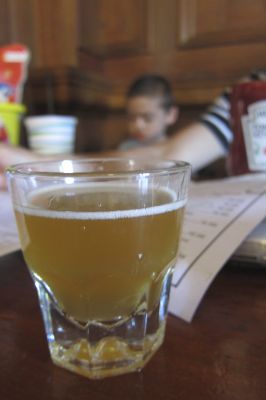 I went to grade school with a kid whose last name was Workman. Unlike Connecticut, Delaware has had "true" desegregation of its schools for decades. Suburban kids were bused into urban areas for some of their schooling, and vice-versa. I always went to schools with a healthy racial and socioeconomic mix.
Note to Connecticut sububanites: I survived just fine.
Anyway, this kid had a rough upbringing. I don't know the details, and this was 30+ years ago now, but it was clear that his family was not well off. Many days, he'd show up in way too-small t-shirts that clearly hadn't been washed. He was unkempt and, well, poor.
But he was a good kid. People picked on him. He was sent home on occasion for wearing clothes the school deemed too small or yes, too dirty. My little pre-pubescent heart broke for that kid all too often. I Googled him today but found nothing. I hope he's doing okay, but the odds were certainly stacked against him. I knew where he grew up and not many people came out of there to be successful.
The name of this beer made me think of him today. And now I'm sad… Kid had to put up with a lot of crap.
WilliBrew says:
An unfiltered wheat beer with pale and wheat malts, lightly hopped with Crystal for a lemony finish.
This beer was also fairly poor and dirty. (How's that for a transition?) For me, a wit needs to be really good for me to care a whit about it (Again, I'm an excellent writer. Ahem). This one was thin and lacked any of that witbier zing I look for; be it clove or in this case, lemon. It seemed unfinished and rushed.
Let's move on.
………………………………………………………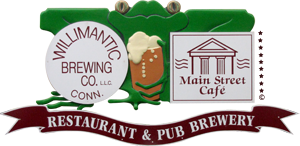 Three Cents
Sampler, 5.3 % ABV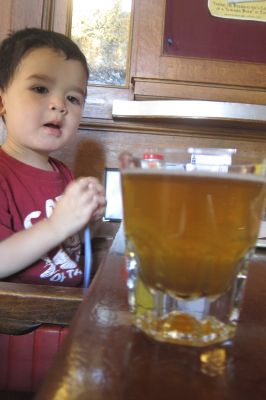 Talk about a useless review. I gave this beer low marks when I had it, but I have no idea why. It seems pleasant enough: a pale ale, hopped with Centennial. Why didn't I like it? I have no idea.
This one does appear, often, on the rating sites. People seem to dig it. (Or at least a version of it after the batch I had.)
I'm sure I'm in the wrong here, and that's my two cents. Oh. This is Three Cents – probably a play on the Centennial hops involved. "Play on…" "play…" Hey, back in the day, a few years after I knew that Workman kid discussed above, my school went to go see "The Threepenny Opera" on Broadway.
Here's what I remember from it:
Sting played the lead.
Big Boobs, tight corsets, and fishnets… and lots of 'em.
"Mack the Knife" is from this opera.
Standing outside afterwards waiting for Sting.
Standing next to Sting, who was appreciably shorter than pubescent me.
Enjoying that fact.
Thinking about those boobs, garters, and fishnets all the way home.
Willibrew says:
Unfiltered American Pale Ale juiced with Centennial hops and American malts.
Again, I have no idea what I rated this beer relatively poorly. But I do still remember those boobs, garters, and fishnets.
And how short Sting is.
Overall Rating: C
Rating vs. Similar style: D
………………………………………………………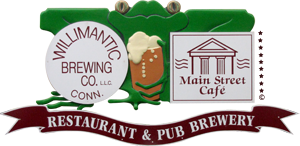 Summer Saison
Sampler, 5.6 % ABV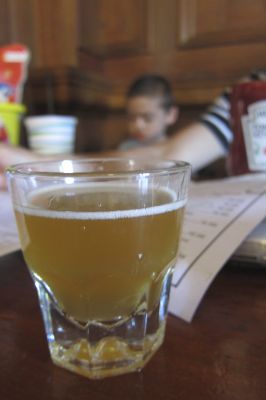 What makes a saison a "summer saison?" It's served in the summer? I have no idea. I also have no idea why I dropped the same picture as the Workingman's Wheat above. And I have absolutely no desire to go hunting for the correct picture.
Boy, I'm really hitting these quickie reviews out of the park.
I rather enjoyed this effort from the WilliCrew. I find that I gravitate towards Saaz hopped saisons – at least the ones brewed well anyway. I don't know much, nor have I had much experience with, Tettnang hops. But I have had a decent amount of experience with the Linux operating system.
Say what?
What? You mean you don't know that the second release of the Linux operating system Fedora was named "Tettnang" because of the hops grown in Tettnang being used for making beer. The release was preceded by the beer-related name "Yarrow" (an early substitute for hops) and followed by "Heidelberg" (a German city and the name of a distributor of beer).
Everyone knows that.
Willibrew says:
An unfiltered Farmhouse ale brewed with Pale, Vienna, and Rye malts fermented with our Saison yeast, and hopped with Saaz and Tettnang.
Now, you'll be forgiven for not knowing that the anti-virus software vendor Avira, a company with around 100 million customers and 500 employees all over the world has its headquarters in Tettnang.
This was a good saison – and it would be good in the winter or the spring or the fall.
Overall Rating: A
Rating vs. Similar style: A+
………………………………………………………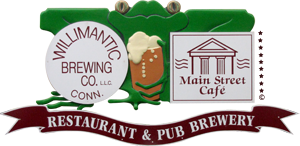 Saison Noir
1 sampler, 6.5 % ABV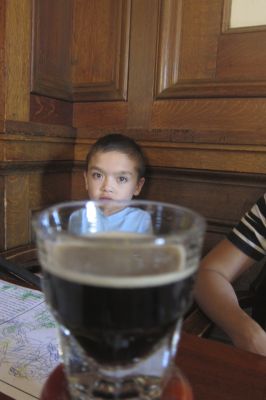 While I have no idea what makes a saison a "summer saison," I do know what makes a black saison a black saison: It's black.
I am on fire.
I also know that a "black saison" is not really a thing. But WilliBrew made it a thing, and I'm glad they did. I really enjoyed this beer.
And I say that all the while saying that not only is there no such thing as a black saison, there really shouldn't be either. I'm cool with black IPA's, but black saisons? That literally makes no sense.
But, whatever. No one cares about style guidelines anymore. Beer is the new wild west. Black saisons exist and many more breweries beyond WilliBrew are making them. I don't know why. Like, are they just ales with saison yeast? Saisons with chocolate (or whatever) malts?
Willibrew says:
Unfiltered and dark with chocolate and tropical fruit from specialty malts, Sybilla, Cascade hops, and our saison yeast.
Sybilla was an 12th century queen of Jerusalem. Sybian is a, um, pleasure chair. (If you don't know what a Sybian is, here you are. Probably NSFW.) I'm just throwing out random facts at this point. I'm bored.
But I really did like this mixed up stupid beer. And I'm not really a "saison yeast" fan. But for me, in some absurd way, it played well with the richer malts of this beer.
Cybill Shepherd was named after her grandfather Cy and her father Bill.
Sally Field played Sybil in the mini-series of the same name. I love Sally Field. Oh, and the real Sybil admitted that all her personalities was a bunch of hooey.
Overall Rating: A
Rating vs. Similar style: n/a
………………………………………………………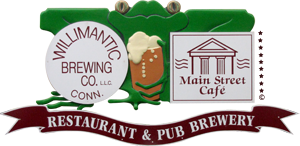 Willi Whammer Barleywine (2013)
Sampler, 9.7% ABV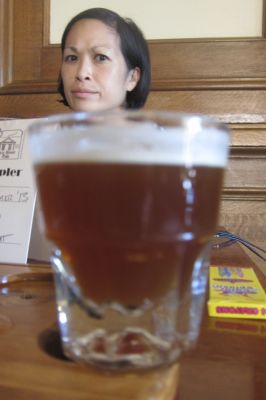 "Why are you taking your dumb picture with me in it?"
"Because you are beautiful."
"Yeah. Right. I'm not feeling it today, buddy."
"Oh stop. I love you."
"Great. So you're gonna use this dumb picture of me when you write your dumb review of that dumb beer in three years."
"Yeah. Probably."
Willibrew says:
Unfiltered Strong Ale with copious amounts of Pale malts, a touch of Crystal, and hopped with Galena and Goldings.
"Christ. I wish you wouldn't. I made a dumb face."
"I'll bury it at the bottom of a long page with, like, six WilliBrew reviews on it. Literally no one is ever going to see it."
"You are so weird. Why would you write a long page with six beer reviews that you admit will be years out of date and from a brewpub and about beers that won't even be available at that time?"
"All fair points. I wonder about that too. It is weird. Sorry. But this is the Willi Whammer and at least it's one of a series that they brew every year and their then have special nights with Whammer verticals and –"
"Stop. I don't care. I have no idea what a vertical is, but it's probably stupid. Anyone who rates beers is stupid."
"No they're not."
"Yes they are. Let me just choose one at random for this beer you're drinking."
"Go for it. Beer raters are a brilliant lot."

"Hey, that's not fair. That person simply hates barleywines."
"Then why did he take the time to give that beer a poor review. That makes no sense. Case closed."
"No it's not. Go pick another one at random. This time from untappd… Smarter people there, I swear."
"Okay, here":

"Oh Jesus Christ. You win."
"I always do. Can you please stop with this dumb page now?"
"Yes.
Overall Rating: A
Rating vs. Similar style: A
………………………………………………………
WilliBrew
Back to CTMQ's Reviews of Willimantic Brew Pub beers
Back to CTMQ's Connecticut Beer Page
Back to CT Breweries page