New England Brewing's Sorachi Ace Saison
Growlette, 5.6% ABV
Purchased at Brewery, Woodbridge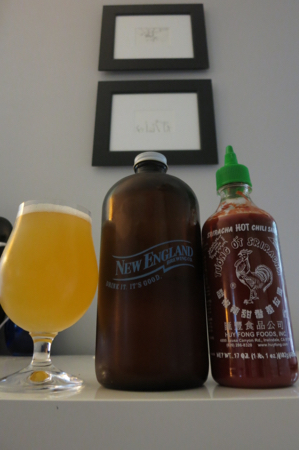 The following page will contain a healthy dose of made up stuff, mixed in with some facts. That's my usual modus operandi, but when I'm making up stuff like what's in a brewer's head, I try to make sure my dumbest readers understand.
This beer was brewed by Matt Westfall.
See? I just made that up. I have no idea which of the highly capable NEBCO brewers are responsible for this.
Playing off of Brooklyn Brewery's widely known and well-regarded Sorachi Ace farmhouse ale, NEBCO decided to add some Sriracha into the mix to be funny.
Yeah, made that up too.
I mean, who would ever put Sriracha into a beer? That would be insanely stupid.
Anyway, Matt tends to like saisons and pilsners and other beer styles that don't necessarily "pay the bills" these days. The Fat Ten-Er series at NEBCO allowed him to explore these styles a bit. And being an owner of the brewery also gave him some room to play with hops like Sorachi Ace.
Ever wonder about Sorachi Ace? I have. So I looked it up:
During the hop crisis of 2008, brewers were delighted to discover a newly available high alpha hop – Sorachi Ace. Originally developed in Hokkaid?, Japan for Sapporo Breweries in the late 1970s, the hop wasn't commercially available until 1984 and not available in the US until 2006.
It's not like Sapporo is a great beer, but it does serve its purpose and fills its niche nicely in Japan. I'm assuming Sapporo makes many more beers domestically than what we get here. The giant Sapporo cans here don't even have Sorachi Ace hops in them.
Made that last bit up too. I have no idea. But have you ever tasted/smelled the following while drinking your last Sapporo?
Known for its intense lemony flavors, Sorachi Ace also runs the gamut from white flowers, dust, and tea, to bubble gum, dill, and coriander. This hop is ideal for IPAs, saisons and wheat beers.
What the heck are "white flowers?" And… dust? Amazingly, I did not make any of the preceding paragraph up. Can someone make a bangin' "MoSorachi Aice" IPA (Mosaic/Sorachi Ace) that gives me dust, dill, cat piss, and oniongrass please? I love beer.
Fortunately, NEBCO teased the good stuff out of the hop and gave us a solid saison here. I can't pretend this is my favorite hop, or even that saisons are my favorite style, but I know a good one when I have it. This was a good one.
I did not pick up on any dust or dill and wouldn't know it if there were "white flowers" in there, but I've never cared about that stuff. Lemongrass and saison yeast dominated, in a light, clean way. I'm sure Matt loved it, even if it didn't "pay the bills."
When Matt's new brewery, Counter Weight Brewing, gets up and running in 2017, I'd expect a decent dose of saisons and such to balance out the IPA's and stuff that the market will demand.
This was a dumb review. Sorry.
Overall Rating: A
Rating vs. Similar style: A
New England Brewing Company
CTMQ Reviews of NEB Beers
CTMQ's Connecticut Beer Page
CT Breweries page