Southport Brewing Company (Bottles)
Southern Connecticut, Contract Brewed at Thomas Hooker, Bloomfield
Note: This is now an archived page. At some point, perhaps even before you read this, all of my CT Beer Review pages will suffer this same, sad fate. After much reflection in late 2017, I decided that my beer reviews would come to an end. For more on that decision, go here.
This page is about SBC's bottled beer, not the brewpub or their draught beers.
Beer List:
Connecticut Pale Ale, C-
Hydroponic White Ale, D
Big Chill Ale Winter Warmer, D

At first blush, you may be confused by this. A brew pub, with at least 4 no location that brews beer, contracts bottles out to Hooker? What's up with that? Well, first of all, it's not unique – as of this writing in early November 2012 anyway.
City Steam Brewery in Hartford contracts 3 beers to be bottled at Hooker (moved to Two Roads in Stamford, 2013). And the Cambridge House in Granby has 3 beers contracted up at Paper City in Holyoke, MA. (Although, if you care, the current Cambridge House owners have nothing to do with the bottled beer. It's a long story for another page.)

The bottom line is that these brewpubs don't have bottling or canning equipment. You see? It makes sense when you think about it. With Connecticut's recently relaxed brewery and alcohol laws, we may see more of this type of thing in the next couple of years – or hybrids thereof. Brewpubs still can't sell package, but they can fill growlers on premises, if they so choose.
I have only been to one SBC location in my life (Milford, the one that doesn't brew in-house) and that was several years ago for a quick lunch. They have a nice line-up of pub-brewed beers from what I gather, so I'm eager to get down to one soon. And again, those beer reviews and a brewpub report will appear elsewhere.
[2018 Update: If you haven't gleaned by now, SBC no longer brews beer and currently only operates a restaurant. Four locations closed, including the one that brewed and the brewers left to open BAD SONS Brewing in Derby.]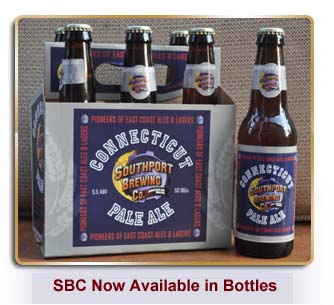 For this page is merely the introduction to SBC's bottled efforts.
This beer imprint caught me by surprise a bit, as I saw six-packs of the Connecticut Ale during a random visit to the Liquor Depot in New Britain. I didn't buy it then, but certainly went home and researched their provenance. It's amazing what an established distribution network can do for a beer – they were in New Britain very shortly after launch (with no SBC locations within 45 minutes) and shortly after that, I saw them everywhere.
When I got around to buying one to review at the Spigot one Sunday afternoon while watching the Philadelphia Eagles play like crap, I noticed they had a prominent center draught line at the bar too. Wow, these guys are good.
[2018 Update: The Eagles won the Super Bowl in 2018.]
Here's a bit of what they say about themselves:
Family run since 1997, Southport Brewing Co. is the oldest continually run brewery in CT. Since its inception, Southport Brewing Co. has combined the malt flavors of Europe with the hop punch of the west coast, to make what we like to call East Coast ales and lagers. A perfect blend of malt, hops, yeast and water, so simple and satisfying that our craft beers don't get lost in the middle. So grab a sixer and taste why East coast beers rule!
[2018 Update: Okay then.]

Southport Brewing Company
CTMQ's Connecticut Beer Page
CTMQ's Breweries page