Back East Spring Ale 2016
Six-pack, $11?, 5.5% ABV
Purchased at the brewery, Bloomfield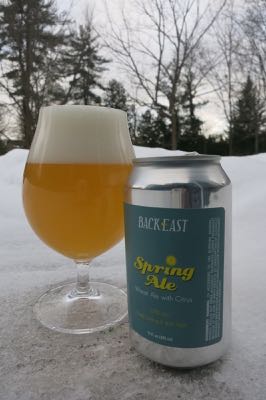 Ah, Spring!
Y'know, I could sit here and write a bunch of words about how this picture was actually taken in the spring of 2016 and hoo-boy, there's snow and can winter just be over already and I'm tired of the cold and blah blah blah.
But that would be stupid. This past winter was warm as hell and we had very, very little snow. And yet, I still hear people saying things in the above paragraph. In New England. Where it was like 70 degrees on Christmas Eve.
Where my gas bill never went above $100, which is insane.
Every day, literally, we read some new dire warning about the earth's climatic future. The pollinators are dying, the coral reefs are bleaching, the seas are rising, the fish are getting their sex all wrong, Greenland is melting. On and on. It sucks. Like, really, really sucks.
But this cheery little ale is here to brighten your day! The color palette on the label alone brightens the scene above. I happen to love the new (early 2016) line of Back East cans; the shiny aluminum with the simple sticker-label slapped on them. Sleek fonts, cool colors.
I also like that Back East has changed up their Spring Ale over the years. This iteration is, by far, the best of the lot.
Back East says
Our Spring Ale for 2016 is a hoppy wheat ale brewed with a blend of our favorite hop varieties. We added fresh citrus zest and juice to create a unique ale perfect for welcoming warm weather.
See? Now the picture of this beer in the snow in the spring of 2016 is hilarious! "Welcoming warm weather!" Oh man, I'm killin' it.
I loved the 2016 Spring Ale. It came out during the heady time when Back East was hitting us left and right with new stuff. Stuff that was getting people to sit up and take (stronger) notice of the boys in Bloomfield. There was a day you could have gone into the brewery and picked up the Spring Ale, some Wakatu, some Rakautra, some Intergalactic, the Imperial Stout, and maybe a Berliner or two.
And that haul would have been as good as any of your dopey facebook group's "haul pictures." I actually almost did just this; just to prove a point.
But I didn't. I'm lame, but I'm not that lame.
The Spring, as you just read, was a wheat based ale, just like the Rakautra. It seems to me like the guy Back East hired to take over the main brewing reins likes his hoppy, citrusy ales to use wheat as the base malt. It also seems to me like it works really, really well. So well, in fact, that I'm sort of stunned that it's not more of a thing.
The softness of the wheat base seems to give a sort of sharp twinge to these beers, and allows for the citrus and floral hops to shine even more than usual. In the case of the Spring, Back East went a step further and zested a bunch of fruit. It was worth it, as again, this beer was great.
I would urge Back East to brew this year-round, but that whole zesting and juicing thing sort of kills that idea. Oh well, we'll just have to wait until next spring… Unless they change what the Spring Ale is again.
(Please don't. No matter what. Really, no matter what changes may happen between now and then.)
Overall Rating: A
Rating vs. Similar style: A
Back East Brewing
Back to CTMQ's Reviews of Back East's beers
Back to CTMQ's Connecticut Beer Page
Back to CT Breweries page