Steady Habit: January 2015-September 2016
This page is about Steady Habit Brewing in Haddam. I will mostly confine my commentary to the above dates. In September 2016, Steady Habit underwent a massive change, for better or for worse.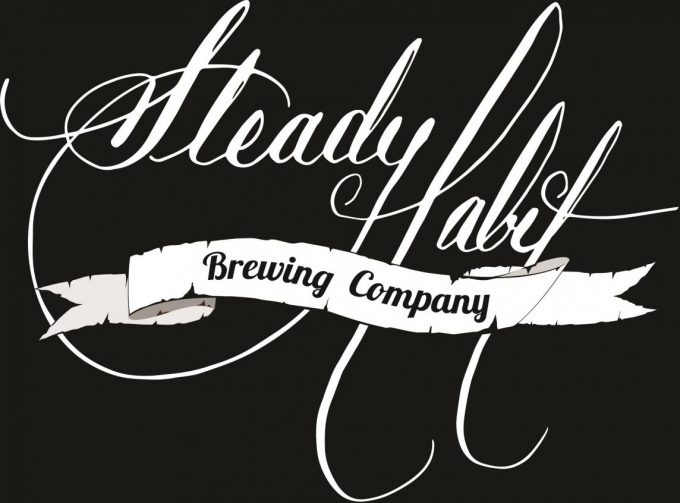 I have no idea what the "new" Steady Habit will be like. It may be more or less the same. It may be vastly different. Time will tell.
The brewery is located in a decently sized warehouse space behind Tony's Package Store near the Haddam Swing Bridge and the Goodspeed Opera House across the Connecticut. The system is small and there's a strong DIY feel about the place. And no matter when you go went, there is was always one constant: Jon Peterson.
Here's how I see it: Jon Peterson IS Steady Habit. He worked at Tony's Package Store for years, homebrewed for many years, sorted out the space behind the store to rent, got some investors, saved up some money, and pursued the Steady Habit dream.
Many of us who knew Jon, and knew of his skills, were excited to say the least.
Before opening, Jon worked with a graphic artist to create the branding and logos. The original logo that you still see here and there, was a nod to our shared hardcore punk music background.
When Jon showed these to me, in August four months before he opened, I said, "Dude. I don't want to JUDGE you. I don't want to be Bringin' it Down, but I think you know what I'm saying."
There's a reason that you hardly ever saw that original hammer logo which was rarely used in favor of the script font one… except, y'know, on the front of the brewery. Jon told me he told the graphic designer to make it an "homage" to the band. Well, he did that in spades.
(Aside: Judge wasn't the best punk/hardcore band back in the day, but they were pretty well-regarded among kids like me and Jon. Here's the type of music I'm talking about. That opening riff is tight. Anyway, JUDGE was also a straightedge band, which made aping their logo and collegiate block font even weirder in my opinion.)
So yeah, I've known Jon for a while. And as for the Judge thing, it's not a big deal at all; I don't mean to suggest it's anything more than a funny tidbit. Steady Habit was ALL him. He had some backers, sure, but they were very far in the background. The beer, the beer names, the social media (such as it was), the entire face, blood, sweat, and tears were 99% Jon's from day one.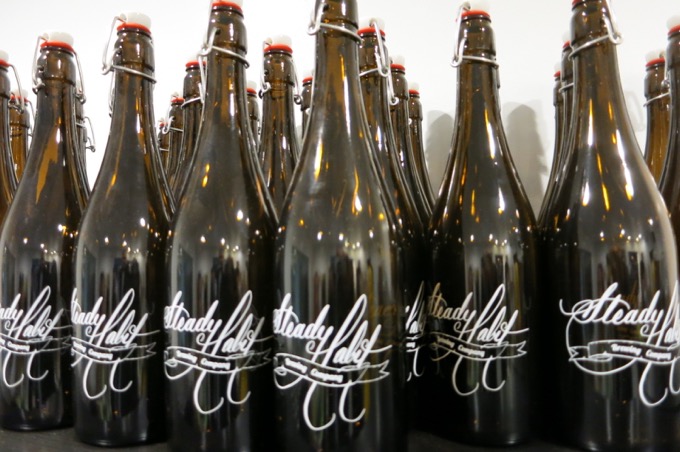 And it's no secret that that was probably a mistake. A brewery is a business, and neither I nor Jon can pretend Jon knew all there is to know about how to run a business. No one does. Fortunately, he had mentors in Matt Westfall at NEBCO and Mark Sigman at Relic. He figured out the state and federal paperwork alongside Ed from Lasting Brass and others. He wrote all the blog posts and handled every customer service issue that came up.
Jon barely slept for a year.
Due to a tight (read: nearly nonexistent) budget, Steady Habit had to do some things other breweries don't. His system was installed with some, um, unique features. Certain pieces were more or less backasswards. The tap system and customer facing operation were as slow as molasses and the cheap plastic tables and sample cups screamed DIY – in a sort of cool, low-key, take it or leave it sort of way.
My kids did always enjoy the little basketball hoop though. (By the way, I have a bunch of random pictures from multiple visits to the brewery, but didn't feel like scanning through thousands to find them all. So I've lifted a few.)
The space is stark. It is the type of space I'd have gone to see a bunch of hardcore bands in for 8 bucks in high school. The tables were the same kind on which I'd peruse 'zines while adjusting my earplugs. The space was Jon. And I dig it.
Problems plagued Steady Habit from the start. If I didn't mention them, you'd yell at me for being biased about a friend's brewery. No need to rehash the past, but the big one was the sometimes slow growler fill lines. The fill system always needed an upgrade, and some attempts were made, but when you're one man with limited resources, you can only do what time and money allow.
And yet, people came and waited and made friends in that line. Because it was worth it.
Jon had issues with his water. I won't pretend to know the chemistry behind those issues, but more money had to be sunk into a new filtering system. Most new breweries have similar problems though. Jon got a rep for being curt and gruff on social media at times. He worked through these things and learned from them. Growing pains. Stress.
And no sleep.
With four kids and a wife at home.
But the beer! Steady Habit pumped out some of the best beer in Connecticut. It gained a reputation among the "insiders" as being one of the best breweries in the state. Steady Habit was named the best new brewery in the state by RateBeer. Jon nailed several styles and created some innovative beers as well. There were days you could stop in and pick up a chocolate coconut stout, a world-class DIPA, and a hop-forward pale comparable to any in the country.
And there were days when you couldn't get anything, due to system issues, dumped batches, whatever. Jon dumped some beer, unfortunately. Probably for different reasons every time. And that's never good. (Though one could argue from a QC standpoint that it was a good thing from the consumers' perspective.)
Hey! Black Flag guy and Jon! Here's a song for you both:
But Steady Habit "Rose Above," scoring collaborations with some of the best breweries in the state: Kent Falls and Relic. Plus, there were the glorious collabs with Lasting Brass and Fox Farm, two breweries that should be open sometime in 2017. Jon had the cred and the friendships across the industry.
Jon was one of us.
The entire Steady Habit philosophy was that punk DIY attitude. Slow, organic, natural growth of a very niche little brewery. Steady Habit had some great accounts and despite the sporadic aforementioned issues, had the fanboys.
He wanted to expand, but expand the right way. He wanted a canning line, but only when the time was right. (An attempt at mobile canning in the summer of 2016 went infamously awry.)
Things needed to change after a year, so Jon looked for options. The ownership team wasn't the right fit, so Jon sought out new ownership.
When a new owner was brought on – by Jon himself – in the early summer of 2016, Jon was initially ecstatic. More control! An actual paycheck maybe! Expansion plans to be realized! I said to friends, "this should be great. Jon brought this guy on, he has money to invest, and he's a business guy. Jon can now just focus on brewing and leave all the business stuff to this new guy."
Then… then it all fell apart. If you care enough to read my stuff, you've probably heard (at the least) bits and pieces regarding the situation. It has popped up on Beer Advocate and on facebook and around taps across the state. It's not a fun story.
The new owner decided that the brewery he was now in charge of should be different from what we consumers had come to know. He has hosted folks from a product called Fizzics. Rumors mentioned on good ol' Beer Advocate, which are always to be taken with a grain of salt, mention that the new direction may include contract brewing elsewhere as well. Rapid growth seems to be the plan… again, according to who knows who on BA.
Oh, and one more change: No more Jon.
I can't really think of another brewery in Connecticut that was more "ONE GUY." Okay, Relic certainly was (and still is). And yeah, some upcoming breweries will be in the Steady Habit mold, like the aforementioned Lasting Brass and Fox Farm, but they don't yet exist. Hog River? Yeah, maybe. I don't really know.
My point is, it's weird and sad that Steady Habit now exists without Mr. Steady Habit. Going back to the world of hardcore punk music, many band members would take on the names of their bands. Like the lead singer of Judge went by Mike Judge – before the other Mike Judge came to fame.
Jon Peterson is was Jon Steady Habit. As of October 11th, he's now at Top Shelf in Manchester, which has a whole new space and new ownership. (In fact, they should also think about a new name since literally nothing of the original Top Shelf remains and, well, that's kind of a terrible name for a brewery.)
As of late September 2016, Steady Habit is run by a former financial broker named Jim Venditti. Will the next chapter of Steady Habit be good? Bad? Great? I have no idea. But whatever becomes of it down the road, it'll never be "Steady Habit" to me.
Feel free to reminisce about the original Steady Habit beers I've reviewed here.
Steady Habit Brewing Company
CTMQ's page on CT Breweries and Brewpubs
My Relic Brewing Reviews