Stomping Grounds Double Milk Coffee Stout
Experimental Series #5
Gifted by the brewer, 8% ABV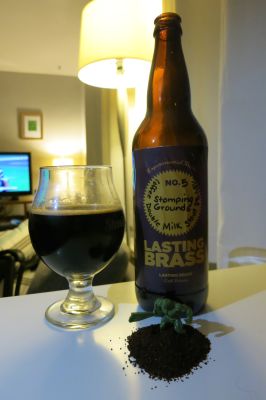 What a great name. And, unbelievably, it hasn't been trademarked by any brewers as of two days ago, Pi Day in the USA (3/14/15). I told Ed of Lasting Brass to get on that, now that he has tentative plans to go professional.
By the way, I always felt Ed would go legit someday, which is why I've put some actual effort into discussing his fantastic beers. Because otherwise, I'd be a little bit insane to do so.
Okay, a little bit more insane.
Then again, I'm the guy who has been obsessively receiving and drinking and reviewing one particular homebrewer's beer, right? And now he's potentially going pro, right? And I am confident telling you that if he does, Lasting Brass will become one of my favorite "stomping grounds" in Connecticut. And probably yours to, but when I'm allowed in through the side door, don't front. (I don't really do that, in case you were wondering.)
So yeah, Stomping Grounds is a double coffee milk stout. I think I just wrote a few months ago that I was wondering why I'd had double stouts, double milk stouts, and double coffee stouts, but never a double coffee milk stout.
And voila! Here it is – and it's delicious… as long as you like coffee, that is.
Lasting Brass Says:
Double milk stout conditioned on coffee beans. for a twist we used coffee beans that had been aged in rum barrels prior to roasting.
If you didn't already know why Lasting Brass is so good, here's yet another fine example. Not content to do "just another" coffee/milk stout, Ed soaked a bunch of coffee beans in rum to add a unique flavor to the beer.
The stout itself was the exact same base as his excellent Santa's Road Soda double milk stout (my review here) but with the coffee twist to it.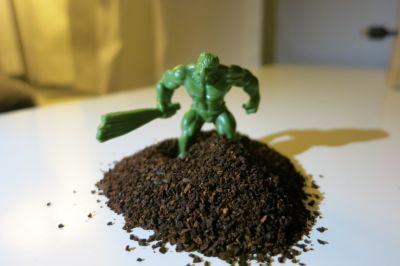 And hoo boy, was it a coffee twist. Bitter, chocolatey, roasty coffee on the nose, on the palate, on the linger… I'll be honest, I didn't get any rum, but perhaps it added a sort of "warming alcohol" profile to the velvety lactose of the milk stout. I say that because this beer does have a little more bite, in a good way, than a double milk stout will give you.
Stomping Grounds is yet another excellent beer from Lasting Brass. The coffee overwhelmed a bit, but that seems to be the trend with these things – from some of the best breweries around. And I like it, but I could see some non-coffee drinkers not being on board here.
Disregarding the downright creepy tea-drinking set… Yet again, Lasting Brass hasn't punched us in the face with the unique differences in this beer. No, Ed uses these things to enhance the beer, not necessarily to change it to the point of making you wonder what you're drinking. With this, you know you're drinking a coffee stout; there's no doubt about that.
And there's no doubt I went the extra mile with my photo staging here. I mean, that blaring light in the background really lent itself to a crisp picture, eh?
I'm the worst.
But The Hulk stomping on coffee grounds? You've gotta appreciate that. Or else I'll have The Hulk bat you in the head with that board he's wielding.
Jerk.
Overall Rating: A
Rating vs. Similar style: A+
Lasting Brass Brewing Company
Back to CTMQ's Reviews of Lasting Brass beers
Back to CTMQ¹s Connecticut Beer Page
Back to CT Breweries page