Powder Hollow Brewery Strawberry Fields
16 oz can, $3.49, 5% ABV
Purchased at Crazy Bruce's, West Hartford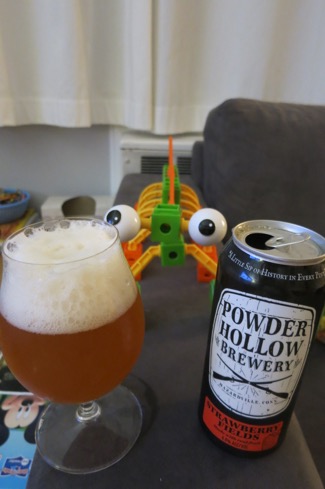 Certain beer make me question my life choices. More specifically, why the hell do I continue to attempt to purchase, drink, and review every Connecticut beer I can get my hands on? It's just… stupid.
As stupid as the pictures on this page. There's nothing redeeming, funny or creative about them. But now that I'm thinking about it, there's nothing redeeming, funny or creative about this beer either.
So I guess it works.
And now I'm noticing that I paid over three and a half bucks for this nightmare juice and I'm getting mad. I have to step away from the keyboard for a minute.
I should caveat this whole review by saying that I have a personal vendetta against strawberry beers. By and large, they are all awful. What's weird about that is that I love strawberries. Really and truly. But for some reason, every strawberry wit, saison, sour, gose, whateverthefuhhh I've had has been undrinkable.
So maybe it's not the brewer/brewery, but the materials. I'm not smart enough to know.
I just know that I hate them. And I'm hoping to spread the hate, as this isn't so much a Powder Hollow issue as it is a strawberry beer issue.
I was told by a skilled brewer that in order to impart true strawberry flavor into a beer, one needs to dump in a ton of them. Like, way more than one does with other fruits. And if one doesn't spend the money and effort to use a ton of strawberries, one's final product is… well… it's like Strawberry Fields.
Take a moment for yourselves. Relax. Listen to some Beatles.
While we're at it, let's take a moment for this Untappr too. He needs some help.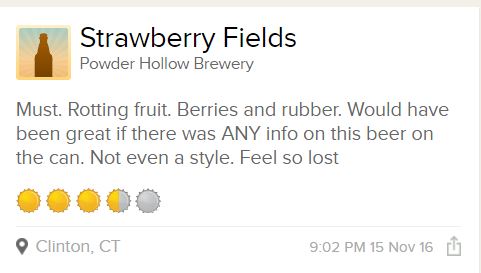 Or perhaps, he's just a much nicer person than I am and can't find it within himself to give any beer, even those that taste like what's wrung out of the bar rag at Mos Eisley Cantina, anything below 3.5 caps.
Would he have rated the beer higher if there was information about it printed on the can? While I, perhaps more than most, appreciate a good label description, that is a weird way to rate a beer. Though in this case, "contains the essence of Greedo's taint" wouldn't help the marketing efforts of Powder Hollow.
Strawberry Fields…
Let me take you down
'Cause I'm going to Strawberry Fields
Nothing is real
And nothing to get hung about
Strawberry Fields forever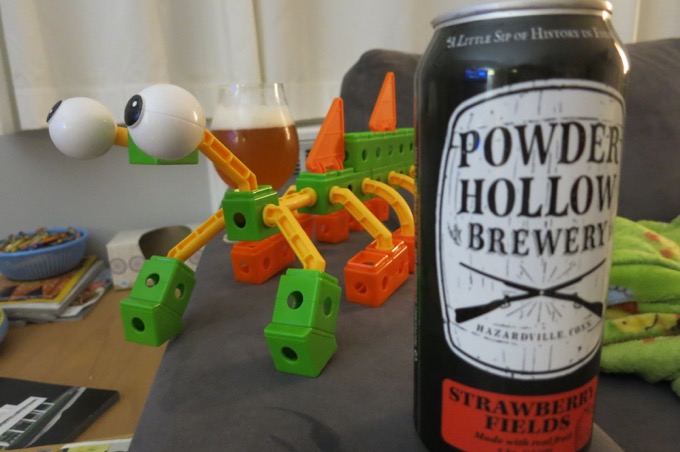 If I wanted to "take you down," I would start off by serving you this beer. You'd be beaten in mere seconds. The weird rotten fruited rubber aroma would only serve as a prelude to the wretched metallic beer-flavored strawberry SmartWater strained through a moldy rubber hose taste that would follow.
Powder Hollow is two years old at the time of this writing. They seem plucky enough and have suddenly appeared in all the package stores I visit. We all want them to succeed and I applaud the young 20-something owner for chasing his dream. I take no pleasure is crapping on his efforts.
But really, I'd be a worse person for not doing so. Consider it a public service.
Overall Rating: F
Rating vs. Similar style: F
Powder Hollow Brewery
CTMQ's Reviews of Powder Hollow Brewery's beers
CTMQ's Connecticut Beer Reviews Page
CT Breweries page