Black Hog Brewing Strawberry Gose
1 pint, $6(?), 3.5% ABV
Purchased at Majorca, Hartford
2017 Update: Black Hog, to their credit, doesn't give a crap what I say. Good. So they went and canned this beer.
In a weird way, I'm more curious to re-try an 'F' rated beer than an A+ one. So I dropped the $3.29 (!) on 16 ounces of strawberry gose that I hated more than death two years ago, and… it is markedly improved. I'll go so far as to say it's as good as a stawberry gose can be – which is still terrible because my palate simply does not like strawberry goses I've learned. Light on strawberry still, light on salt, coriander, whatever. It now tastes like a thin, lightly berried lager. Which, like I said, is as good as it can get I think.
2017 Rating: C+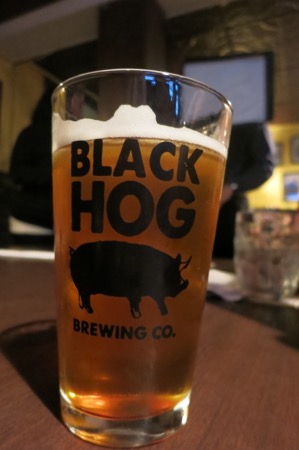 I'm a pretty fair guy. You may find it surprising that up until this review, I've only graded nine Connecticut beers an F. You KNOW you thought it was more. (And of those nine, two were from Cavalry who no longer exist.)
And of those remaining seven, only one, I think, still exists as they did when they received the F… if they are still in production at all.
Spoiler Alert: Black Hog's Strawberry Gose gets the F.
And here's the thing. I had heard some people whom I trust say it was awful during its first release. So when Black Hog brewed it again, I figured they'd used some of that negative feedback to improve the recipe.
Here's some interesting early feedback that should have at least raised some eyebrows in Oxford.
"Satan's Taint" is not a descriptor to be thrown around lightly.
I think this was the first distributed Connecticut gose. Definitely one of the first, at least, and for that, Black Hog should be given props. They also released a braggot in 2014. Black Hog isn't afraid to (try to) brew interesting and new-to-CT styles/flavors.
So does OEC and so does Shebeen – probably the two most polarizing breweries in the state. But oddly, Black Hog is never really mentioned in conversations about either OEC or Shebeen. (Other than the fact that Black Hog is five minutes away from OEC, geographically, I guess.)
Since this Strawberry gose was first released, Connecticut had the good fortune of enjoying a few actual goses that are delicious. Unfortunately for Black Hog, this put a white hot spotlight on this beer which contains no flavor: no strawberry, no saltiness – and tasted like Satan's taint/dishwater.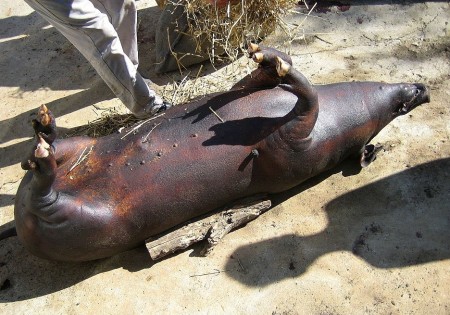 But let's let them tell us about the beer:
The 1st of our Farmland Series, the Strawberry Gose (pronounced goes-uh), is a German style wheat beer from the Leipzeg region, known for it's salt mines. Our Gose is light and bright with a delicate strawberry nose. Additions of pink Himalayan salt, coriander and over 100lbs of fresh organic strawberries from Massaro Farm (Woodbrige CT) during secondary fermentation, make this one-off beer truly unique.
Well, it is "truly unique", I'll give them that. I've never had a gose that had no slight saltiness, no slight tartness, and no slight fruitiness in my life. F plus for "uniqueness"?
As with all of Black Hog's Farmland Series beers, "a portion of proceeds will be donated to the Working Lands Alliance to support and protect CT Farmland." F plus plus then.
I rarely go to the deep well of despair that is beer ranking sites, but once in a blue moon, which is far more often than I drink Blue Moon, it's just too rich to ignore.
This person drops science on what a "session" beer is… something I always enjoy:

But I particularly enjoy these three ratings in a row, all within two days at the same bar in NYC: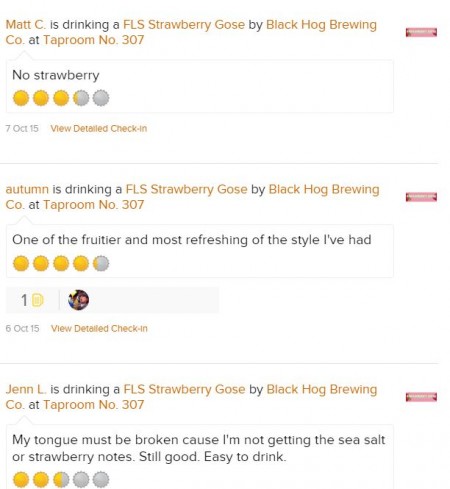 Note how their ratings mean absolutely nothing at all.
I was told this beer was terrible in 2014. I waited for a second batch in 2015. I ordered it at a decent restaurant when there were several other excellent beers on tap, because that's what I do.
And it was still terrible.
Perhaps strawberries simply don't work in the gose format? That's sort of my guess as to why this beer is just not good or remotely "gose-y." I've had exactly one beer in my life that successfully used strawberries; a Lasting Brass chocolate/strawberry sour which was so absurdly delicious and creative and… well, not every brewery can be Lasting Brass.
Overall Rating: F++, as promised
Rating vs. Similar style: F
Black Hog Brewing Company
Back to CTMQ's Reviews of Black Hog beers
Back to CTMQ's Connecticut Beer Page
Back to CT Breweries page