As with most of these "Curiosities" subjects, there are other pages all around the the site that could fit in here. The stuff below are mostly the ones that don't fit in elsewhere.
Lighthouses, Bridges, Tunnels, Roads, um… other stuff like that.
Jump to:
Observation Towers and Views
Lighthouses
Bridges, Covered and Otherwise
Canals & Dams
Roads & Tunnels

…………………………………………………….
Observation Towers and Views
Ah, yes. You've found one of my favorite lists on this entire site. In fact, I enjoy climbing towers so much, that I've done a bunch of them multiple times. Enjoy!
Observation Towers and Views
2015 DEEP Sky's the Limit Challenge (with my sons!)
…………………………………………………….
Lighthouses
I'd like to visit ALL of Connecticut's lighthouses. Yes, even the ones I can't enter. Gotta be complete, y'know? Those that I can ascend may/should appear below in the Observation Towers list as well. The pages in this section will more or less just give you the wonderful accounts from Lighthouse Friends. Make sense? No? Just follow the links and enjoy the dang lighthouses, ok?
*** = Climbable
Great Captain Island Light, Greenwich
Avery Point Lighthouse, Groton
Mystic Seaport Lighthouse, Stonington
Stonington Harbor/Old Lighthouse Museum, Stonington***
To Be Visited
Faulkner's (Falkner's) Island Light, Guilford (Very rarely accessible)
Fayerweather Island (Black Rock Harbor), Bridgeport (Accessible)
Five Mile Point (Old New Haven), New Haven (Rarely open and Accessible)
Greens Ledge Light, Norwalk (Boat accesible)
Lynde Point Light (Saybrook Inner), Old Saybrook (Iffy accessibility)
Morgan Point Light, Noank (Very iffy accessibility/private)
New London Harbor Light, New London (open rarely and accessible)
New London Ledge Light, New London (open rarely and boat accessible)
Peck's Ledge Light, Norwalk (boat accessible)
Penfield Reef light, near Fairfield (boat accessible)
Saybrook Breakwater (Saybrook Outer), Old Saybrook (sort of inaccessible)
Sheffield Island Light, Norwalk (Open and boat accessible)
Southwest Ledge (New Haven Breakwater) (boat accessible)
Stamford Harbor Ledge (Chatham Rocks), Stamford (boat accessible)
Stratford Point, Stratford (rather inaccessible)
Stratford Shoal Light, Stratford (boat accessible)
Tongue Point (Bridgeport Breakwater), Bridgeport (rather inaccessible)
…………………………………………………….
I'll admit, this isn't everyone's favorite section of the site. It's not mine… But people DO love classic covered bridges. People go on weekend trips just to see them in Vermont and elsewhere. And, quite frankly, I've been trying to figure out how best to explore and present Connecticut's canal past. I'll figure it out I guess.
…………………………………………………….
Bridges
There are a surprising number of historic, unique and cool bridges in our small state. Heck, I was even sent a book all about the steel bridges in Connecticut. Lucky me… Lucky you.
Covered Bridges
There are a bunch of phony baloney covered bridges around… Heck, there's one in the nursery behind my house. There are only 3 legitimately drivable historic covered bridges, though the Comstock Bridge is no longer open to cars, even though it was fully restored in 2010-12. There are a bunch of other, newer covered bridges which allow for motorized traffic. And then, like I said, there are a whole bunch of "other" covered bridges around the state. Most of those are pretty silly.
Fortunately, as is often the case, some guy "out there" is obsessed with covered bridges and has an incredible database (with pictures) of almost all of them. There are WAY more than you think there are. I tend to think little bridges built solely for wedding pics or golf carts are a bit silly.
D = Legally Drivable
~D = "I didn't tell you to trespass" Drivable
Historic Covered Bridges
Comstock Covered Bridge, East Hampton/Colchester (Needs an update)
Bulls Bridge, Kent (D)
West Cornwall Bridge, Cornwall/Sharon (D)
Other Interesting Covered Bridges
Brushmill Covered Bridge, Chester
A. Frederick Oberlin Bridge, Hamden
Beacon Hill Apartments Covered Bridge, Manchester
Oak Grove Bridge, Manchester
Southford Falls Covered Bridge, Oxford
Shunock River Estates Bridge, North Stonington (~D)
Southern Star Covered Bridge, Suffield
Countryside Park Covered Bridge, Avon
Andover Veterans Memorial Bridge, Andover
Blackwell Brook Bridge, Brooklyn (D)
Old Bridge Lane Bridge, Danbury (D)
Olson Bridges, Deep River (D)
Johnsonville Bridge, East Haddam
Sanford's Bridge, East Haddam (D)
Lyon Farm Bridge, Greenwich (D)
Churchill Bridge, Newington (D)
Stanley Simon Bridge, Newtown (~D)
Worthington Pond Farm, Somers
Twin Brooks Park Bridge, Trumbull (D)
The Village at East Farms Bridge, Waterbury (D)
Seaside Sanitorium Bridge, Waterford
Harrington's Kissing Bridge, Willington
Li'l Joe's Island Bridge, Winsted (~D)
Interesting story on a now-gone covered bridge that connected Enfield to Suffield.
Other Bridges of Note:
Bulkeley Bridge, The Largest stone arch bridge in the world, Hartford
The Most Beautiful Bridge, Lebanon
Hole in the Wall Bridge, Niantic
Frog Bridge, Willimantic
Oldest known free-standing stone arch bridge, Lisbon (Washed away 3/31/2010)
Oldest bascule drawbridge in US, Mystic
Drake Hill Road Flower Bridge, Simsbury (Info)
Oldest remaining concrete bridge in CT, N. Main St, W. Hartford (Info)
Victorian Footbridge, Willimantic
First skew-arch in US, Yalesville Underpass (Info)
Great info on all of CT's historic bridges, by friend of CTMQ Bruce Clouette


Bulkeley Bridge, Hartford/East Hartford

…………………………………………………….
Canals & Dams
I blame my dad for instilling a fascination with canals and locks. Of course, there are no longer any functional canals in Connecticut, but the Farmington Canal Path from New Haven through Suffield exists in various forms and the remnants of the Enfield Falls Canal are with us forever, in the names of Windsor Locks and Warehouse Point.
Canals
Farmington Canal Heritage Trail, New Haven to Suffield
Farmington River Trail, Farmington to Simsbury
Enfield Falls Canal, Windsor Locks and Suffield
Lock Number 12, Cheshire
Lock Number 13, Hamden
Canal through Derby (Info)
Dams
US Corps of Army Engineers Tour of Mansfield Hollow Dam, Mansfield
US Corps of Army Engineers Tour of West Thompson Dam, Mansfield
Greeneville DamFish Ladder, Norwich
Rainbow Dam Fishway, Windsor
Tingue Dam/Kinneytown Fishway, Naugatuck
Shepaug Dam, Southbury (Bald Eagle viewing)

…………………………………………………….
Roads & Tunnels:
Roads? Yes, roads. I'll find some fun stuff…After all, I drive on enough of 'em.
Climax Road, Avon & Simsbury
NY 120A, Greenwich, (In Connecticut!)
Merritt Parkway Museum, Stratford
Downs Road, Hamden
Blood Road, Old Lyme
National Scenic Road, Route 169, Quiet Corner
Gravity Hill, Snake Meadow Hill Rd & Main Street, Sterling
Great article on Connecticut's love affair with naming ever road section after someone you've never heard of.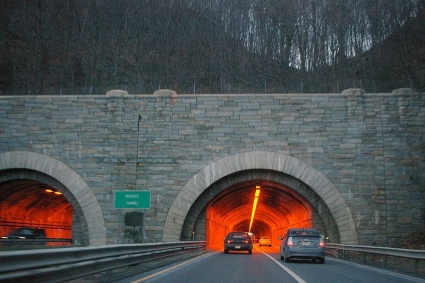 Tunnels
We don't have too many tunnels in the state, but I'll find enough interesting stuff to make this section worthwhile.
Heroes (West Rock) Tunnel, New Haven
Gillette Castle State Park train tunnel, East Haddam
Bolton Notch Tunnel, Bolton
Taft Tunnel (Oldest Railroad tunnel in US), Lisbon
Old Park River tunnels, Hartford
Shepaug Tunnel, Washington (Info)