Kent Falls Sweatpants IPA
14 oz. draft, 5% ABV, $6
Rooster & Co., Newington
"Sweatpants are a sign of defeat. You lost control of your life so you bought some sweatpants."
— Karl Lagerfeld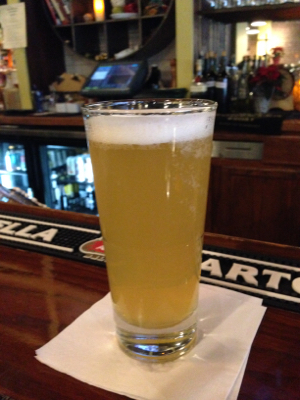 I hate sweatpants.
I love Sweatpants.
This beer represents, for me, the day I truly decided to "chase" after as many Kent Falls beers as I feasibly could.*
[*Please bear in mind I'm a home-owning, fully employed, married 43-year-old father of two little boys in different school districts with a million other priorities that are far ahead of "driving somewhere with the sole intent of having one particular beer from one particular brewery." So for me, "chasing" beers means something more like, "happening to notice a particular beer from a particular brewery happens to be on tap somewhere within a quite reasonable drive at a point in time during which I have literally nothing important at all to be done."]
Even with an understanding of what "chasing" means for me, please appreciate I'm not exactly lazy about this stuff. It's not like I grabbed the keys and went to Rooster & Co. wearing sweatpants. That day will never happen.
I don't even own sweatpants. I don't want to own sweatpants. I don't send my kids to school in sweatpants.*
[*More accurately, my wife disallows this. And I never argue anything that doesn't really matter at all. I should note that if you do happen to see my older son rocking the sweats, that means he had an accident at school which happens far too regularly. Sure, he is intellectually disabled and never goes to the bathroom on his own, but c'mon school. He's got 2 aides and a special special needs teacher with him all day. Just make the kid go pee! Seeing him get off the bus in sweatpants drives me bonkers! I mean… he looks so slovenly.]
To me, sweatpants are one of the best physical representations of laziness. If you are over the age of, say, ten, and wear sweatpants out and about, you have given up. Yes, I am fully aware that Seinfeld said this very thing.*
[*I'm aware of this even though I've seen very few episodes of Seinfeld because my wife, who hates sweatpants more than anyone other than maybe Karl Lagerfeld, cites this scene as one of the greatest television moments of all time; fully validating her exact feelings on the matter, utilizing the unkempt George character as the perfect example of a sweatpantser.]
So there I was, enjoying the Kent Falls Sweatpants IPA in proper attire at Rooster & Co. It is yet another delicious IPA from the boys out west. Light in both alcohol and flavor, this crisp pale ale isn't their most exciting beer – but that doesn't mean it's not one of their best.
For it definitely is. It's exactly what a pale ale should be: Crisp, clean, fresh, slightly bitter, slightly juicy, slighty floral, slightly piney. It's dang near perfect. My only issue, and perhaps why they called it "Sweatpants" is that to my palate, it tasted exactly like if Kent Falls got lazy and just maybe used the same exact recipe as their Waymaker Brett IPA but instead of the Brettanomyces yeast they just used a clean ale yeast.*
[*Kent Falls Says:
Our first pale ale. Hopped with Centennial, Chinook, and Glacier. The same recipe as Waymaker, only fermented with a clean ale yeast.
Oh. Wow. I had no idea. My palate is Ah. MAY ZING.
Sweatpants. C'mon people. You want to wear shapeless pants whose very name suggests they are disgusting? "Oh hi, yes, I'm looking for some new pants. I'd like some pants named after the often stinky and always salty liquid excretion my body produces. I think you call them sweatpants. Yes, yes, nice elastic waist band. These will do fine for the back of my knees and especially my grundel. I'd like them in purple so I can look even more like Grimace, thanks."
Overall Rating: A
Rating vs. Similar style: A+
Kent Falls Brewing
Back to CTMQ's Reviews of Kent Falls beers
Back to CTMQ's Connecticut Beer Page
Back to CT Breweries page