Olde Burnside Brewing Ten Penny Ale Reserve Wee Heavy
Fliptop bottle, $8.99 + $1.50 Dep for some reason, 9.3% ABV
Purchased at Parkview Wine & Spirits, West Hartford
November 2012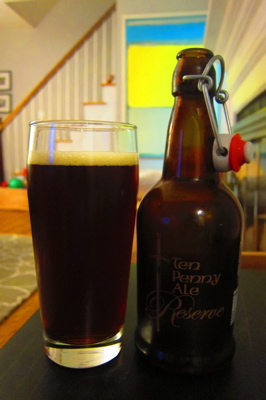 I have no idea why the picture here is all weirdly colored. I guess I was trying to be artsy.
I'm writing this at a time when you can no longer find this beer in this format. And if you do – it may actually still be available as a dusty "shelfie" – I'd be leery. Flip-tops are an antiquated packaging option that have fallen out of favor.
Which is good because I always hated flip-tops.
Of course, strong ales, scotch ales, and wee heavies have also fallen out of favor. Woe is Old Burnside. (I believe the brewery has released this beer in 12-ounce bottles in 2016/17.)
This is somewhat ironic to me because everyone loves "sweet" and fruity and "tropical" ales in 2016-17. Wee heavies are as sweet as any "juice bomb" IPA – but it's a different sweetness.
It's a – GASP! – malty, caramel sweetness. And, of course, "malty" is about as well-received as "nazi" in today's marketplace.
Olde Burnside says:
Ten Penny Ale Reserve the much stronger version of our original Ten Penny recipe. This beer is a dark brown ale, topped by a thick, loose tan head. The smells of roasted grain and toffee are the first things you will notice with your nose when you crack open the bottle. The tasting experience begins with a splash of caramel like flavor on the tongue, but quickly melds into a full bodied roasted-malt taste. As you savor this fine ale you will also encounter subtle hints of chocolate and a smoked-malt essence. After you have finished your bottle you will realize this beer is truly a wonderful merging of high alcohol content and rich full body flavor that will make you want another pint to drink.
That's a little over the top, but it's also accurate. Olde Burnside used to do these sort of high-end, rather excellent, almost secret beers that very few had even heard of. They were doing a wild ale (Highland Wild) way back when there were very few wild ales being brewed in the entire country.
Wee heavies and strong ales had their moment in the (American) sun around 2010 maybe. And it wasn't that big of a moment. But these beers have their place. They have a history, and they take skill to brew. It's a shame that no one gives a crap about them these days.
I'm just rambling. That's what happens when I get sad and angry about something relatively mundane like the decline and fall of dark beer styles.
Overall Rating: A
Rating vs. Similar style: A
Olde Burnside Brewing Company
Back to CTMQ's Reviews of Olde Burnside beers
CTMQ's Connecticut Beer Page
CTMQ's CT Breweries page