Black Hog THC Series
Various pints, $ variable, variable %ABV
Purchased at variable bars and restaurants and stores and at the brewery
December 2015 – March 2018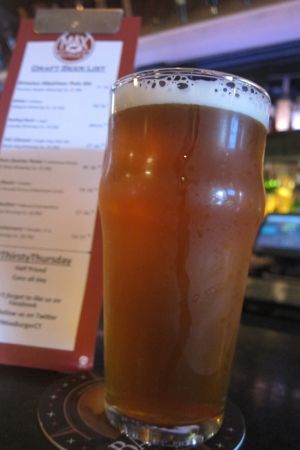 Okay, look. I used to goof on breweries who make marijuana references with their beer names. But then local contract label Weed Brewing sort of did it to such an absurd degree, it's not really worth mentioning these weak tea pot references.
THC, as in tetrahydrocannabinol, is the chemical responsible for most of marijuana's psychological effects. THC, as in "The Hop Collective," is Black Hog's name for their series of single-hopped IPA's.
And that's fine. Whatever.
You'll notice that I'm lumping Black Hog's whole series into one "review." Am I getting (yes) lazy? No… (I mean yes)… Or am I just getting a bit more practical with these review things?
Here's the deal: I'm not going to drink every one of these beers. They appear to each be one time things, and there have been a bunch as of this writing: Centennial, Chinook, Mosaic, Vic Secret, Bravo, and CTZ.
I've had five: Chinook, Mosaic, and Bravo, something in a can, and Melba/Eukanot.
So let's call this page the THCC; or, The Hop Collective Collective. Fair enough?
Black Hog says:
Black Hog Brewing Co. presents a series of Single-Hop American Pale Ales, The Hop Collective (THC). Each of these easy-drinking American Pale Ales will showcase a different single hop, while maintaining identical malt bills and hop schedules. The result is an extremely drinkable APA that highlights the unique flavors and aromas of each featured hop. Classic, flavorful and never overpowering.
CTZ, by the way, is "Columbus, Tomahawk, and Zeus" which apparently are interchangeable and from the same cultivar.
I've written before that making single-hopped beers is not as simple as it sounds. No, you don't just dump a bunch of Citra in and expect a whalezbro citra IPA. Lots and lots of things can go wrong – but when they go right, single-hopped ales can be sublime.
Here in Connecticut, we have the good fortune of having a bunch of single-hop masters who all certainly know how to nail this type of beer. (Insider secret: a bunch of "single-hopped" beers are not actually single-hopped.)
And I've had a few clunkers… soapy, oily, overly bitter, overly sweet single-hopped beers.
Then there are the boring, middling, "why did they bother" single-hopped beers. I'm sorry to say that the Black Hog series seems to fall into this category. Or at least they did at the outset.
I think it's fair to compare a few beers here. We've all had NEBCO's Supernaut and Steady Habit's Method IPA. (Or at least y'all should have had them.) They are Mosaic IPA's. And they are wonderful, delicious, perfectly crafted single-hopped ales. The Black Hog effort simply doesn't match up.
I've also had an all-Chinook IPA from Lasting Brass. Again, it was superior in every way to the THC version. timing of hop additions, malts, yeast strains, water quality… these things matter. And while Black Hog's beers weren't/aren't terrible or even "bad," they just aren't remotely exciting.
The THC series seemed to be the opposite of what Black Hog does – which are inventive beers with unique and interesting ingredients. The THC beers are, perhaps, just not their thing. They seem lazy ale efforts, which is really highlighted by the fact that other Connecticut breweries are making single-hopped ales that really showcase what these beers can be.
Sometimes being single is boring. Oh well.
More recently…
As time marched on and Black Hog canned some of these efforts, they beer seemed to improve. I don't even know which canned variant I had, but it was quite good. It has taken a few years, but the brewers in Oxford are finally getting the "hoppy ales" thing closer to where it should be.
Finally, I had a Melba/Eukanot variant at the brewery in March 2018 and… it was really, really good. It's not a "hop thing," either. It's a brewing skill thing. and I'm happy that Black Hog is figuring it out.
Overall Rating: C then B+
Rating vs. Similar style: various
Black Hog Brewing Company
CTMQ's Reviews of Black Hog beers
CTMQ's Connecticut Beer Page
CTMQ's CT Breweries page