Thimble Island Four Horsemen DIPARISB&T
1 12 oz bottle, $3.39, 9% ABV
Purchased at Crazy Bruce's, West Hartford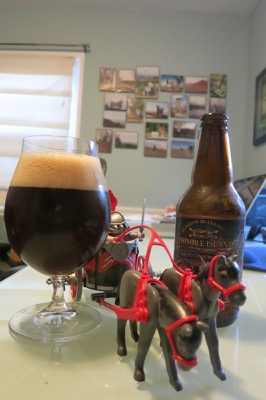 Here's the thing: People talk.
And I listen. The local beer scene is sort of an insulated community of competitive yet friendly folks. There are several levels – from the breweries themselves to the distributorships to the stores and bars to the online communities and the apps to the lowliest component: beer bloggers.
We've long since reached the point in CT beer where there is just way too much going on to even hope to stay on top of half of it. I quit a long time ago. But I still hear stuff.
And I keep probably 90% of that stuff to myself. If I'm not positive that the stuff is known by a relative large number of people – or, if it's not but is publicly available online – I don't write about it.
So when I'm poking around Thimble Island's untappd page and happen upon something like this: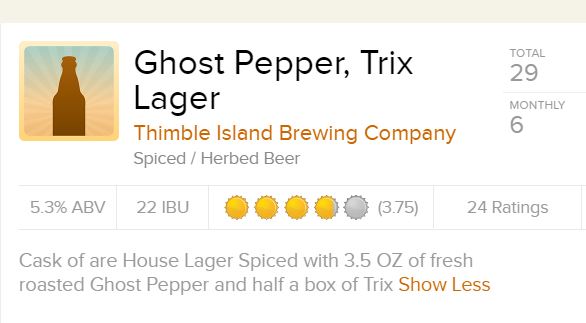 What am I supposed to do? Ignore the fact that a brewery made a lager and added painfully hot peppers and painfully gross Trix cereal to it? And while very few people were subjected to that nightmare, it's out there. It's public. So I'm okay with showing that to you.
The Apocalypse is nigh.
No, not the review of Thimble's Four Horsemen, I'm talking the real Apocalypse.
Trix and ghost pepper lager. We're all doomed.
Anyway, yeah. Let's get to the Four Horsemen DIPARISB&T.
Thimble Island says:
Dark, hoppy, imperial ale
Fine. So what the hell is this "DIPARISB&T" thing I keep writing. It's the Four Horsemen.
Of course I'm not privy to how this beer actually happened, but enough people have told me that it was a "happy accident" of sorts that I've come to believe it.
Everyone who pays attention to this stuff knows that Four Horsemen is a blend of Thimble's Ghost Island DIPA and MAD Russian imperial stout. (Hence the 9% ABV). I guess it's the "how it happened" part that has generated some chatter.
I'm not sure who thought to just mix the two (very good) beers or why or how, but they did. Whether it was purposeful or accidental or to stretch out some batches; I don't know.
DIPARISB&T = Double India Pale Ale Russian Imperial Stout Black & Tan.
Did it work? Not really. (Surely better than Trix and ghost peppers though). I'd much prefer to have a Ghost Island or MAD RIS on their own though, so I'm not sure why this beer exists.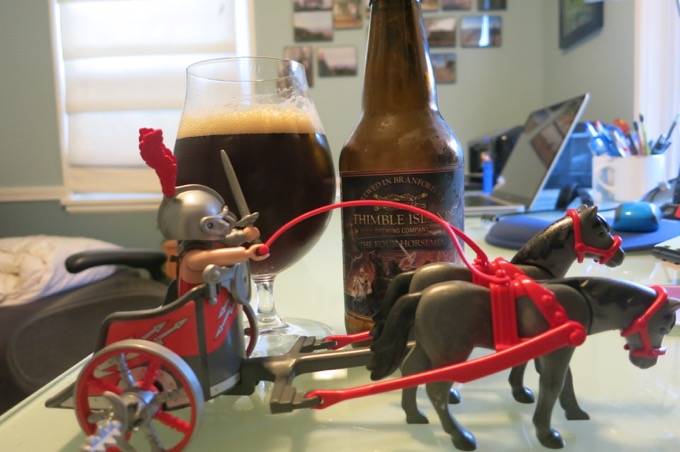 Rad label though.
The DIPA qualities of the Ghost Island were completely lost in this muddled mixture. The heavy roastiness of stout just crushed any trace of the DIPA's hop profile and bitterness. All we get is a sort of medicinal high ABV stout with a weird aftertaste.
But it's not really all that bad – after all, it is a mixture of two really good beers. Just no reason for it.
Overall Rating: C
Rating vs. Similar style: n/a
Thimble Island Brewing Company
CTMQ's Reviews of Thimble Island beers
CTMQ's Connecticut Beer Page
CTMQ's CT Breweries page