The Fritz Oatmeal Cookie Brown Ale
22 oz bomber, $10, 8.5% ABV
Purchased at the brewery, Manchester
Steve CTMQ
Nov 8
To <redacted@gmail.com>
I scored the Top Shelf limited release "oatmeal cookie brown ale" today.
God, I feel like such an douche going in there because of stuff I've written about their early efforts…
From <redacted@gmail.com>
Nov 8
to me
SUCKER! you're unwavering dedication to try every bottle of CT Beer astounds me.
Hey maybe they did a complete 180 and this will be amazing.
……………………………………………………………………….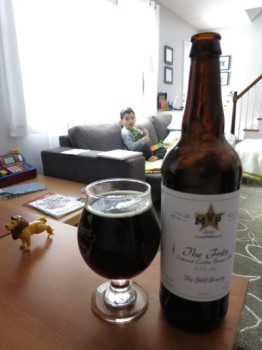 This email was a wake-up call. An intervention of sorts. It is when I hit the wall; when I totally gave up on the original stated goal of these CT beer reviews.
Actually, that's not true. I gave up on the original goal several months before then. It was a 2-step process. First, I gave up on the idea of reviewing "every CT beer," because that became impossible and absurd (and probably dangerous to my health AND dangerously boring to all involved.) At that point I said (to myself), "just try to get everything released in bottles and cans."
But even then, with new breweries sprouting up like mushrooms, that became impossible. I don't really have a defined goal anymore, but it goes something like, "Try to get everything I can from NEBCO, Beer'd, Steady Habit, OEC, Lasting Brass and Kent Falls. Also, keep up with the stalwart standards who have a manageable number of new releases like Back East, Black Hog, and Hooker. Then try to get every bottle and can distributed to package stores. Then, get whatever else I can get. Deal with missing a bunch here and there."
That's where I am with this in late 2015 anyway.
Back to that intervention above… an intervention that turned out to be prescient in a couple ways…
Top Shelf says
Our MVP series showcases the most valuable offerings our brewery produces. These beers will be high gravity, full of flavor and of course top shelf quality. One can expect these offerings many times throughout the year and they will be sure to be a one of a kind experience.
The Fritz is an oatmeal cookie brown ale brewed with local maple syrup, vanilla, brown sugar, and cinnamon. It has a smooth oat feel and a dry finish that leaves you satisfied, but wanting more. Sit down with a good friend and enjoy!
I had had the misfortune of trying to drink previous Top Shelf efforts that left me calling for this brewery to be shut down. Their first 9 months or so of production was abysmal. Each new beer offered a different and exciting glaring problem. Vomit aroma over here, Band-Aids over there… on and on. It was a "How-Not-To-Do" of brewing disasters.
Yet, there I was, bumbling into the brewery yet again for a "special" bottle release. Had I become a lemming? Why was I doing these things, at the expense of my family's enjoyment of a day out and about? I had to dial it back.
But I couldn't undo the purchase of The Fritz. Truth be told, I had been hearing rumblings that Top Shelf had turned things around. I know they solicited – and received – some much needed help with things like sanitization and, y'know, brewing beer. The previous MVP bottle I had had was pretty darn good (a "double red IPA" or some such, called Red Alert.)
But the description of this one sort of scared me. But whatever, I poured.. and I drank.
And this was good too! Confirming positive CT Beer/Brewery rumors is fun for me. It wasn't too sweet (as I'd feared) and it really did taste like a delicious oatmeal cookie! I love oatmeal cookies! So many things could have gone terribly wrong with this effort, but Top Shelf has figured something out up there in Manchester.
I would serve this beer at Thanksgiving and not even worry about it. (Granted, my Thanksgivings are populated by all Vietnamese people who only drink Heineken, but whatever, you get my point.)
When something is "on the fritz," it means that it's malfunctioning. Did Top Shelf name this beer The Fritz as a subtle nod to what their brewery was for a year? Of course not, but it makes for a fun, apocryphal story.
Seriously, I enjoyed this beer. No, it's not mind-blowing or perfect or anything, but I'm proud of the guys at Top Shelf:
Proud that they knew they had issues and sought help;
Proud that they didn't hunt me down and beat me up;
Proud that they are still going strong, and have since released a bunch of quite decent cans;
Proud that they forged ahead and did a "Coffee Cake Porter" in 2015 that was also very good, with just the right amount of sweetness.
So there you are, mysterious Inner Circle CT Beer Friend. It appears that if not a 180, Top Shelf has at least done a 160 and now they can say "in your FACE" to me down the road.
And I'll happily accept that. Just no violence please, I'm a wuss.
Overall Rating: B+
Rating vs. Similar style: n/a
Top Shelf Brewing Company
Back to CTMQ's Reviews of Top Shelf beers
Back to CTMQ's Connecticut Beer Page
Back to CT Breweries page