Relic The Huntsman Double Coffee Stout
1 22 oz bottle, $?, 8.2% ABV
Purchased at the Brewery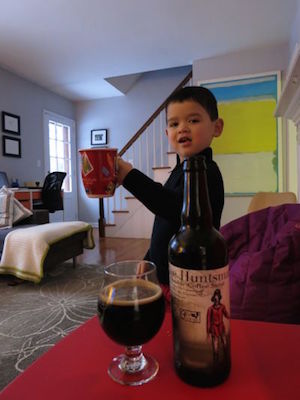 It has been a while since I'd returned to one of Connecticut's true, honest-to-goodness "nano-breweries." Relic has now been plugging away in its small space in Plainville for sevreal years, continuing to gain wider recognition for its creativity and somewhat unique set-up.
Heck, in August 2015, Mark Sigman expanded the Relic footprint to Boston! Congratulations! When you realize that Relic is essentially one guy and a tiny system, this becomes all the more impressive.
Mark has stuck to his own brewing and business plans since the beginning. He's constantly experimental – sometimes a bit too much for certain people – and he works tirelessly. Contracting at Hooker, self-distributing other stuff, on social media, brewing on his own system, and partnering with local businesses and artists in various ways.
In other words, Relic and Mark are pretty darn cool.
The original version of the Huntsman is a solid oatmeal stout; one of the first in Connecticut to really achieve that smooth, silky "mouthfeel" that an oatmeal stout should give you. But that wasn't good enough for Relic, so they went and made 100 bombers of the coffee version…
Relic Says:
This special version of The Huntsman is cold steeped with GIV Coffee of Torrington, CT. A perfect end to a holiday meal.
It now occurs to me how absurd "reviewing" a beer that had a run of 100 bottles is. Especially since this one contains nothing funny or revelatory or super interesting.
Hm.
Okay, what about this GIV Coffee outfit? "Giv COFFEE is a coffee roasting initiative that seeks to utilize coffee's global influence to bring about positive change in international coffee communities, coffee consumers, and in the lives of those in need."
Whoa. That's heavy. You can read all about GIV at that link just above. Suffice it to say, they are a high-quality coffee purveyor that cares about its philanthropic mission. Like, really cares.
So local nano-brewery Mark at Relic does a run of an already good oatmeal stout, adds some local hippie GIV coffee to it directly (rather than using certain malts or having the beer rest on beans, no, Relic just put coffee straight into the beer. Is that weird? I know other breweries have done that, but I don't think it's necessarily the norm for these things), and only does 100 bottles of them for a Saturday afternoon crowd before Thanksgiving.
This type of thing is not happening in pretty much every state in the country now in 2015.
It's plumb crazy. Hmm, "plumb crazy"… plum crazy… holiday beer… Haha, at least no one is making a plum pudding holiday beer! LOL.
Overall Rating: B+
Rating vs. Similar style: B
Relic Brewing
Back to CTMQ's Reviews of Relic Beers
Back to CTMQ's Connecticut Beer Page
Back to CT Breweries page