You're the Star of the Story! Choose Your Own Path!
[If you're unfamiliar with the excellent Choose Your Own Adventure books… that stinks. I loved them as a kid. They were often trippy, violent, and downright insane. Seriously. Check this out.]
The Relic Hunter
The day dawns as another cool, rainy October Connecticut morning. You sigh, realizing that raking the wet leaves will be a miserable slog. Again. Once out of bed and into the washroom, you stare at your own bleary-eyed reflection and think, "Bro, you gotta stop pounding the DIPA's every night."
You look at your tongue which appears to be coated in viscous white fur. You pick the dried spittle out of your ISIS beard. It is time for a change. But how? You stare and begin to drift… the bathroom background fades away into black and you suddenly see yourself as a clean-shaven, bright-eyed adventurer! A spirit is stirred inside of you, and you realize it's time to make a choice!
If you want to stay as you are, no adventure for you, and stick to what you know, GO HERE.
If you want to go on a Relic hunting adventure, GO HERE.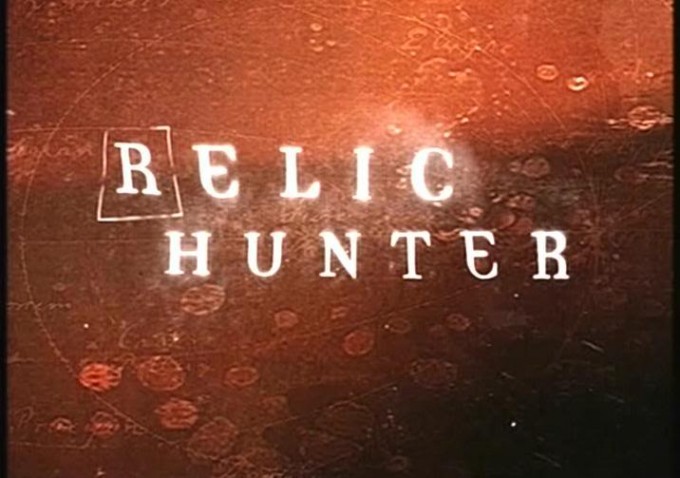 Prologue
1 Bomber, $6.99, 5.6% ABV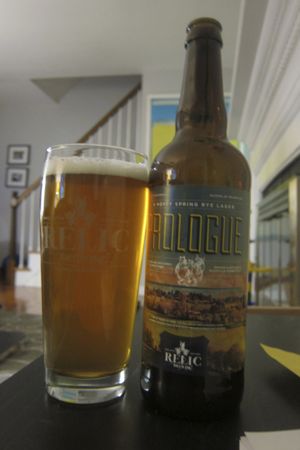 You stare at your bushy beard and decide it's time to change your life. The first step: shave. You first trim the mess with scissors and then move on to the clippers. After a search, you find an old razor and go for it. Ten minutes later you feel like a new man! You brush your teeth and tongue, comb your hair for once and take a deep breath.
You are now a Relic Hunter!
You gather up some supplies: flashlight, snacks, water, first aid kit, iPhone, bottle opener, a variety of glassware, note pad, pens and pencils. You load your Ruger, sharpen your knife and get dressed. The cellar looms, dark, dank, and so thick with cobwebs you can't see more than five feet ahead of you. You descend the creaky steps.
Relic Brewing released a ton of bottles a few years ago never to be seen again. You are determined to find them. You tweet out, "I'm a Relic Hunter going on a Relic hunt. Relic relics, LOL. BRB! #Local #Nano #CTBeer #RelicBrewing"
Relic says
A hint of things to come. This balanced and flavorful lager combines the spicy tang of rye with a bright citrusy hop profile. An easy drinking rye lager with a nice spiciness on top of a Vienna malt base. New Zealand hops including Motueka and Pacific Jade add a nice balance with additional citrus and spice.
After pushing through the first wave of cobwebs, you stumble upon your first Relic. How apt; It's the Prologue! You find a box filled with old videogames and take a seat. You pull out your Willibecher glass and pour the Prologue. You tweet out, "#RelicHunt going well. Having a #Prologue to start me off right! LOL!"
You drink. Holy cow, you now remember the early days of Relic, before the whole "Farmhouse Funk" year, everything was rye, rye, rye. You remember how you don't really like rye beers, but this is still a good first step to wean yourself off of those New England hoppy haze bombs.
Still, it's too much. The Prologue is a lager, and the breadiness and sort of musty skunk is definitely present, but the bitter rye bite overcomes that. You try to taste those citric hops you so love, but they are barely there. This is a rye beer first, a lager second, and a "citrusy hop thing" much, much less.
Overall Rating: B-
Rating vs. Similar style: B
If you decide you want to continue hunting rye Relics, GO HERE.
If you'd rather stick to finding straight lagers, GO HERE.
If you decide you only want hazy, hoppy, NE IPA's, GO HERE.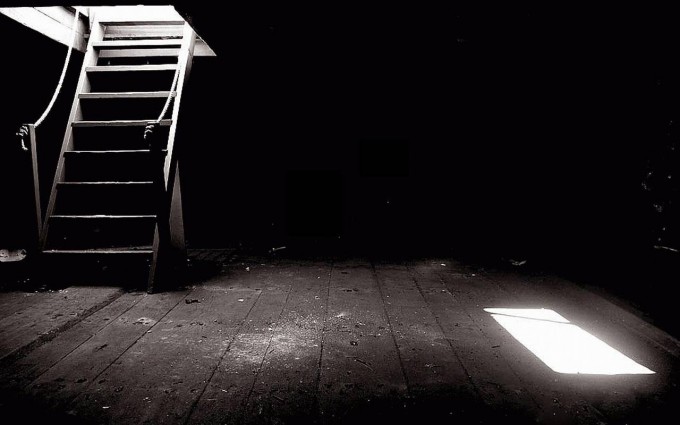 Ryddle American Farmhouse Ale
1 Bomber, $?, 6.5% ABV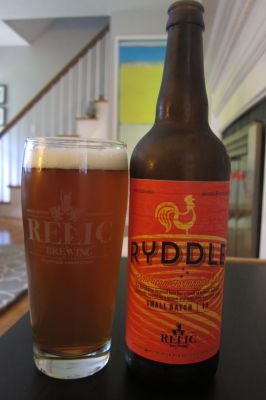 You are intent on moving away from the overpriced so-called New England IPA's. The Prologue served as a nice prologue to your adventure into the depths of your basement. Although you are not a big fan of rye beers, you're determined to continue down that path.
A path that takes you over some decrepit furniture – your grandfather's – and an old doll collection. Your flashlight beam catches the wide-eyed eternal stares of a gaggle of dolls. You grab your knife as you feel their empty stares pierce your soul.
You lunge at them, stabbing them all in their hardened faces. You scream, "I am Relic Hunter, Damn you! Damn you all to hell, doll faces!" You stumble over a moldy ottoman and fall to the damp floor, staring into the label of Relic's 2013 effort, Ryddle.
You check yourself over in the misty darkness. No broken bones and you've found another Relic. As you open the bottle, you hear a stir behind you! Turning quickly, you are face to face with a shopworn Riddler doll. You draw your knife again and point it at him. "One step closer, Riddler, and I'll cut you."
"No need for such violence, dearest Relic Hunter. I have a simple riddle for you!" he laughed maniacally. "The riddle of the Ryddle is that it was made in the middle. Its history is a mystery to be sure. Tell me what I mean by middle, regarding the riddle of the Ryddle, and I'll let you drink it, little by little."
You knew the basement contained secrets, but this was a bit more than you bargained for. You return your knife to its sheath and stare down the Riddler. You think for a moment…
If you want to answer the Riddler, GO HERE.
If you want to stab him in his stupid face, GO HERE.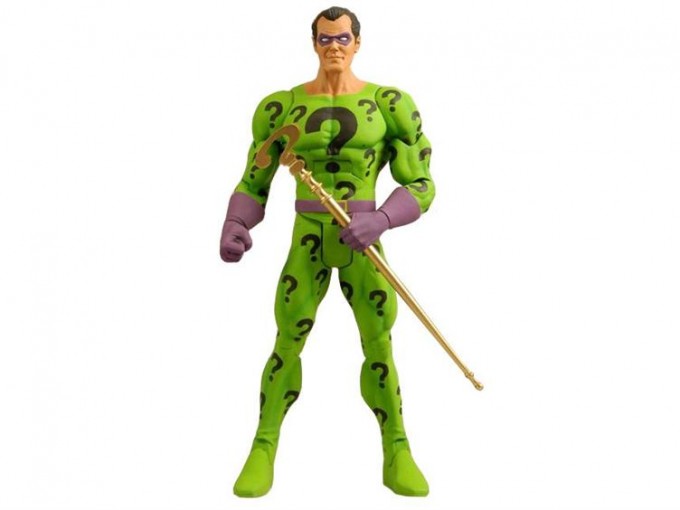 You instinctively scratch your beard and realize it is no longer there. You are reminded that you are a new man and you have confidence and you can best the Riddler. "The middle of… the middle of… the middle of that weird Relic year of farmhouse funk that was all-too-often rogue yeast and/or bacteria strains infecting every type of possible beer Relic made? And the middle of a time when buying Relic bombers was a total crapshoot?"
The Riddler smiles and nods, "Well done, Relic Hunter! You may continue your quest!"
Relic says
This farmhouse inspired beer has a touch of tartness and spicy complexity created by a unique and tasty American yeast strain.
Wary, you open the bottle and take a sip. Certainly not your favorite style, but you can appreciate what Relic was doing here. You reminisce about the rye/farmhouse days of Relic's past. You are drinking a true Relic relic. The Ryddle is SO Relic. That "funk." That rye. That unique Relic taste… all here in spades.
Some people loved these beers. Some people did not. And some people, well, some people had a very unfortunate Ryddle experience. Oof.
The beer is pretty much what Relic said it was and your bottle wasn't infected. Unfortunately, it's just not something you like. But you are a Relic Hunter, and you are trying things you have ignored for years. You have another choice to make.
If you decide you still want to continue hunting rye Relics, GO HERE.
If you want to go back to finding straight lagers, GO HERE.
If you decide you're done trying to fix yourself and you only want hazy, hoppy, NE IPA's, GO HERE.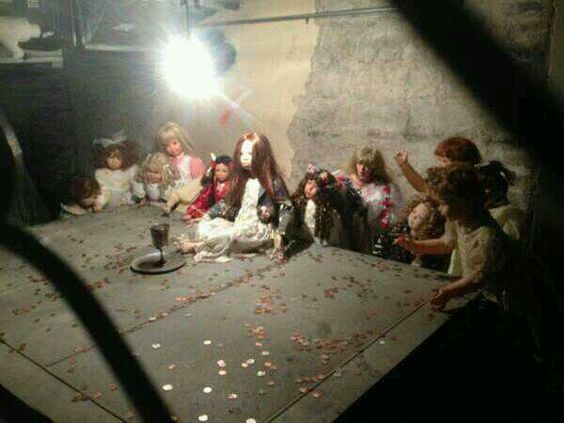 Whiting Street American Lager
1 Bomber, $?, 5.6% ABV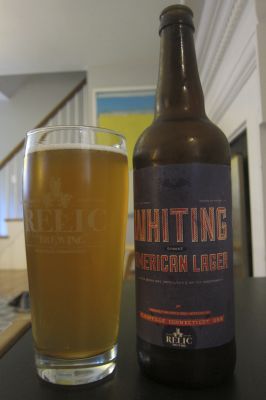 You are rye'd out, and that's fine. Who wouldn't be after all that rye beer? It's time for a big change, and you remember that there is an old relic somewhere in the dusty depths of this first basement room: a corn lager!
Talk about getting away from those dank and hazy IPA's you've been rotting your throat and liver with for the past year. You are now a full-fledged Relic Hunter, and have renewed energy for your quest. You eat a granola bar and take stock of your situation. All good. Let's go!
You climb through the cobwebs and over the unusable furniture. You make a mental note to get rid of all the crap ASAP and to be sure to burn your stepmother's doll collection. Turning a corner, you see a faint blue light that you'd never seen before.
Whoa. You step into the void and are sucked in. Dangit, you only wanted an olde timey relic of a Relic lager. You tumble through space and time, but a warmth envelops you just before you black out.
Relic Says:
This easy drinking summer beer is a pre-prohibition style lager meaning that it is brewed with a high percentage of flaked corn which was a cheaper ingredient than barley at the time. It has a nice spice profile from the Hercules and Brewers Gold hops.
You come to in a tiny tasting room in Plainville, Connecticut. You notice a calendar says you are way back in 2012. Mark, the brewer, approaches you with a Whiting Street Lager and says, "Try this, let me know what you think. People are saying they really like it. I don't know, I think it's pretty good. Why are you dressed like Indiana Jones, and is that a gun?"
You ignore the eager brewer and just drink. You haven't had a straight-up lager in five years. Your palate is confused. And why the hell would a craft brewer use "flaked corn" in this day and age – a time when beer bros say they hate corn based beers?
Whatever, you kind of like it. It's clean and refreshing, and after the adventure you've had, that's doubly good. 2012 Relic Brewer Mark tells you that he will brew it again in the future, and that he's heard that some people are saying they like it in the future too.
Terrified about the rip in the space-time continuum, you become confused and draw your gun on the 2012 Mark…
Overall Rating: B+
Rating vs. Similar style: n/a
For no real reason, you shoot Mark the brewer three times: GO HERE
You shoot yourself in the head: GO HERE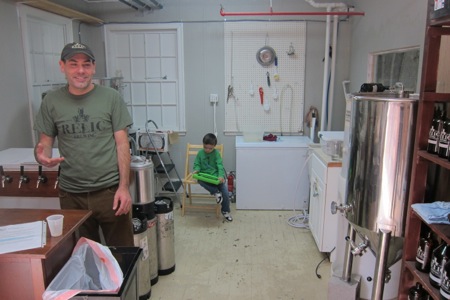 Halcyon English Winter Ale/Warmer
1 Bomber, $?, 6% ABV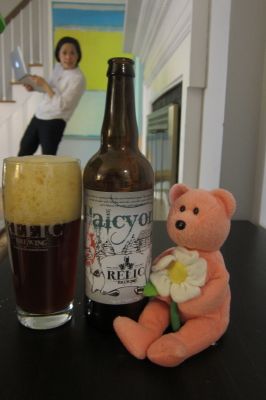 Thoroughly depressed and woozy from bloodloss, you begin to dream of halcyon days gone by. Your storybook youth, spent in the leafy suburbs of the big city. Trips to natural history museums with the grandparents whose decrepit furniture now surrounds you. Big spaghetti dinners with the family. Backyard football with your brother.
You close your eyes and see a pink teddy bear with a flower. You see a beautiful woman, seemingly emanating from the frothy head of a delicious beer. You are losing touch with reality, because such a scene is impossible.
Where did it all go wrong? When did things change?
And when did 2012 Mark decide that what was once a "brown ale" is now a "winter warmer?" You shake your head – who cares about such trivialities at a time like this? The wad of cobwebs that Bear Grylis told you would cauterize an open wound have only served to tickle the inside of your skull, and that's a very unsettling feeling.
To battle the ickiness, you again reach for halcyon memories. Because your brain is split open, the neurons get confused and your arm literally reaches for Halcyon. And you find one.
Huh? You knew you were confused, but now you're really confused. You have nothing to lose at this point, so you crack open the bottle and give it a shot.
Relic Says:
In the Victorian era, warming holiday ales were brewed and enjoyed. This example of the style includes six classic malts including maris otter, extra dark crystal, and victory and is balanced with earthy english fuggles hops.
Ugh. Pretty much anytime you see that fuggles are involved, the beer is fuggled up to your taste. "Whyyyy," you lament, "Why is my last beer on this mortal coil an english brown ale?"
You are offended by the name: Halcyon. You wanted a beer that warmed you and allowed you to relax on your death cobweb bed. Instead, you got a boring Engish ale that only made you angry.
How you channel that anger will determine your next move.
Overall Rating: D
Rating vs. Similar style: D+
Your rage invigorates and transports you to another plane: GO HERE.
Your anger simply dissolves into a pathetic sadness: GO HERE.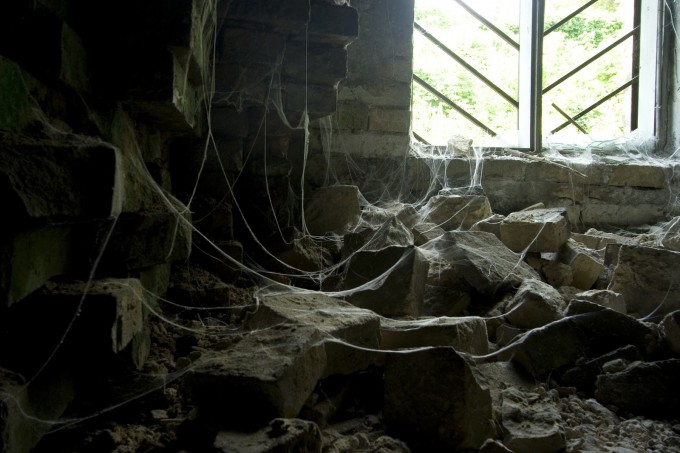 Transatlantic Belgian IPA
1 Bomber, $?, 6% ABV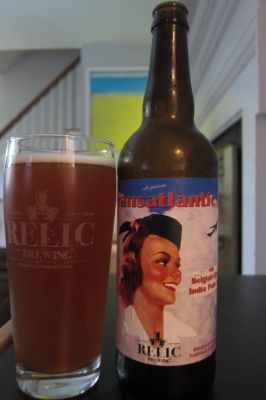 You close your eyes and feel yourself losing touch with what has become your reality. You drift deeper and deeper into a sort of hallucinatory state. You certainly feel like you're dying, but it doesn't feel so bad.
Your lips curl into a tiny wry smile as you feel youself transported to an astral plane. A beautiful 1960's-styled stewardess greats you as you take a seat in a roomy first class set. You are flying. Flying across the Atlantic Ocean!
You are comfortable, warm, and tingly. Everyone in the plane's cabin is beautiful. You are served your favorite meal. What could be better, you wonder?
Just then, a gorgeous rosy-cheeked stewardess brings you a large bottle of beer and a New York Times. She opens it and pours it into a glass. It is beautiful too.
Relic Says:
This Belgian-style IPA bridges the Atlantic by combining the yeast complexity of Belgian beers with massive citrus and fruit of the new world hops.
Your excitement is somewhat abated with the "Belgian" part of that description. You fondly recall those beers you left behind… the Julius and the Sip and the G-Bot. But how bad could this be? After all, you were flying to Europe, so why not get acclimated with a US-Belgian beer?
You drink.
Yeah. The Belgian thing again. Some people have issues with "black IPA's," but you have always had an issue with "Belgian IPA's." While there have been a few Brett IPA's that haven't been terrible, you just don't understand this particular class of beer.
Yet, it's not bad. It's just not the IPA's you've loved – the very same IPA's that you were trying to get away from when you undertook this quest. You are confused. You drink some more and it grows on you.
You struggle to find that "massive citrus and fruit of the new world hops," but they are there, hidden way behind that Belgian smell and taste. You think to yourself, "Yup, this is another 'Relic' beer."
Suddenly, the plane hits some major turbulence and your beer goes flying. The beauty around you turns ugly. Colors swirl and voices become distant. The woman beside you remains asleep – possibly dead? – and you begin to see gremlins on the wing.
A door opens at 30,000 feet and anything not strapped down is being sucked towards the sky…
Overall Rating: C+
Rating vs. Similar style: C-
You jump out of your chair and out of the open door: GO HERE.
You buckle up and hold on tight: GO HERE.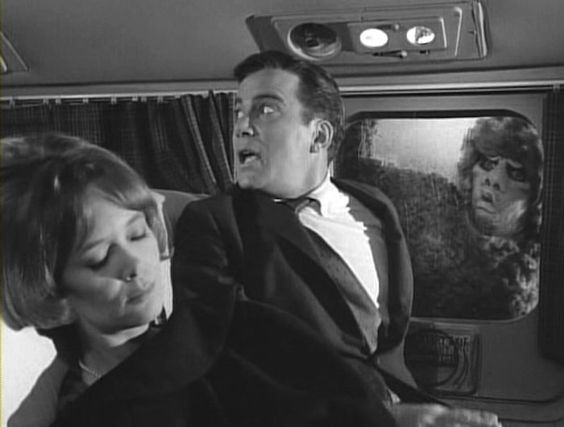 You strap in white-knuckle your seat-rest. The depressurization literally rips some clothes off of every passenger, but fortunately no one flies out of the open door. The sudden rush clears your mind and those previous ugly thoughts and gremlins fade away. You notice the woman next to you is stunning… in fact, every woman around you is perfect in every way.
This astral plane thing is pretty fly.
And just like that, the door closes and cabin pressure returns to normal. As everyone gathers themselves, there is a weird moment when everyone realizes that they almost died. And that they are in various stages of undress.
You ask your seatmate if she is alright. She is. She looks you over and asks to be held. You hold her. Before you know what's happening, she unbuckles her seatbelt and climbs onto you.
You feel her combing her fingers through your hair (or is that still the blood and spiders?) and begins rubbing her nubile body against yours. She removes all of your clothes.
Just as you are about to join the Mile High Club, the pilot announces that it is time to descend to land at Heathrow Airport in London.
Terrified you've crossed the line, you run for the door and jump out; GO HERE.
You relax and roll with it… GO HERE.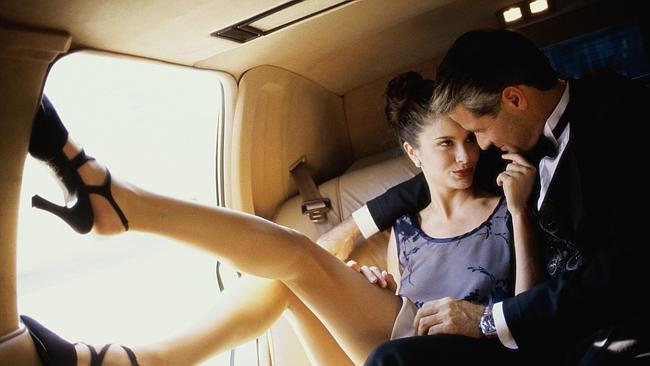 The Houndstooth
1 Bomber, $6.99, 4.8% ABV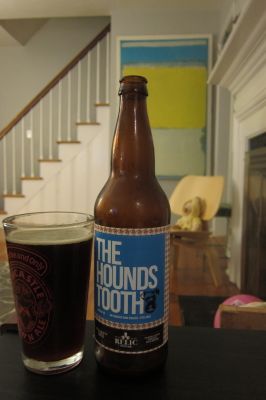 "What the?"
That was amazing! Everything you just did felt so good and so natural. Even though none of your boys back home would believe a word of it, you had the memories now. It was just so beautiful. Lucky you.
But those thoughts are vanquished the moment you look down and realize you are nearly as naked as a jaybird. On Saville Row in London of all places.
No one seems to care, as you are fresh-faced and the new you is looking damn good. (Congrats!) But even so, you need some clothes.
You pop in to the first clothier you see and have a look about. An older gentleman rushes up to you and says, "Bly me, good sir! We must clothe you at once!"
You say okay and allow the man to measure every inch of your chilseled body. Cheekily, he measures every part of you and offers a hearty "Cheerio, lad!" You feel good.
He offers you a chair upon which to sit and then comes round with a beer. Seeing as you are in London, the beer is an English mild called Houndstooth.
Relic says:
Subtle chocolate notes, some fruit and mint from the balanced hop additions, best served british style at cellar temps.
The man suggests you put on some silk boxers as you drink the beer and enjoy some tea sandwiches.
This is a true Relic relic of days long gone.
And that's a shame, because this beer is delicious. You realize that English milds are a fantastic style that not enough American brewers are doing these days. This is a beer you want to have again and again at a far-flung cottage pub on a grassy knoll in Wales.
You love this beer.
And you love the bespoke suit the gentleman whipped together in under an hour.
All is right with the world – even if this world wasn't your world. Everything feels good. And you look sharp in your new suit.
Renewed and in the European mindset, you have a choice:
Overall Rating: A-
Rating vs. Similar style: A-
If you choose to go fox hunting with high society, GO HERE.
If you choose to pip on down to Belgium instead, GO HERE.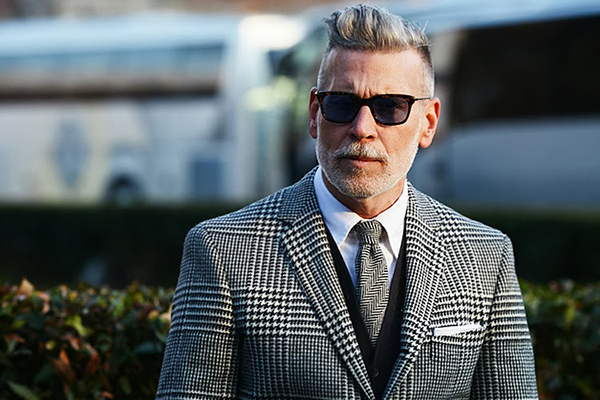 Fortnight IPA
1 Bomber, $?, 7.2% ABV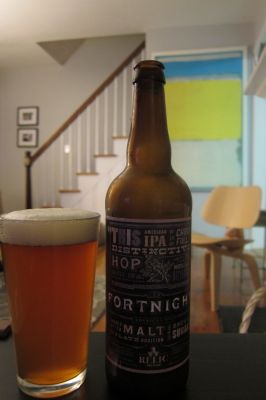 You enter another foreboding hedgerow just a few yards away, determined to hide from the the hunting party. Rocco's death gasps fade behind you once you're in the hedges.
Little did you know that this isn't just any old hedgerow. This is a classic English maze of thick brush, reaching 15 feet high all around. But this is your best chance at escape, so you plod ahead.
Up, Up, Down, Down, Left, Right, Left, Right, B, A… Now you've done it. The hedges close in around you and the sky darkens. You continue walking, endlessly… Are you just going in circles?
You are thirsty and check the little horse bag thing you brought with you. Some spotted dick (of course), some baked beans (of course), some potted meat (of course) and a beer.
You look at the beer and it is a Relic Fortnight IPA. You shake the cobwebs out of your head – and pause to relish that allusion to where your actual body still is – and think, "Ahhh, this is it! I'm back to my IPA ways!"
Relic says:
American IPA
And an American IPA to boot. For a moment, you forget that you appear to be trapped in a black magic hedgerow somewhere in the English countryside after leaving some guy named Rocco to die half a day ago.
You drink.
"Meh," you think… echoing so many of your Untappd "reviews." Since you've got the time to think, you reflect on all those "meh's" you've written. What does that even mean? What worth does a review that solely consists of the word, "meh," have? You think back to your life before you decided to become a Relic Hunter. Every non-hazy hop bombed IPA was "meh." This Fortnight was "meh." Your life was "meh."
But now things would be different. You took a leap into the unknown and had traveled through space and time. You experience different styles of beer and came to learn that "meh" isn't good enough.
You aren't proud of the fact that you murdered Rocco, but you have more important things to worry about. No, not the fact that this Relic IPA was heavy on the brown sugar and English malts – perhaps too much so – but that you were lost in an apparently sentient hedgerow.
You get up and turn a corner and are confronted with a wall of Fortnight IPA bottles. All of them are full. You turn another corner… more Fortnights. You return from where you were and are blocked by yet another wall of Fortnight.
You are trapped.
You think to yourself, "Meh."
Overall Rating: B-
Rating vs. Similar style: C
You accept your fortnight of Fortnight fate, but try to escape the infinite loop of Fortnight and hedgerows. You done messed up. I mean Christ, you shot that dude and tried to get away with it: GO HERE.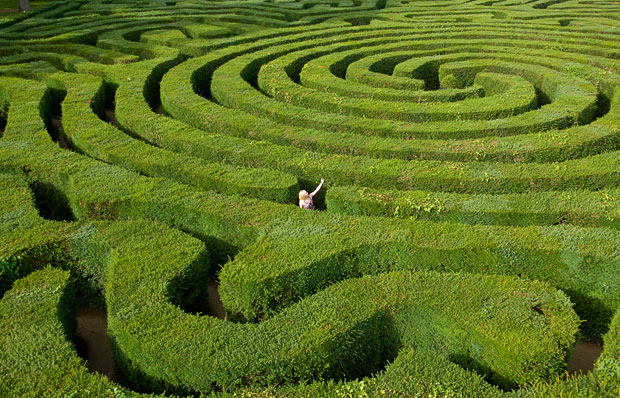 Sarrasin Tripel
1 Bomber, $?, 8.5% ABV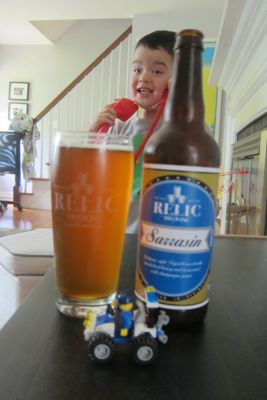 After what seemed like closing your eyes forever, you find yourself in Brussels, Belgium. "Hey, that was pretty cool!" you think. A far cry from that dingy basement in which you have a faint memory of tasting your own grey matter.
But now you're standing on a street in your underwear, rather confused as to where your clothes went. But hey, you are in Belgium and plenty of dudes in Belgium hang out in short shorts… your boxers weren't much different. What's the first thing anyone should do when landing in Brussels?
Eat chocolate.
Okay, what's the second thing?
Drink beer.
You enter the nearest pub and check the menu. Hm. It's all in French and Flemish. You call your son – hey, wait. You don't have a son! But then you check yourself and realize you didn't have a phone in your pocket either.
Now you have a phone… and a son.
"Son, what is 'sarrasin'?"
Hey, what little American kid speaks french? And why didn't you just use Google on your phone? And…
"Buckwheat, papa," comes the reply. "How's your head?"
"I have an open mind," you joke to the boy, but he doesn't get it. He knows French, but not puns. You tell him you love him and for some reason you order the Sarrasin.
Relic says:
Belgian styled tripel brewed with buckwheat honey and fermented with champagne yeast.
You drink. It is not good. In fact, you kind of hate this beer and feel badly for the Belgian people. Is this what their tripels taste like? Hot, sweet, estery messes? You look at the label again and it hits you – Another Relic! Of course! Isn't that the entire point of your adventure?
While tripels are not your favorite style (far from it), you can appreciate a good one. Something is off with this bottle. Who uses Champagne yeast in a tripel? That stuff's good for bubbly, wine, meads and sparingly in barleywines… but it just wasn't working for you in this tripel.
You feel bad. All this Relic Hunting has resulted in you drinking some Relics you didn't particularly care for. You realize "it's just you" because Relic is a darling brewery, and the ratings for all of these beers are stellar.
You begin to feel like crap. The veneer is cracking. You instinctively feel your head and something's not right. You have to get out of here – and fast!
Overall Rating: D
Rating vs. Similar style: F
You decide to scurry back to jolly ol' England: GO HERE.
You decide this dream has gone as far as it can go and you feel like a jerk with some of these Relic grades. It's time to just quit. GO HERE.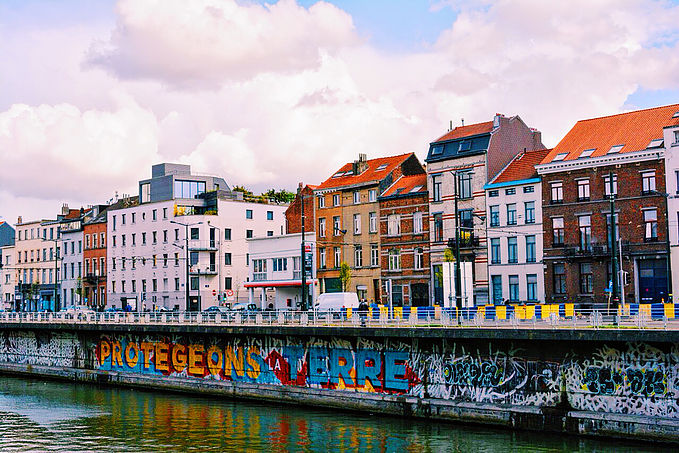 Rococo
1 bomber, $?, 9% ABV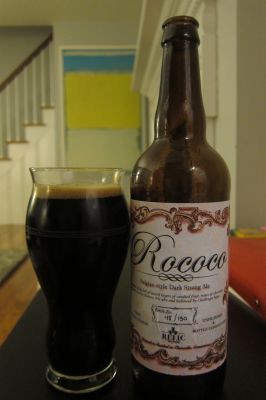 "ROCCOOOOOO! ROOO-COOO-COOOO!!!" You scream in despair. "Why did you ruin my shot at that fox, you limey lout!" Rocco is dying, with a hundred shotgun pellets in his face and neck. You jump off your horse and run as fast as your legs carry you.
You have no idea where you're going; through creeks, up hills, across fields. You are just running… Running from your crime, yes, but it's something more. You're running from who you were. You can't run fast or far enough.
What have you done? Who have you become on this noble Relic Hunting quest? Over one more hill you see a large hedgerow and go for it. You don't see any of your hunting party anywhere and breathe a sigh of relief… are having second thoughts.
You enter the hedgerow and are immediately behind a single tall wall of shrubbery.
What can you do? What should you do?

You continue to make a run for it: GO HERE.
You decide to seek help for Rocco: GO HERE.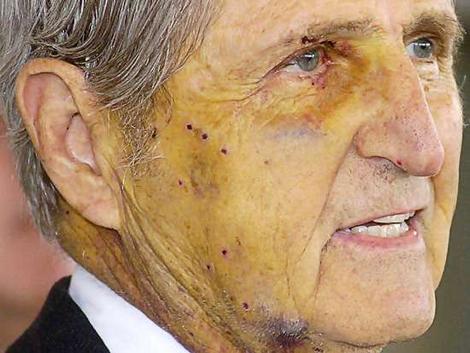 You scream again, "RO-CO-COOOOOO!!!" and you notice another thick hedgerow just a few yards away. Just before you run to hide behind the wall, you see some of your hunting party a mere thirty feet away.
They see you and they will surely see dying Rocco in mere seconds. You put down your gun and begin to pretend you're administering first aid. The group of hunters arrives and begins high-fiving each other.
You are confused to say the least.
They explain, "Cheerio, ol' chap in chaps, you've done our job for us. You see, Rocco is a mobster from Sicily who has been stealing from townsfolk for years! Well done, sport!"
Shocked, you feign a smile. One of the hunters dismounts and ceremoniously chops Rocco's head off. He lifts the head in victory and each of the men drink from the dripping neck before placing it on a pike.
"What th…" you say, but before you can finish, a beer is produced and a call for a celebration drink has been ordered.
"We've been saving this beer for just this moment!"
The beer is a Relic Rococo, and hell, you need a drink at this point. And something other than Rocco's carotid blood if you can help it.
Relic says:
This complex ale is full of lavish layers of candied fruit, notes of chocolate and dark roasted flavors. 9% ABV and balanced by challenger hops.
Mmm, delcious! After many Relic relics, this may be the best one yet. You drink again. This beer is sublime.
As the men revel around Rocco's headless body, you just quietly enjoy the beer. Smooth as silk, deep, rich, dark, and as complex a beer as you've ever had, this beer has done it.
This beer has made you finally come to appreciate a wholly different style from what you'd been drinking in the past. This beer is everything. This beer has changed your life. You quietly thank Relic.
But not quietly enough.
"What's that you say, bloke?" You seem to have upset the pajama crew…
Overall Rating: A+
Rating vs. Similar style: A+
Scared, you pick up your gun, shoot, and run to the hedgerow; GO HERE.
Drunk, you say "nothing, it's all good"; GO HERE.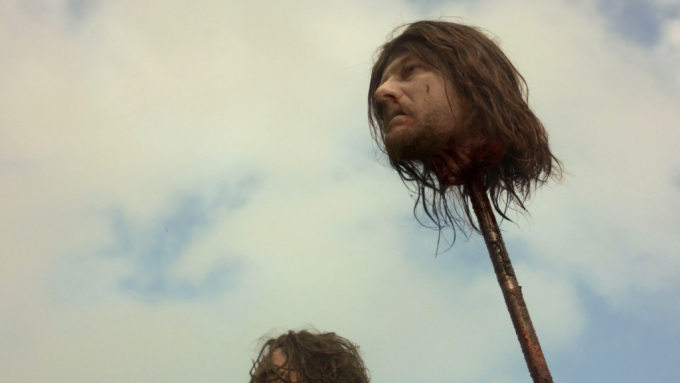 The Falconess
1 bomber, $?, 7.2% ABV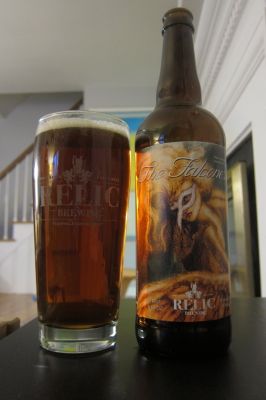 You jump out of your chair and your fellow passengers melt away right before your eyes. You are reminded that you are on an astral plane and not an actual plane. Or so your melting (and oozing) brain tells you.
Your slow flight through the cabin seems predetermined… directed. Right towards the open door. Wisps of cloud race by the plane and despite your certain death, you are at peace.
You float towards the door and then WHOOSH! You are among the clouds. The only sound you hear is your own inner thoughts: "This is beautiful" and "I am one with the birds!"
You are… The Falconess.
You soar through the atmosphere and feel as light as a feather. Your shoes fly off first then your pants. You are not even cold, so you remove your socks and shirt as well.
Just before you remove your jacket, you find a bottle of beer in the pocket. It is a Relic Falconess and you are becalmed. Floating, flying, soaring through the air in just your underwear, you drink the beer.
Relic Says:
An American Strong Ale, brewed with only Nelson Sauvin hops which give it a completely unique flavor, finished with orange blossom honey.
"A strong ale, eh?" you say. "I'm as strong as I've ever been! I can fly!" you yell, though no one hears. You love Nelson hops. You are again reminded that this bottle was from back in the day; back before Relic shifted gears to become a much hoppier destination.
You know that in 2016, they regularly have real highly hopped IPA's on tap, but this Falconess was from before that time. It again had that Relicness to it. It has potential, but it's not quite there for you yet.
But WTF, man, you're flying through the astral plane without barely a stitch of clothing on, drinking a pretty decent beer. What are you complaining about? You realize that you kind of suck.
So you sip again and pull out those winey and honey notes. They soothe you and allow you to appreciate the beer a bit more. Still, you wish it didn't have that gosh darn yeast flavor taking away from the Nelson.
The ground is approaching. You know that you will land safely, and you are now confronted with the unreal reality that you can choose where you land!
Overall Rating: C-
Rating vs. Similar style: D
You choose to land in Belgium; GO HERE.
You choose to land in England; GO HERE.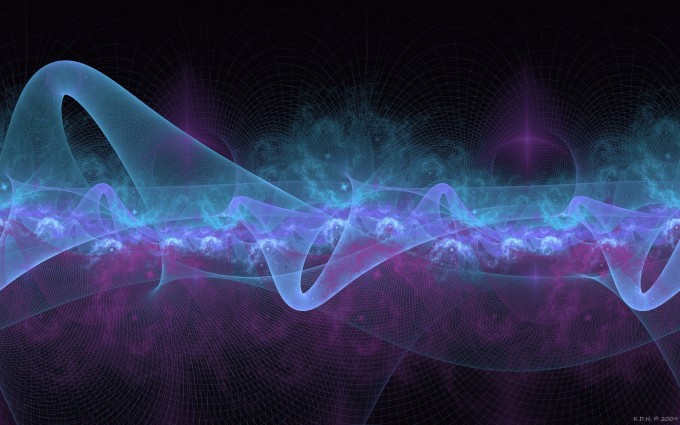 The Huntsman Stout
1 bomber, $7, 6% ABV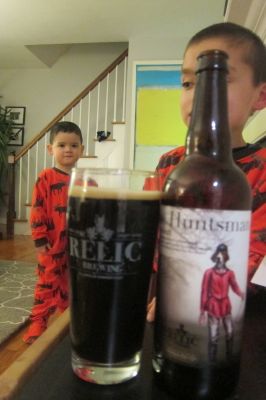 You are more of an Englishman than a Belgian, so here you are in the rolling green fields of England. Buoyed with an artificial confidence, you are ready to take this Relic Hunting thing to a meta level – a Relic Hunting hunt, if you will.
You find some traditional riding gear and dress the part. You admire your butt in the tight pants and like how the jodhpurs give you a leaner look. "Hey, I could get used to this," you think.
You hear the clarion call and realize the fox hunt is about to start. A horse beckons and you mount him. You've never ridden a horse before, but what the hell, you've done a lot of things today for the first time.
You ride towards the commotion.
Arriving at the group, you notice everyone is dressed the same. No, not in your traiditional fox hunt gear, but in matching red and black footsie pajamas with mooses on them.
"The colors are right, but… why in the world are they all wearing footsie pajamas?" The group stares at you, but accept you just the same.
"Cheerio, mate! Nice boots! A-hunting we shall go then?"
Just as you are about to spur your horse into action, you are offered a toast. A toast to a good hunt! You accept the bottle of beer and notice that it is a Relic Huntsman Stout.
Relic Says:
This traditional oatmeal stout contains simple amounts of oats and roasted malts to create a smooth, chocolatey and roasty drink perfect for winter.
The chill air gives you a shiver, and you are thankful for a creamy stout. A member of the party laughs at you and says, "Silly Yank, you should have worn your moose footsies! Cheerio!"
Whatever. You drink. It's delicious and warming. The flaked oats give the stout a creaminess that suits the beer perfectly. You get the chocolate malts and it has the proper roastiness. It's a tad thin, but you chalk it up to "the English way" and enjoy the comaraderis of the group.
Once finished your beer, the hunt begins. Over hill and dale, you are a master horseman. The hounds have rousted a fox and you draw your weapon. Your partner, Rocco, unfamiliar with your hunting moves, leaps in front of you just as you fire.
You've shot him! But no one saw it, and you've just dipped behind a hedgerow. What do you do?
Overall Rating: B+
Rating vs. Similar style: A-
You scream, "ROCCOOO!! RO-COO-COO!!: GO HERE.
You leave Rocco and then run to a hedgerow
Thrice Tripel
1 Bomber, $9.99, 9% ABV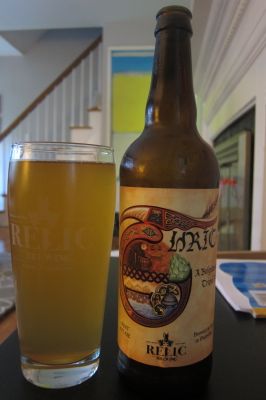 BANG! BANG! BANG! The three shots ring out, echoing around the tiny 2012 tasting closet at Relic in Plainville. The void flickers. Unfinished beer squirts out of one of the fermenters – at least one shot missed your target.
You slowly approach the back of the space, gun still drawn. Around a corner behind what looks like your homebrew set-up lies a bleeding 2012 Mark. "What… what did you do Relic Hunter? I thought… People are saying I'm a nice guy! People are saying they like me! Why did you shoot me?"
The cramped quarters now smells like sweat socks. Pungent sour aromas fill the air as you peer down at your victim. "I'm sorry," you say. "I don't know myself anymore. I barely know where I am… what year it is… what effects shooting 2012 Mark will have on 2016 Mark… I … I'm sorry, bro."
It appears you only hit 2012 Mark with one bullet. 2012 Mark is still lucid. He says, "People are saying they really like the Thrice. Since you shot thrice, perhaps you'd like a bottle? Let me know what you think. I don't know, I like it a lot."
You grab the bottle from the shelf and open it. You offer a small glass to 2012 Mark as a sort of peace offering. He accepts, sips, and says, "Mm. I do really think this turned out really good."
Relic says
This Americanized Belgian-style Tripel has great flavors of clove, banana and sweetness from the brown sugars used in brewing. American hops help to balance out the deceptively easy drinker. It incorporates American Centennial hops to balance the unique authentic Belgian yeast flavors that exemplify the style.
You sit next to 2012 Mark, in a pool of his blood. "I don't know, man. I'm not really digging this. You know how I shot you thrice, but only hit once? It's like this beer… you shot for three things – saison, IPA, sour – and you missed on two of them. Or maybe the sourness is unintentional?"
"People say that they like that funk," 2012 Mark gurgled.
"Yeah. Well, I'm not a fan. A tripel shouldn't really have that twang in my opinion. But, like some other beers I've found during my Relic Hunt, I consider myself lucky that my bottle was drinkable. So that's cool, bro."
You notice that 2012 Mark is fading, and you suddenly realize that you're excited for what 2016 Mark can do. Who knows, maybe he'll pretty much abandon the whole Belgian/farmhouse/saison/funk thing and brew mostly the IPA's and DIPA's you love? Hell, what if he contracted at a brewery that didn't have Brett dripping off the ceiling?
You dial 9-1-1 from the brewery phone and hope for the best. But you have another decision to make.
Overall Rating: C
Rating vs. Similar style: D
You can't believe what you've done and shoot yourself in the head GO HERE.
Scared, you scream like a feral animal and begin wildly shooting everything, everywhere: GO HERE.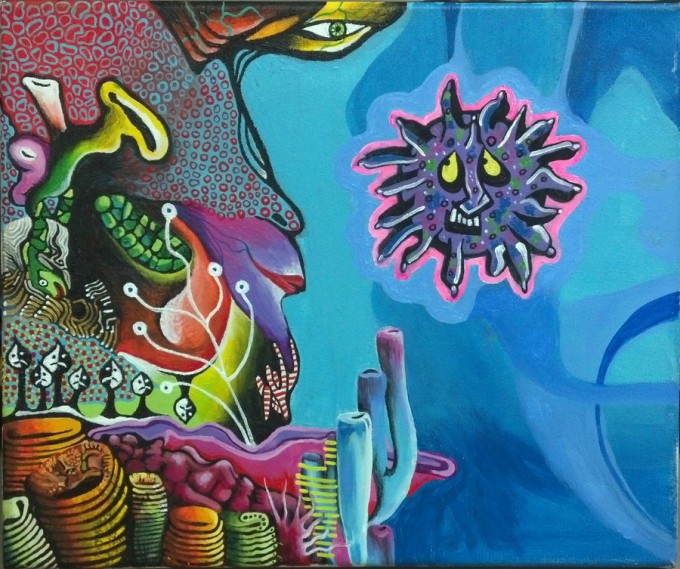 One Foot in the Grave Kellerbier
1 Bomber, $6.99, 8.2% ABV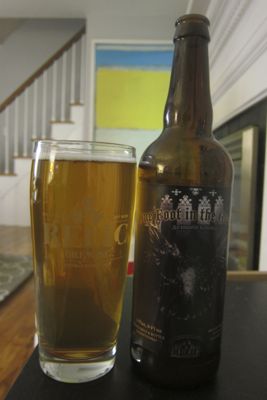 BANG! The gunshot sound rings in your blood-covered ear, but you remain conscious, despite what surely must be a hole in your skull. You are back in your basement, but your sight is limited to tunnel vision. You are dying.
Your mind races… what just happened? Was I really just speaking with 2012 Relic Mark at his old brewery space in Plainville, CT? How? Why? Did I actually shoot him? You aren't sure. Everything is a blur.
More importantly, your face is covered with blood and you have a headache like you've never known. You grab gobs of spiderwebs and press them to your head wound. You try to stand up, but immediately become dizzy and fall back down. You feel like you have one foot in your grave.
Relic says
Brewed with the highest quality Bohemian pilsner Munich malt and flaked wheat, this very American interpretation of the style is nicely balanced by German Tettnang hops for a smooth and slightly spicy character.
You're in a part of the basement you'd never seen before. There is almost no light from any source here. You think you feel bugs crawling all over the ground and on your face, but can't be sure with all the blood tricking down. To your left, almost floating in mid-air, is another Relic relic. Why, It's a bottle of their kellerbier.
You look at the label: One Foot in the Grave. "Weird," you think, but with some of your brain now stuck in you matted eyebrow, you open it and begin to drink.
Some for your gullet, some for your open wound in a hopeless effort to disinfect the wound. Then you wonder, "If I pour beer directly onto my brain, will I get drunk faster?" You drink some more.
Ugh. This beer is not good. You pour more directly into your grey matter, figuring it's better spent entering your body that way.
You began this quest to change up your drinking habits. Perhaps some lager, some rye beer, some Belgians… but pilsner? Nah, just not your thing. Well, poorly executed ones anyway.
It's beers like that that pushed you into the high-end DIPA market in the first place. Watery, skunky beer with a twinge of copper. This beer only pushed you deeper into despair.
Overall Rating: D
Rating vs. Similar style: D-
You gather up the energy to think about the life you've lived: GO HERE
You accept your fate: GO HERE.
Ryepocolypse Belgian Stout
1 Bomber, $?, 9.4% ABV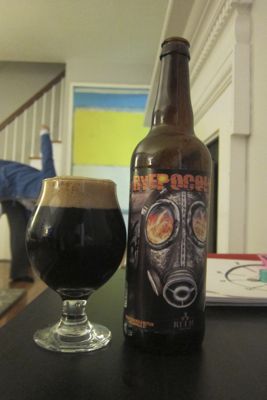 You gather your wits and make your move. The Riddler pops up from behind a bank of cobwebs so thick your light barely penetrates it. Knife now at the ready, you lunge toward the cackling doll.
The Riddler parries, left, then right. And cackles some more. "You didn't think you'd get away that easily, did you Relic Hunter?!"
You stammer, "Um… uhh… Yes?"
"This is not another riddle, you dunce. It was just a straightforward question. Geeze, I'm not always 'on,' y'know." With that, the Riddler throws a giant spider at your face. A hairy leg gets caught in your teeth as you scream out for help. No sound emanates from you, as you are overtaken by fear.
"This is it," you think. This is the end. Lost in the bowels of your own basement, fighting a doll with a spider in your mouth. This is your apocalypse. Just then, as the Riddler is going in to finish you off, you find a bottle of beer at your fingertips…
Relic says
Rye Belgian Stout, brewed for our 2nd Anniversary
You look at the label: "Ryepocolypse." Hey Riddler, I have a riddle for you! If the noun 'apocalypse' has an a as its third syllable, but the proper noun 'Ryepocolypse' has an o, is that okay in the world of marketing?"
You have him on his leotarded heels. "Huh?" he whispers? "What the fu—" You lunge at him with your knife, stabbing him right in the neck. With his last breath his sputters, "shoulda been an aaaaaaa…" The Ridder is vanquished.
In celebration, you crack the misspelled bottle and drink. Wow, you like it! You like a rye beer! You smugly sit and congratulate yourself on a job well done. You fought through your biases against non IPA's and found a rye stout that you enjoy. Roasty, chocolatey, with a touch of rye. Were you now used to that rye flavor, or was this beer made with a bit more of a deft touch? Or is the fact that it's a stout make the rye work better to your palate?
You remember this beer isn't quite a Relic relic, as they did make subsequent batches of this in later years. You are exhausted from your adventure, and are now feeling a little groggy after a few strong beers. What do you want to do?
Overall Rating: A
Rating vs. Similar style: A
Done with rye for the day, but you want to remain a Relic Hunter: GO HERE.
Tired of Relic Hunting, you only want hazy, hoppy, NE IPA's, GO HERE.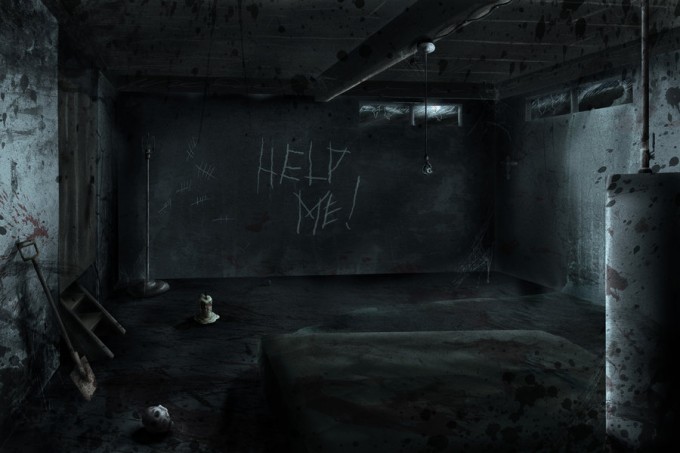 Morgue Party "Black Rye Wine"
10oz pour, 10.% ABV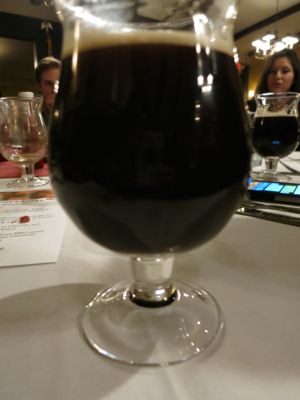 "What the hell was that all about?" you say out loud. You snap out of it and realize the nightmarish dream of a new life is impossible. That whole "Relic Hunter" thing was nothing more than a loopy daydream.
You accept your fate as a bleary-eyed borderline alcoholic, routinely drowning in 9% double IPA's. You check your coated tongue again and accept the fact that you have rotted out your palate with your singular passion for hops, hops, and more hops. You rub your bloated belly, laugh at the idea of being a Relic Hunter and move to use the toilet.
You sit on the commode and commence your thrice daily ritual of "cleansing" your innards of dead yeast and hop particulate. It is as brutal as always. The noxious odor is so vile, you lose consciousness and fall towards the tub. You smash your head against the side and crumple into a lifeless pile of sweat, hair, and feces.
Relic Says:
A kitchen sink of a beer, this black rye-wine has loads of dark rye malts alongside Columbus hops.
As you lie on the moist tiled floor and the flies gather around your body, equally enamored with your sweaty temples as with your posterior, you grab for one last beer: Relic's third anniversary celebration beer, Morgue Party. Dubbed a "rye wine," you have no clue what that is, but you don't care. You drink.
You like it. "Ah," you think, "I get it… it's not a barleywine because Mark used rye instead of barley!" This flash of brilliance gets your heart pumping a bit and you rise to your elbow. You drink some more. The Morgue Party is sweet, but the rye cuts it way more than you'd get with a typical barleywine. You lose your balance again and fall back to the floor.
Perhaps drinking a 10% beer at 7 AM while clearly dying isn't your smartest idea. You don't care. You guzzle the rest of the bottle and think about how this beer is a bit of a mess. You chuckle, realizing the irony of that statement as your innards begin to seep out of your orifices. A bit of rye, some sweet malts, weird floral characteristics, bitterness… just a lot going on with this beer. But it mostly works pretty well.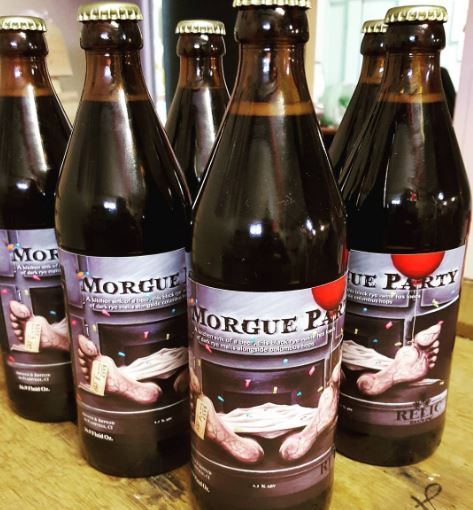 This is your last beer ever.
You die.
Overall Rating: B
Rating vs. Similar style: B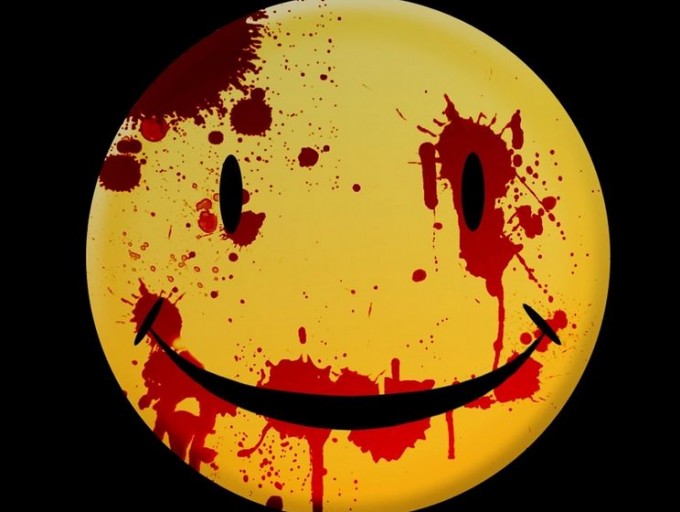 Happy Ending
Your fellow hunters say, "Oh, okay," and produce some more beer. You drink to get drunker… to forget about Rocco and his detached head. To forget about the crazy Relic Hunt you haven been undertaking.
You sit back on a log and close your eyes. You feel that your quest is complete. You've had some wonderful beers that have been totally different from what you are used to. Sure, you had some you didn't like, but that's life.
That's what it's all about. You are exhausted. You drift off to sleep.
You are a true Relic Hunter.
You dream of going to outer space GO HERE
You dream of that blue void you may or may not have already stepped into, GO HERE
You dream that this hasn't actually been a dream at all and you go back to the way you were… GO HERE.
Relic Brewing
Back to CTMQ's Reviews of Relic Beers
Back to CTMQ's Connecticut Beer Page
Back to CT Breweries page