Bon Vivarent
This is another one of my infamous mish-mosh pages where I stick everything bar/restaurant related that doesn't really fit anywhere else. On the one hand, I have my "Restaurant Tour of the World" stuff, many of which would fit into here. Or at least some of them would. At least the Internet makes crossover stuff easy, right?
Stuff I won't bother "crossing over" include the aforementioned "CTMQ Restaurant Tour of the World" restaurants, though maybe if there's particularly unique items, that'll appear below. I also have a separate section for our classic diners. Also, when it comes to Connecticut beer whalez, bro, you'll find them all over in the CT Beer Review section.
If you have anything I should add here, just let me know. Thanks.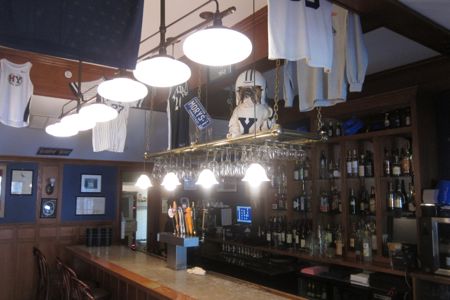 The bar at Mory's at Yale
………………………………..
Historic and "Historic" Establishments
Louis' Lunch, The birthplace of the hamburger, New Haven, 7/21/2007
Richter's Cafe, New Haven, 7/21/2007 closed 6/25/2011
The Griswold Inn, Essex, Multiple visits
Mory's, New Haven
The White Horse, Marbledale
………………………………..
Unique and Interesting Establishments
Mrs. Bridges' Pantry, Woodstock, 11/7/2009
Travelers Food and Books, Union, 6/1/2011
SoNo Brewhouse, Norwalk (Closed late 2014)
Mystic Pizza, Mystic, 10/5/2013
Pizza Works, Old Saybrook, 1/18/14
The Vanilla Bean Café, Pomfret
Nodine's Smokehouse, Goshen
Saba Live Poultry, Bloomfield
The Place, Guilford
The Landing Zone, Harwinton
………………………………..
Unique & Interesting & Nationally Recognized Menu Items
Red Potato Pizza, Willington Pizza House, Willington
David Glass Cheesecake, Bloomfield (moved to Vermont)
Shady Glen Cheeseburger: , Manchester (Esquire's favorite)
Fried Cheese, Shady Glen Dairy Store, Manchester
Steamed Cheeseburgers at Teds in Meriden and at O'Rourke's in Middletown
La Madeline au Truffe, , Chocopologie Café, Norwalk
A Wiener in Mianus, Greenwich
Mystic Shagbark Syrup, Mystic
2-foot Hot Dog, Doogies, Newington
Dirt Wings, J. Timothy's, Plainville
Indian Pudding Ice Cream, We-Li-Kit, Pomfret
Fast food Liver & Onions, Duchess, Wallingford
Heart Attack Burger, RePUBlic, Bloomfield
Le Wind of Change, Miya's Sushi, New Haven
Jellyfish and Shrimp Salad, Pho Boston, West Hartford
………………………………..
Unique and Interesting Drinks
Sua hot gà, Pho Boston, West Hartford
Sau riêng shake, Pho Boston, West Hartford
Prickly Pear Margarita, Lucky Taco Cantina, Manchester
Daugh, Shish Kebab House of Afghanistan, West Hartford
Bamiyan Delight, Shish Kebab House of Afghanistan, West Hartford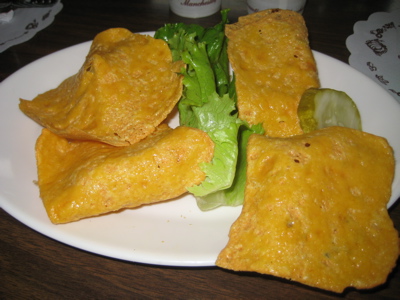 Fried cheese at Shady Glen, Manchester