Thimble Island Brewing Company Beers
Branford
An old visit to the brewery here. I need to update this since they've undergone a major expansion.
Beer List
The Old School Originals
American Ale, A-
Coffee Stout, A
Lager, A
IPA, B
The Other Beers
Black & Tan, A
Dark Pumpkin Porter, B+
Experiment #152, F
The Four Horsemen, C
Ghost Island DIPA, B+
Gosaic, D
Sunken Stout/MAD Russian Imperial Stout, A
BA MAD Russian Imperial Stout, A
Margarita Gose, A-
Mosaic Session IPA, B-
Ruby, B+
Session 45 IPA, D
Vanilla Coffee Stout, F then B
Windjammer Wheat Ale, C+
The Private Label Beers
Catsup & Mustard Lager, A
Ideal Tavern House Lager, A
Market Place House Lager, A
New Haven Nighthawk Amber


Branford's Thimble Island are very small. Thimble Island Brewery is (as of March 2013) was also very small. When they opened, they only made two beers – and that was after 8 months or so of only brewing one. This has obviously changed, as Thimble Island has grown exponentially with the industry as a whole.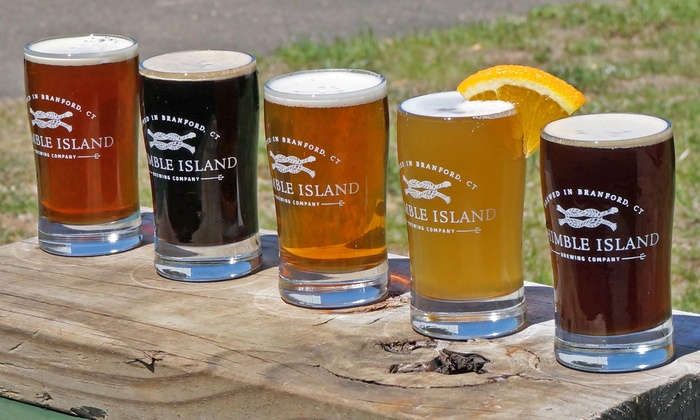 Their branding and logos are beautiful and they now brew and distribute a ton of beers. Not only that, Thimble does some contracting and has gotten into the private label game as well.
Their 2014 expansion was relatively HUGE and somewhat surprising in the industry, but they seem to be plugging along pretty well.
Thimble Island Brewing Company
My 2013 visit to the brewery here.
CTMQ Drinks a lot of CT Beer