Thimble Island Lager
12 pack, $13.99, 4.5% ABV
Purchased at Liquor Depot, Simsbury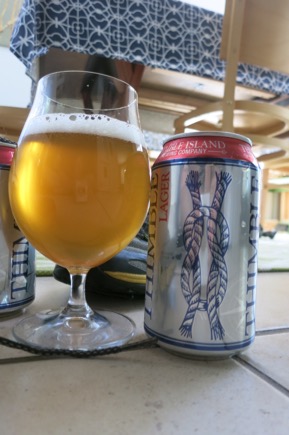 Yo, I wanted to quickly write this page before this upcoming late summer weekend. It's going to be fairly warm and many of you are surely planning some outdoor activities. Those activities will involve beer, and if you read these beer pages, you're likely thinking of procuring some Connecticut brews.
Listen up. Your friends are sick and tired of those tongue-coating opaque IPA's you always show up with. They don't care about where it ranks on untappd. Seriously, man. They totally talk crap about you and your dumb syrupy beer you always bring.
Sure, they indulge you and pretend to care about IBU's (or lack thereof) and what a "late hop addition" is. They're your friends.
I'm not.
I'm a cantakerous old man and I don't care what you think about me. So I'm going to tell it to you straight: Go pick up a 12-pack of this beer for your outing. It's Connecticut, it's in a can, and the label art is pretty cool. Right off the bat you've checked off three requirements. Good job.
Oh what? A lager?! Yeah, that's right. It's a lager. And no, it's not a Jack's Abbey lager either. It's a goddamned Thimble Island Lager. And it's really, really good.
Go ahead. Drink it. I'll even wait while you check-in on your best friend…

GodDAMNIt. "Meh." What does "meh" mean? "Meh" your face.
Thimble Island Brewing Says:
A crisp and light bodied lager. Our take on a traditional American classic.
Word. You know what this beer is? This is the beer you drank in college if the beer you drank in college was good. Sure, Coors, Bud, etc. are "American lagers," but Thimble Island's version is infinitely better than that crap. It actually has flavor – good, light, lemony flavor.
And it is smoooooooth. It goes down so easily and brightly.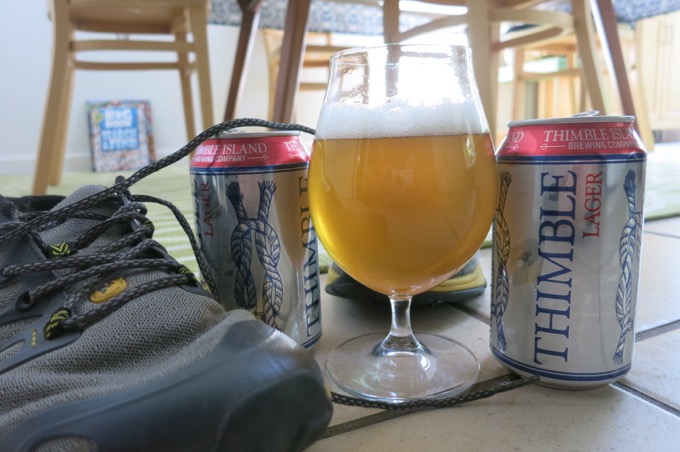 I applaud Thimble Island for putting out a lager. I've harshly reviewed some of their more "creative" beers and I stand by those. I'm sure they sell, but if I had my druthers, I'd ask them to stay away from the vanilla and the spices and the salt and stick to the classic stuff. Literally every "straight" Thimble beer I've had has been good. And the few wacky ones I've had have not.
For what it's worth, I actually did bring this to a party in July and dropped it into the community cooler with all sorts of fancy pants beers. At the end of the night, I peeked into the cooler and lo and behold! The Thimble Lager was gone and the heavy DIPA's and such were still sitting there.
I go to the right parties.
Overall Rating: A
Rating vs. Similar style: A+
Thimble Island Brewing Company
Back to CTMQ's Reviews of Thimble Island beers
Back to CTMQ's Connecticut Beer Page
Back to CT Breweries page