Thimble Island Vanilla Coffee Stout
1 pint, $6.50, 6% ABV
Purchased at McLadden's, West Hartford
2017 Update:
What follows is a biting and mean take down of a beer I found to be thoroughly horrible. I always feel bad about such reviews, and I'm sure some people probably enjoyed drinking in the Yankee Candle beer. I didn't.
But there I was, staring at a 4-pack of the very same beer, now in bottles, a few months later. Since I am a fair and impartial reviewer, I figured I'd revisit this mess for $11.39 for some reason. I much favor buying singles, but in this case, "giving back" to Thimble Island felt like the right thing to do.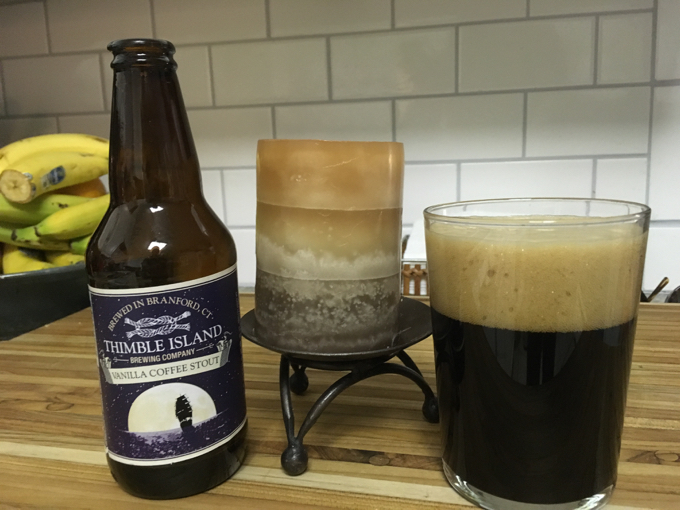 I'm happy to report that the bottled version is infinitely better than the tap version I previously had, as you'll read below. It's still a bit cloying for my tastes, but it's certainly not undrinkable. If you like flavored sweet stouts, this one's really not too bad. Thank goodness.
I won't pretend for a second they dialed back the vanilla addition because of anything I wrote below, but whomever made the decision at the brewery, thank you. Thank you very much.
The original review: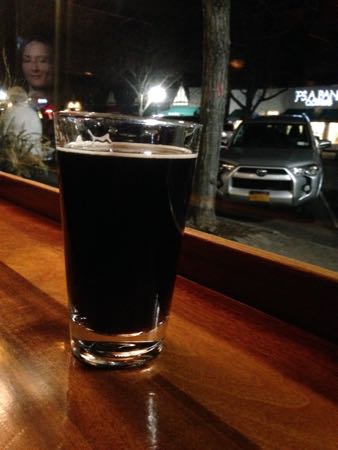 This beer is awful. I see no point in beating around the bush or making nicey-nice at the outset here. Consider this a PSA for those who just read the first paragraph of my beer posts: Seriously, this beer is gross. You're welcome.
Two things: Most importantly, Thimble Island definitely knows how to make very good stouts. Their standard coffee stout scored an A from the most discerning reviewer I know. And that guy is jerk. Thimble's Sunken Stout, a standard RIS, is very good. Their ridiculously potent MAD Imperial Stout is also good (though it is boozy as hell.) But again, their base coffee stout is excellent.
The other thing is that with this beer, Thimble Island seems to be falling into a pattern… a terrible, terrible pattern. Though this only makes two instances. It'll take a third to establish a true pattern. Who remembers their Pumpkin Porter back when it was draught only? I do. I was hugely impressed by it.
A pumpkin beer that I liked! And I liked it mostly because it wasn't your typical spiced up potpourri crap seasonal. It had suble spices and I praised the dang thing.
Then they bottled it. And apparently, when they bottled it, they accidentally dropped an industrial-sized vat of nutmeg and cinnamon and whatever else into the boil. I shook my fist at the sky when I dumped that bottle. WHY DO BREWERIES DO THIS?!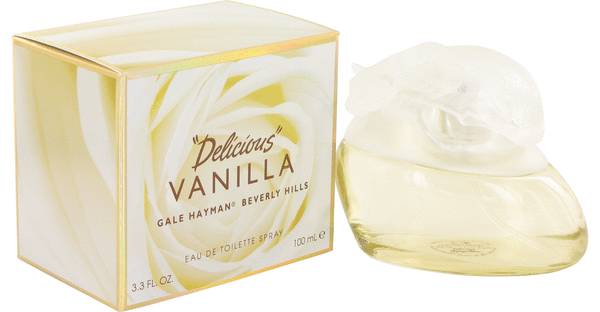 But that was last year. Now we have another "flavored" beer from the crew in Branford; the brewery that just went through a massive expansion. Surely they learned from their mistakes of the past and this vanilla coffee stout would have just a touch of that vanilla sweetness and aroma.
Right?
No. Duh. I already wrote that this beer was awful. What did you expect me to say?
Thimble Island Brewing Says:
Infusion of Vanilla and Willoughby's Turkish Blend Dark Roast Coffee
"Infusion."
"Infusion."
"INFUSION?!" No. Try, transfusion. As in, they transfused all the goodness from the regular coffee stout with the effluvia from the Yankee Candle factory.
If I may ask again, WHY DO BREWERIES DO THIS?!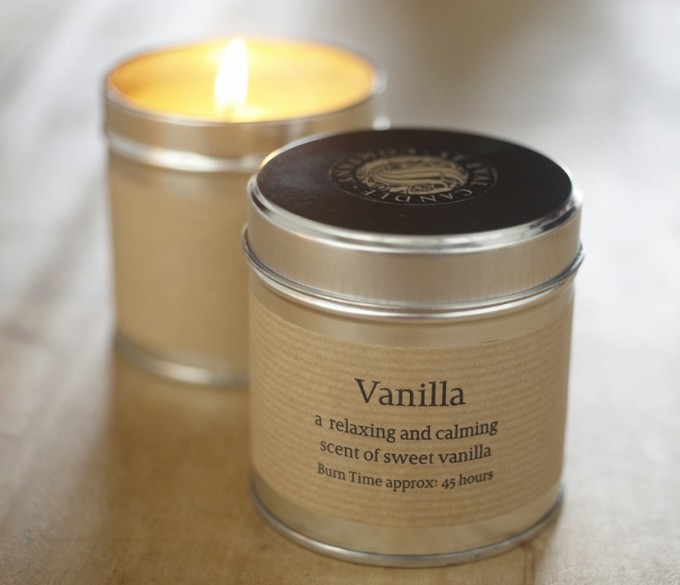 Here's how this tasting went down. I ordered and the bartender said, "$6.50 please." I was shocked, as that's the lowest price I've ever heard at McLadden's. I gave her seven dollars, pulling out a single for a tip. She never looked back at me and deposited my fifty cents in the tip jar and walked the other way. I laughed to myself, muttered, "freaking McLadden's" and pocketed my single out of principle.
Hey you know what else McLadden's? Look at my picture of the beer again. Nice cheater glass.
Anyway…
I noted the aroma of vanilla in the air and turned to my right to see if a) the women noticed me stiffing the bartender on the tip and b) what women who douse themselves in vanilla perfume look like in 2016.
Don't get me wrong – I've known stunningly beautiful and fashionable women who wore vanilla. Nothing wrong with that, but to me, that was a 90's thing. (Not that I have any clue about these things… it's more of a scent memory for me.)
Anyway, safe from their disapproval, I slinked off into a corner and… holy crap, that aroma permeating my every pore was from this beer!
I drank. Blergh.
I drank again. Awful. I was drinking a candle-infused 1993-perfume stout. A very thin, non-stout like stout, by the way. But that critism is just piling on at this point.
I took the picture at the top of this page, with a reflection of a woman who was surely drinking something better than I was. As I looked at my picture, then my beer, then the happy faces around the bar, I grew sadder by the minute. All was lost. The rainy, empty streets called to me.
I placed my 7/8-full beer on the shelf by the window, careful not to spill a drop on me.

After all, I didn't want my wife to think I was out at some chippy's apartment where bundles of vanilla incense burned while she fed me a cheap-ass fake vanilla milkshake while she, wearing nothing but a heavy slathering of vanilla perfume crawled over my prone body. On a bed of Nilla Wafers. Right next to a Glade Vanilla outlet plug thing. Under a flowering vanilla tree. While Vanilla Ice rapped on the stereo, "To the extreme I rock a mic like a vandal, Light up a stage and wax a chump like a candle." Which would be her cue to rub her vanilla scented body on mine, while lifting my shirt to slowly drip the wax from a vanilla scented candle on my chest like sexy people do.
Nah, I didn't want to have that conversation with my wife.
So I left.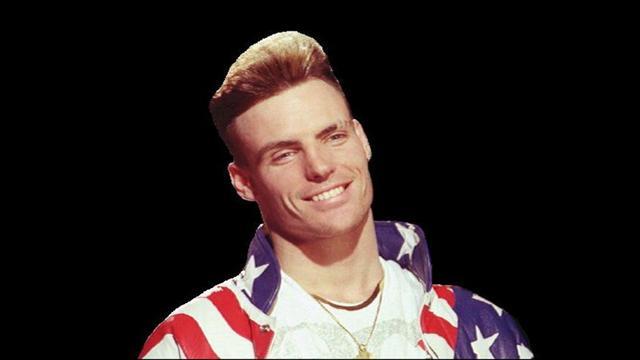 Overall Rating (Draft): F
Rating vs. Similar style (Draft): F
Overall Rating (Bottle): B-
Rating vs. Similar style (Bottle): B-
Thimble Island Brewing Company
Back to CTMQ's Reviews of Thimble Island beers
Back to CTMQ's Connecticut Beer Page
Back to CT Breweries page