Tie Dyed Thai Tie Mai Tai
1 12 oz. bottle, $4, 6.2% ABV
Purchased at the brewery, Canton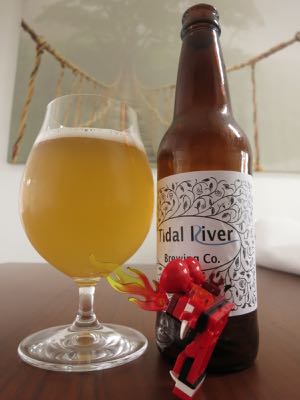 You – assuming you are a CTMQ "beer reader" and don't cross over to the other stuff on this site – you may find it surprising that my hiking and museuming activities actually lead my beer activities and not the other way around. Nabbing this interesting little beer is a great example of what I mean.
A sunny Saturday. Wake up, write some stuff, get the boys up, figure out my day.
Decide to take them for a DEEP Sky's the Limit hike at American Legion State Forest in Barkhamsted. (You can read about that here.) Print map, pack up supplies, check the Internet again.
Notice brand new little brewery in Canton has their first bottle available. They open at noon. I'll be driving back east on route 44 around 1. I might as well grab one.
Just don't make me ask for it by name. "Tie Dyed Thai Mai Tai?" Nah… "I'll just have one of your bottles, please." That works just as well.
And that's exactly what happened.
I didn't stick around the joint with brewer/owner Geoff Mattheis. My sons were in the car, rather exhausted and hungry, so making them stand around a "beer place" (their words) would have been awful parenting. I'm not an awful parent. Geoff understood, sold me my bottle and I was back in the car within a minute or two.
Geoff also understands that I've implemented a new (very loose) policy: I let new breweries get up to speed before I descend upon them and start reviewing their beer. On the one hand, I think it's perfectly fair to judge a new place on their opening weekend. On the other… nah, it really isn't. So now I wait a while.
But hey, if a brewery is putting out bottles and charging a dollar per 3 ounces, that dang beer is CTMQreviewable. So here we are. What the hell is Tie Dyed Thai Mai Tai? I had absolutely no idea when I bought it. I can't really front on the name. After all, everyone knows I'm a fan of word play, anagrams, homonyms, and all sorts of stuff like that.
Tidal River Brewing Says:
Wheat beer brewed with Bird's Eye chilis, lemongrass, Kafir lime, Thai basil, and ginger.
Haha, just kidding. What a kooky mess of a beer that would be. But hey, don't feel bad that you believed me; these days, beer can be anything.
Anyway, let's look at the bottle to see what's really in this beer: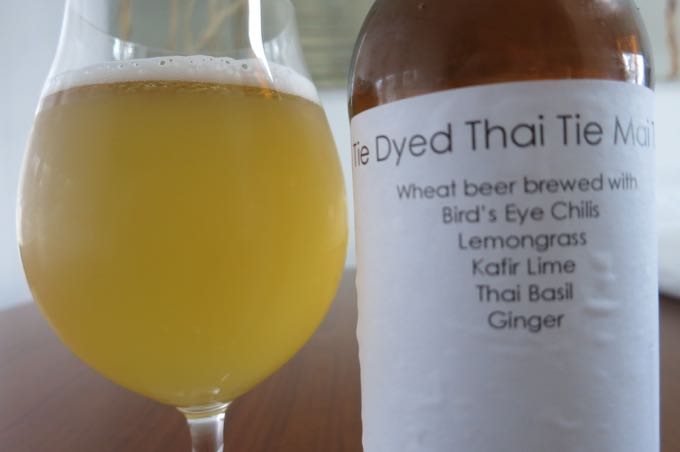 Whoa. For serious? On the realz? I must admit… I wuz scurred.
But that's why I do what I do. I approached this beer honestly and with an open mind and palate, as I do for every single beer I ever review.
As should you.
And here we are… despite the slightly goofy name and in spite of the insane ingredient list… this is a good beer.
For serious. On the realz.
I've seen Geoff, Mr. Tidal River, refer to himself as a "mad scientist" online. I can't pretend that I'm excited for all of his experiments (toasted marshmallows? Won't their sugar content screw up the fermentation?) But I'm happy that he is in a situation with his little brewery to try these things.
As for the Tie Dyed Thai Mai Tai, he nailed it. I imagine this beer is exactly what he was going for, and I applaud him for using a wheat ale as the base beer. That wheaty zing provides a nice stepping off point for the cacophony of southeast Asian soup flavorings he used.
And the best part? NONE of the wacky ingredients were overdone. Not one. The citrusy pop from the lemongrass and limes was there. The ginger was there. I didn't get much basil, but that's fine. And the heat was the best part – it was relegated to the background, but as the beer warmed and as I drank more of it, it announced its presence subtly and pleasantly.
This is decidedly not a beer to continue making once scaled up, should that day ever come. Just too much, too many expensive ingredients, and too hard to control.
I don't recommend new breweries sell me a cracked-out beer as my very first offering. It's a huge risk. Remember, I'm kind of a jerk, so if you give me so crazy mélange of herbs and vegetables in a beer, you better damn well know what you're doing.
And luckily for Geoff and Tidal River, they did.
Overall Rating: B+
Rating vs. Similar style: n/a
Tidal River Brewing Company
Back to CTMQ's Reviews of Tidal River beers
Back to CTMQ's Connecticut Beer Page
Back to CT Breweries page