Half Full Toasted Amber
Single Can, ~$2? 5.6% ABV
Purchased at Harvest Fine Wine, West Hartford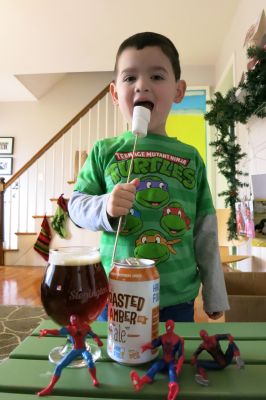 At least this is a fun picture, right? Calvin got a giant sugar cube on a stick and I let him pick the props. Granted, I didn't toast the marshmallow because he prefers them straight out of the bag. He's a purist like that.
And then he whined for another one.
And another.
I'm such a good dad, inspiring my son to eat healthy, while posing for a picture celebrating ethanol wearing a shirt promoting crass American commercialism. Huzzah.
What? You think I'm looking at the glass half empty? That I'm being too cynical about a silly picture of a little boy enjoying life? Sigh.
Okay, I'll turn it around and make that glass half full – I'm such a good dad, teaching my son that unhealthy snacks are only to be enjoyed rarely and on a stick, while posing for a picture promoting a burgeoning local industry wearing a shirt promoting herpetology and the study of what happens when environmental destruction renders our fragile reptiles sterile mutants.
Hey, I tried.
Half Full says:
The Toasted Amber is an unfiltered, medium-bodied beer with chocolate notes, strong malt presence, and a toasted finish. This is by far and away our "maltiest" beer to date.
That's cool. I mean, there are no "chocolate notes" whatsoever, but it sounds good. Let's check their website for more:
Toast your moment. … for you're a dreamer and a doer who entertained a bright idea, pursued it with passion, and made it happen. Moments big or small, we get you… Build what you believe in, push others to do the same… Then celebrate and do it all over again. Half Full Toasted Amber, the perfect inspirational pairing for whenever it's time to… Toast your moment.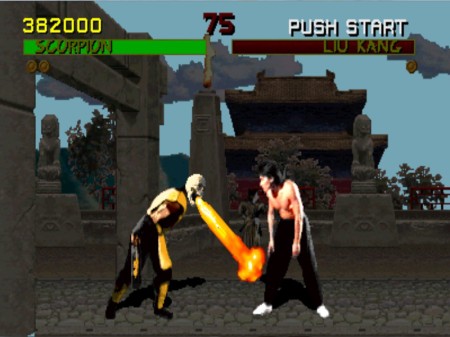 Wow. These guys really put effort into their descriptions. But I'm happy they "get me" at least – like how I write these overlong "reviews" of Connecticut beers just as they write pithy overlong descriptions of their beers.
From what I read and hear, Half Full is doing well. Well enough to fund a large expansion of their Stamford brewery – and that's awesome. They focus on a few beers and take it relatively slow and I like that too. I like their gumption and I love that they have a female brewer and they seem like really cool people.
But I just can't get excited about any of the beer I've had from them. At all. And that's a shame.
This toasted amber was just… a beer. A boring beer. It had zero aroma and a sort of weird tinny taste. It was weak sauce; straight up. The best part of this beer was that I bought it at a store that sells singles.
Yeah, it had a bit of a malty profile, but it was overcome by that metallic twinge that did it no favors.
Oh well, my son got a marshmallow – or three – out of it.
Overall Rating: C
Rating vs. Similar style: C-
Half Full Brewery
Back to CTMQ's Reviews of Half Full's beers
Back to CTMQ's Connecticut Beer Page
Back to CT Breweries page