Back East Tony Goes Dancing DIPA
Six-pack, $11.99, 8% ABV
Purchased at the brewery, Bloomfield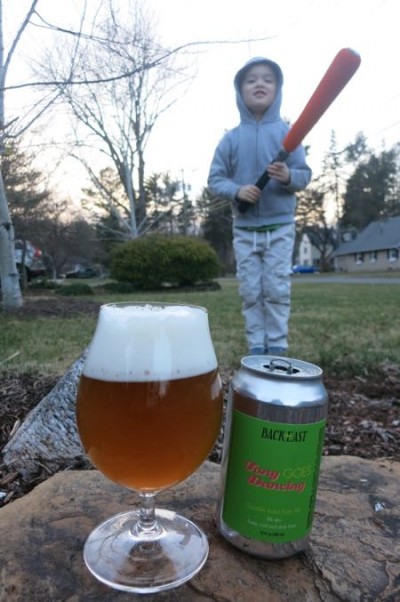 Okay y'all. I'm on the last of my string of Back East reviews. When I began the run, I wrote somewhere, "I'm going to review of bunch of really good beers from a brewery for a "secret" reason. There will be clues as to why at in each post." You could call it, "Steve Goes Dancing" around the point.
Those "clues," such as they were, were:
Wakatu Pale Ale: "As The Riddler would say at a time like this, "Farvel og lykke". You figure it out. That phrase in Norwegian translates to "Goodbye and good luck."
Spring Ale (2016): Regarding changing the Spring Ale recipe in 2017, I wrote, "(Please don't. No matter what. Really, no matter what changes may happen between now and then.) In other words, "even if the guy who brewed this isn't there next year."
BOMO Pilsner: "Do other countries play this portmanteau acronym game? Like, for totally random example pulled out of hat for no reason at all I swear, do people in Oslo, Norway call it, OsNo? Hm. Another Norway reference.
The Two Berliners: [After writing a bit about the proximity of Norway to Germany, I wrote] "Does that surprise you? Because the next time I mention Oslo, Norway, I don't want you to be too surprised. Even though you may be." And another one. Which leads up to "the surprise." Or potential for one anyway.
And here we are. No more Dancing around the subject… And not that he ever did, but no more Tony Going Dancing around it either. Stephen Andrews, the new brewer Back East hired back in the fall of 2015 is moving back to Oslo, Norway in a few days (May 2016). He brewed his last batch of beer for Back East last week (late April 2016).
Bummer, I know. Super bummer. Stephen came with a definite identity and plan. He brewed several wheat based ales that were fantastic. He made up the term IWA (India Wheat Ale) for the Rakautra and while I just made up that he made that up, I don't care. Rakautra makes me not care about anything, as I love that beer so much. (You can skim that "review" for my real-fake interview with Mr. Andrews. The interview isn't real, but the information therein most certainly is.)
Stephen came from a brewery in Norway (he's from the Bloomfield, CT area), and Norway came calling again with a great opportunity – one he couldn't refuse. He's young and talented… and I'm pretty sure he's poised to become a huge success over there. I wish him the best of luck and thank him for the 6 months or so of brewing he did at Back East.
(And technically, if Back East is named for the owners moving "back east" from California to start the brewery, Stephen is doing the same thing, right? Right.)
I write this page as a friend of Back East. I fully recognize that he and his brewery want to control the message. Stephen's beers brought a heap of new attention on the brewery, and it is in the brewery's best interest to keep that momentum going. My intent is not to diminish any of that, so please, PLEASE know that Back East will continue to brew Stephen's beers, and to use some of what he may have taught the others there with success.
Time will tell, but I'm pretty confident it will work out.
Back East Says:
Tony Goes Dancing is an American Double IPA brewed with 3 varieties of American and New Zealand hops. Hazy and soft on the palate, this beer boasts stonefruit and peach aromas with a dank and juicy hop flavor.
This beer will go through "batches." In other words, the first round of it was different than the second. The third will most likely contain a different hop bill. I guess this is the whole "Goes Dancing" thing. As in, Tony keep dancing ("hopping" get it?) around with the recipe. I'm fine with that, and you should be too. Especially if it's always as good as the first two iterations were.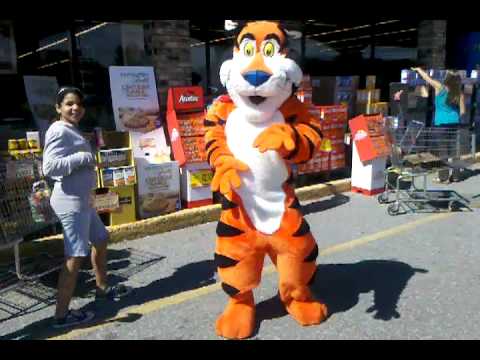 The second batch:
This dance is a little different than the last. Large quantities of Vic Secret (an Australian hop) were used, giving this batch dank stonefruit and peach flavors and aromas. Just as Tony never does the same dance twice, this beer will never be the same twice.
Yeah, I'm confused by the recurrence of "peach and stonefruit," but whatever. TGD is an excellent double IPA. I'm just so tired of the latest trend in DIPA's, with their opacity and solid matter and lazy overuse of hops, hops, and more hops. It's become absurd. Back East didn't go that route here, and have made a delicious, well-balanced, DIPA that you can actually enjoy. You can even enjoy more than one without rotting out your palate.
Imagine that! Truly a trailblazing idea.
And so, we bid adieu to Stephen Andrews and thank him mightily for treating us to his talents over the first few months of 2016. The Berliners, the Rakautra, the Spring Ale, the Tony Goes Dancing, the BOMO Pilsner… and probably some tweaks to the Intergalactic Lupinary and Shad Ale to boot. I'm too lazy to ask. (Oh, and he barreled something that will be available later this year I'd assume. The dude has a barreling pedigree from Brooklyn Brewery and Norway… and I think he did that Chardonnay barreled saison for Hooker a few years ago. That beer was dope.)
Another brewer at Back East, Matt, is clearly skilled (Wakatu, Summer Ale, etc.) and Tony knows what he's doing as well (chose the hop bill for the Dancing and has had a hand in plenty of other successful beers), AND they are hiring a new head brewer. I think.
Look, the tiny little network of people who care about this stuff was over the moon for "the new" Back East. On a wider scale, probably 90-95% of their customer base had no clue anything was different recently. Back East doesn't really market to the insider club. Don't be offended, just do the math. You matter, but not that much. Sorry to break your boozy hearts.
Let's celebrate Stephen's success and future in Norway. I know I'll be paying attention and will try to get my hands on whatever stuff I can from across the pond. And while we're at it, keep patronizing Back East. It's not like they've died or anything. Hey, Back East – can you retain some of the cool, clean, stickered label aesthetic that came with Stephen? I really dig that.
By the way, I fully realize that it's weird that I've spent so much time and effort on this whole "new brewer/now gone brewer" thing. Other Connecticut breweries have changed brewers in the last year or so. But the Back East story arc has been quite interesting to me. That first batch of Rakautra just rewrote what Back East was to many people, and it only went forward from there.
And like I said, let's assume it will continue moving forward.
Overall Rating: A-
Rating vs. Similar style: A
Back East Brewing
Back to CTMQ's Reviews of Back East's beers
Back to CTMQ's Connecticut Beer Page
Back to CT Breweries page