Connecticut's Observation Towers
I love this list. It's one of the later entries to my various "Curiosities" section and one that I wasn't sure warranted its own subsection for far too long. Once I got going with it, though, a funny thing happened: I realized there are plenty of towers around our small state. So here you are.
No one, to my knowledge*, has compiled a list of the various observation towers (and observation tower-like-things that offer the full 360° view) in the Constitution State. Other states have such lists; in fact, other states of "fire tower lists" and whatnot where folks who climb them all get a patch or something.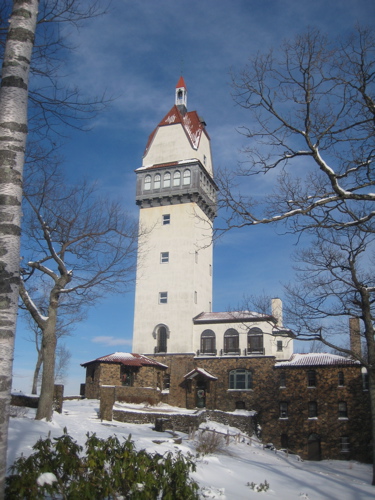 *My knowledge was lacking, as I now (2013) know of two or three others who have created similar lists. And I darn well know one of those three had not only a more comprehensive list, but had actually visited them all. He's what we call a tower obsessive. And this is what I love most about writing this website – meeting people who make me feel better about my predilections.
Regardless, I hereby institute the CTMQ 360° (or at least 180°) View List! I also hereby proclaim that if anyone reads this page and visits (or has visited) any of these towers and wants their picture posted here, I'll do it. A Wall of Fame of sorts. Also, if you have one to add to my list, please let me know. It must be a manmade structure.
Working with my tower-obsessed friends, Dave and Ben, we're coming up with an unofficial official CT Tower list. Dave has even suggested we come up with something to give completers. A certificate I can do. Beyond that? I'll worry about that later.
So two big, towering hat tips go to CTMQ readers Ben and Dave for expanding my list and helping me out with this page. Big props. Someday the three of us should meet up on a tower somewhere.
Here is Dave's hyper-extensive list of CT towers. You'll note I don't include them all for my own reasons (and he has issue with a couple of mine as well. All in good fun.)
Keep in mind that many of these require planning, reservations, some level of fitness and/or luck to be open when you want them to be open. Very few are open all the time, and many are open maybe once per year. Others require either breaking the law or nudging the edge of it. I do not condone you do either and strongly urge against it. So when you get arrested or hurt, IT WASN'T MY FAULT. Idiot.

Legally Accessible Towers, Lookouts and Observation Decks
Castle Craig, Meriden
Groton/Fort Griswold Monument, Groton
DEEP Western HQ Windmill, Harwinton
Haystack Mountain, Norfolk
Heublein Tower, Simsbury
Mashuntucket Pequot Museum Tower, Ledyard
Mount Tom Tower, Litchfield
Orenaug Park Fire Tower, Woodbury
Sessions Woods Observation Tower, Burlington
Sleeping Giant Lookout, Hamden
Soapstone Mountain Lookout, Somers
Soldiers' and Sailors' Memorial Arch, Hartford
Soldiers' Monument and Memorial Park, Winsted
SoNo Switchtower Museum Tower, Norwalk
Southford Falls State Park Observation Tower, Oxford
Stonington Harbor/Old Lighthouse Museum , Stonington
Tower on Fox Hill, Rockville/Vernon
Apple Hill Observation Platform, Litchfield
Bear Mountain giant rockpile, Salisbury
East Rock Park Soldiers and Sailors Monument, New Haven
Faulkner's Island Lighthouse, Guilford
Harkness Memorial Tower, New Haven (Yale)
Lake Compounce Ferris Wheel, Bristol
Lighthouse at Lighthouse Point Park, New Haven
Meriden Traffic Control Tower, Meriden
New London Harbor Light, New London
New London Ledge Lighthouse, LIS
Shell Island Tower, Greenwich
State Capitol Dome, Hartford
Sheffield Island Lighthouse, Norwalk
Traveler's Tower, Hartford

Legal to Visit, But Most Likely Unclimbable
Camp Columbia Tower, Morris
Dennis Hill State Park Pavilion, Norfolk
Air Tower at West Rock State Park, New Haven
Boothe Memorial Park Clock Tower, Stratford
Canaan Mountain Fire Tower, Canaan (Great Mountain Forest)
Cunningham Tower, Cornwall (Mohawk Forest)
Foster Clock Tower (ECSU), Windham
Keney Memorial Clock Tower, Hartford
Milford Memorial Bridge Tower, Milford
Mohawk Mountain Sat-Com Array Towers, Cornwall
Quinnipiac University Clock Tower, Hamden
Ratlum Mountain Fire Tower, Canton
Sharon Memorial Clock Tower, Sharon
Sterling Opera House Tower, Sterling
Stone Lighthouse, Huntington State Park, Redding
Waterbury Rep-Am Clocktower, Waterbury

Definitely Unclimbable and Probably Illegal to Approach But I Want To
Devil's Tower, North Haven
Otis Elevator Test Tower, Bristol
Saltonstall Equalization Tower, East Haven
Secret private tower, Burlington