Olde Burnside Brewing Tropic Thunder imperial Saison
32 oz growlette, $?, 9.2% ABV
Procured at the Brewery, East Hartford
July 2014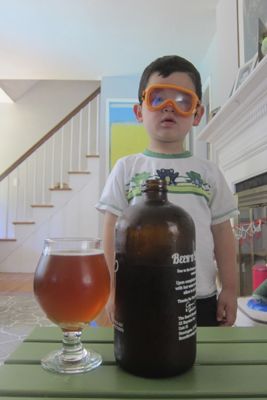 Yeah, I know, I have drastically slowed down reviewing the beers you very most likely never drank and never will have to chance to drink in the future. After all, what's the point? It allows me to spew my nonsense on yet another page, sure. It allows me to talk about one of our state's old school breweries and alert you to some excellent limited-run options at their home base in East Hartford.
Those are good reasons, but nah. LOOK AT THIS PICTURE. There was no way in the world I could let that picture disappear into my archives. Sure, when my son is 13, he'll find this page and tell me he hates me, but it's so, so worth it. So Calvin, buddy, this one's for you.
Dear Pubescent Calvin,
You know I love you very much. You are the light of my and your mother's lives. You are hilarious and creative and kind and smart. And when you were 3, you were a total doofus. And the best part, son? You were relatively self-aware of your doofiness. Because you are so smart. And I loved that about you.
When you were a little kid, I liked to have you stand in my pictures of Connecticut beers. You gave the pictures flavor, humor, and often provided me a chance at a whimsical side story – rather than writing 900 words on yet another beer. And I heartily thank you for that. You probably don't remember, but I actually used to bribe you to pose in some of these pictures. You wanted to watch Batman? Cool, just stand here and do this for a few seconds. Do a puzzle with me? Rad, just put this on for a minute.
It was a good system.
However, many times you wanted to be in these pictures. This page's shots are one such case. You went through a period in the summer of 2014 where you wore these goggles all the time. No one knows why. Possibly because you got attention for them, or you enjoyed making your mama laugh. Whatever the reason, aren't you happy that I was able to capture that moment in time in these pictures?
You're still too young to enjoy a beer, 2024 Calvin, but if you could, this "imperial saison" from our friends at Olde Burnside would be a fantastic one to introduce you to the world of unique craft beer. I can't imagine what I'm drinking now, in the future, but I hope Olde Burnside is still around for me to enjoy.
Love,
Papa
PS. Here's another picture for me to show that cutie you like when you don't do your chores:
Olde Burnside Says:
I can't seem to find any description of this one-time (?) beer. Sorry.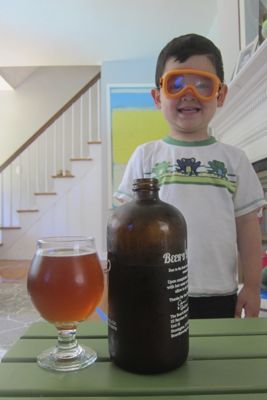 In 2014, OB built a "Brewtanical Garden" behind their brewery/icehouse on Tolland Street in East Hartford. It's a lovely oasis smackdab in the middle of… well, of old rundown in East Hartford. I'm not going to front, though, as there are thousands of breweries in rather neglected areas around the country. The sampling/drinking space itself is very nice.
This coincided with OB's branching out from their stellar stalwart standbys. Sure, they noticed the craft beer world moving into highly hopped DIPA's and wacky herbaceous additions and yes, saisons. So they brought on a new brewer or two and got to work.
Quietly.
Too quietly. For you see, The OG's at OB don't (currently) bottle or can any of these brewery one-offs. And I've only seen their new DIPA, Mons Meg, on local taps. And that's fine, especially for me, since I don't live too far away from East Hartford.
And especially especial is that these beers have all been pretty darn great. I loved the Tropic Thunder – it was like a super saison without all that barnyard funk. It was spicy and a little tart and quite refreshing for a 9.2% beer. Saisons are certainly not in Olde Burnsides' wheelhouse, but I appreciate they went outside their comfort zone and put together a pretty tasty, somewhat odd, beer.
Since you won't get to have this beer (most likely),the point here is to get your butt to the brewery on some Saturday to try some stuff – some really good stuff – you had no idea existed.
Overall Rating: B
Rating vs. Similar style: n/a
Olde Burnside Brewing Company
Back to CTMQ's Reviews of Olde Burnside beers
Back to CTMQ's Connecticut Beer Page
Back to CT Breweries page