Two Roads Kriek
Some Odd bottle format, $?, 5.2%
Purchased by someone at the brewery, Stratford
December 2014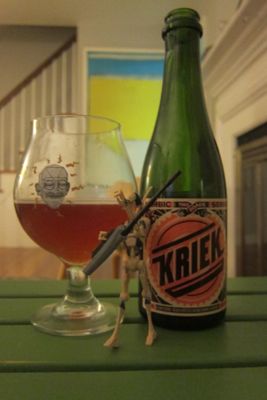 Remember that time when the CT beer scene was skeptical about Two Roads' higher-end portfolio? I do. Probably because I was part of that ignorant scene.
For me, the roll-out of the first batch of the Igor's Dream sort of turned me off. Here was a new brewery charging a premium for an imperial stout no one had ever had. Lines formed, the bottles sold out, and the brewery surely laughed at my opinion.
After wiping the egg off of my face and learning more about head brewer Phil Markowski's background, I was effectively shut up. Especially when they released this kriek along with a fantastic gueuze at the same time.
In the years since, I can't really think of any other krieks or gueuzes coming out of Connecticut. Hats off to Two Roads.
Of course, there are still some Belgian purists who take issue with the brewery calling this beer a kriek. (Meanwhile, I'm the guy who "posed" the bottle with some droid soldier from some Star Wars movie because the figure looks like it "creaks" when it walks.)
A kriek is a lambic. And therein lies the "issue." Such as it is. True lambics are from Belgium, as they are fermented through exposure to wild yeasts and bacteria native to the Zenne Valley. Two Roads is many thousands of miles away from the Zenne Valley.
Two Roads has a whole series they deem lambics. And now they have one they've called "Jambic," which I'm sure will fire up the purists some more. (I like that.)
Two Roads says:
Our version of this age-old beer style is made using sour cherries- an homage to the famous schaarbeekse krieken variety grown in Belgium. We blended the base beer with these cherries into oak barrels and aged it for 18 months until we achieved the right balance of sourness and cherry-like tartness. After all, you can't rush a great beer style that is centuries old!
But… "authentic" krieks begin longer than 18-months prior. Look, I don't care about this beyond learning about it. Just like I don't care about the "champagne," "tequila," "kobe beef" nomenclature lawyers and rich people argue about. If a beer is made more or less the same way as Belgian krieks and tastes good, that's good enough for me.
And this beer tasted good. Interestingly, Two Roads hung on to a bunch of this stuff and let it sit for a couple years. In 2017, the "2015 Kriek" was poured at none other than the Shelton Brothers fest in Atlanta – one of the best brewfests in the country.
I only mention this because I found it rather amazing that none other than Phil Markowski himself was pouring. Maybe that's to be expected at an event at the level of Shelton Brothers… I don't know.
In summation: The Two Roads Kriek is very good, but was also fairly undeveloped. Not enough cherry for me, but pretty close on the "funk" and the sour. I hope they've redone it and it's sitting patiently for a 2019 release or something.
Overall Rating: A-
Rating vs. Similar style: B+
Two Roads Brewing Company
CTMQ's Reviews of Two Roads beers
CTMQ's Connecticut Beer Page
CTMQ's CT Breweries page