Unorthodox Imperial Russian Stout
1 bomber $8.49++, 9.2% ABV
Purchased at Maximum Beverage, West Hartford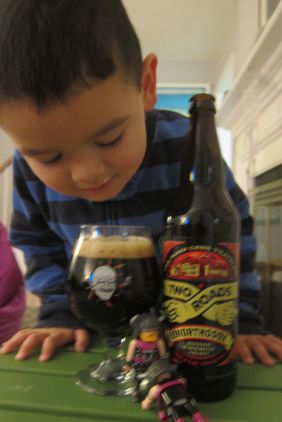 Two Roads is huge. Connecticut-huge anyway. We all already know this, but for those of you who haven't been there or don't really appreciate how huge Two Roads is, this beer may clue you in a bit.
However, I must admit, I'm feeling pretty lazy today and don't feel like delving deep into the research on this beer. So you're going to get its story from my fading memories and some scant evidence on those useless beer rating sites.
So, be forewarned – the details you're about to read may be totally wrong.
But first! Or should I say… Butt first! Since it's blurry, I feel the need to explain the picture here. Calvin is observing two handsome young Viking bucks engaged in some "unorthodox" activity. That was to be the theme of this page, but nah.
The Unorthodox has been in production for a few years. (This is true.) It has always been produced at the Stratford brewery. (This is true.) It was not available in America for a good year or so, as it was made for the Two Roads European market. (Yup, this is true too.)
Who knew Two Roads had a European market? Well, they do. I have no idea what beers they're sending over there, but here's where Two Roads separates themselves from the other local breweries: They already made the Igor's Dream RIS for domestic audiences. But they had/have the capacity and wherewithal and distribution tentacles to make a different RIS for the European palate.
Two Roads says:
Two Roads own brewing czar, Phil Markowski, has taken a traditional Russian Imperial Stout and added a touch of "Amerika" to create a version that's sure to please!
This most unorthodox Russian Imperial Stout is brewed with malted rye and aggressively hopped with four different Pacific Northwest varieties to create a depth of character that's unmistakable.
Full-bodied with notes of rye, treacle, chocolate and espresso that join together to create a crescendo of flavor. You'll want to do an unabashed Kalinka after just one taste!
As I understand it, Unorthodox is intentionally more roasty, more ashy, and more bitter than what they'd make for the American palate. I can confirm that this is true. The Unorthodox does not have any of that sweetness we've come to expect from our RIS's. It is bitter. Bitter stouts work in Europe. Do they work in America?
Yeah, I guess. This beer is super roasty and has that bitterness that you get from strong coffee rather than that sweetness you get from coffee. Think a cup of black Starbucks vs. a cup of black Dunkin Donuts. Make sense?
Note that Two Roads says "espresso" rather than coffee. That's accurate. Europeans drink much more bitter beer (and coffee) than many Americans. I'd imagine that the portfolio of New England DIPA's loaded with Citra and Nelson would be utterly gross to many Europeans. They don't want their beer to taste like breakfast juice.
I liked the beer well enough, but it just didn't really have the depth I like to see from Russian Imperial Stouts. All the intended flavors are here, but they are all sort of muted – and also drummed out by the bitter espresso and "unorthodox" hop notes.
At the same time, how cool is it that a Connecticut brewery can make a "European" style beer – for the European market?! I'm not sure what prompted the Stratford crew to bring this stateside, but I'm glad they did. It offers up an interesting discussion, at the least, as to the differences in the stout palates.
Now I'm confused though. This isn't an "unorthodox" stout at all to the European market it was created for. It's totally orthodox. It may be unorthodox to us Yanks. So this was originally a weird name for this beer. Right? I don't know.
Oh, and that kalinka from their description is just a Russian song type from back in the day.
Overall Rating: B
Rating vs. Similar style: B-
Two Roads Brewing Company
Back to CTMQ's Reviews of Two Roads beers
Back to CTMQ's Connecticut Beer Page
Back to CT Breweries page