Lasting Brass's War Poet NEIPA
1 glass, $?, 6.5% ABV
Purchased at J. Timothy's, Plainville
November 2017
Lasting Brass is so damn good. This beer is so damn good. There are just lots of good things to talk about with regards to this beer and this picture.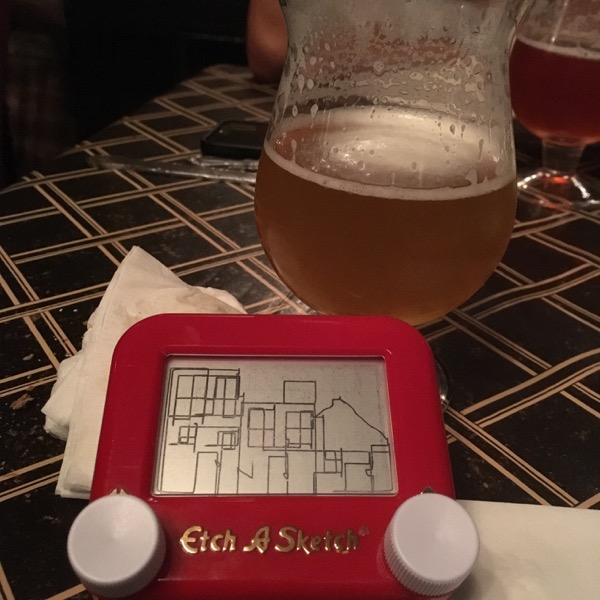 First, I enjoyed this at J. Timothy's. J Tim's is always good. I've said this before, but I don't know of any other restaurants that do as many covers per night as J Tim's. Cripes, it doesn't matter when you go… the parking lot is always full. For good reason – that place rules.
Second, look at that Etch-A-Sketch artwork. My son did that in a few minutes. He's 6. My wife, who has an architecture degree, pored over this design and stifled vocalizing her dream for him to follow in her footsteps but did ask him if this was an attempt at brutalism, mid-century minimalism, or perhaps a new school of design theory.
Calvin merely stared at her and drank some more lemonade.
Third, I'd like to reiterate the point that Lasting Brass makes some of the best beer in the state. Period. If they were larger and had a more wide-ranging footprint, they'd be in the tippy top tier of CT breweries. And by tippy top I mean top 4 or 5.
Fourth, when I was looking at Untappd for the ABV information, I noticed that the War Poet inspired someone to create some fantastic art of his own. Allow me to debut the fine art AND poetry stylings of my man Shaun Hartery.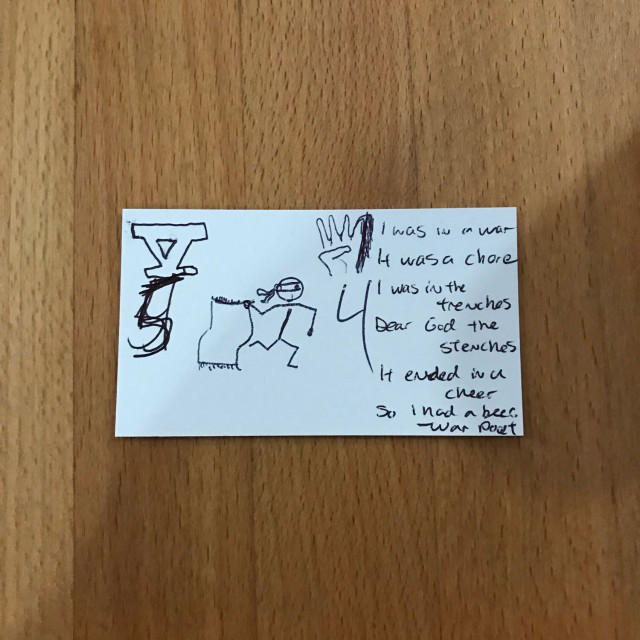 Incredible work, Shaun. Welcome back to Connecticut. We've missed you.
And finally, now would be a good time to mention that the CT beer scene is in a good spot. We currently have 56 breweries. If you told me just a few years ago that we'd reach a point where visiting them all would become nearly impossible for me, I'd have called you crazy. But here we are.
And the cream is rising to the top. I was chatting with a knowledgeable friend the other day and we both did something we are loathe to do – list our top 5 breweries in the state. Amazingly, our top 4 matched perfectly, and we both agreed that after those 4, it was tough to choose from a handful. But even that handful of 5-8 or so were the same!
I found that pretty crazy.
Not crazy: that the War Poet is as good as any other similar NE/IPA you can find… anywhere. I've been a Lasting Brass fanboy for years – well before Ed opened up professionally – so I'm not surprised.
It's "good" that he's kept to his values and continues to brew some of the best damn beer in the state.
Overall Rating: A+
Rating vs. Similar style: A+
Lasting Brass Brewing Company
CTMQ's Reviews of Lasting Brass beers
CTMQ's Connecticut Beer Page
CTMQ's CT Breweries page