Powder Hollow Brewery West Coast IPA
1 pint, $6?, 7.5% ABV
Purchased at Bobby V's, Windsor Locks
Update: I'm leaving this whole preamble intact, because it's still relevant. But in 2016, Powder Hollow started canning this beer for some crazy reason. So I bought one and have an update at the bottom.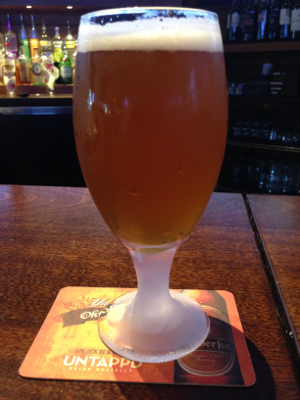 Here's the thing. Do I review beers mere days after a brewery opens? Is that fair?
I don't really have an answer to that. On the one hand, why not? You spent a year building the place, brewing beer, dialing it in, getting licensed – and you're serving a product. Why shouldn't it be "reviewable"? Are we supposed to give a place a pass because they're new?
It is common practice for professional outlets to delay restaurant reviews for at least a few months. But restaurant reviews are affected by multiple staff, right? Hosts, servers, sommeliers, sous chefs, head chefs, etc. And meals consist of multiple elements. Giving a new restaurant some time seems honest and fair.
But a brewery? I'm "reviewing" (I use that word VERY loosely) beer. Not really anything else. Beer that has been sitting in tanks for a while, often. It's not "new," so to speak. One hopes the brewer is pouring what he considers his best efforts, right out of the gate.
But… something still feels icky to me about running through a flight of a brand new brewery's beers and telling you how weak they are. Or, conversely, how great they are and then the brewery turns out to be terrible down the road with all sorts of QC and cleanliness issues.
Either scenario kind of sucks.
Thus ends my preamble to my first Powder Hollow review. I did, in fact, stop in during their second week of operation and ran through a flight. It was… okay. It was, let's say, a homebrewer scaled up and charging money. (This, of course is what most new breweries are, but Powder Hollow tasted like that. Young beers, extract-tasting beers, boring beers – and way too many beers.
Seriously, there was like 10 beers on tap a week into the operation. That just seems kind of insane to me. (But, of course, if they were delicious I'd be talking about how incredible Powder Hollow is. Alas, they weren't.)
So I waited half a year and had their most-distributed beer: the West Coast IPA.
Powder Hollow Says:
Golden in color, light aroma, easy drinking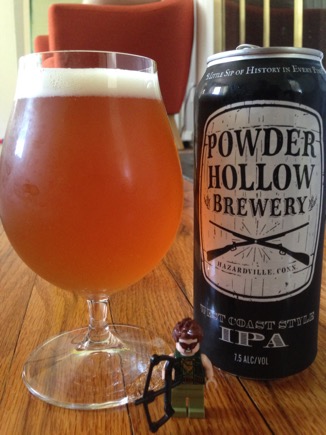 What the hell does that mean? I pulled this from untappd (where descriptions aren't necessarily controlled by breweries, but they haven't changed this useless blurb yet, even after the cans were distributed) as it was the only place I was able to find something, anything describing this beer. Unfortunately, it is a terrible description. It is brown/orangey in color, smells strongly of citrusy hops, and at 7.5%, certainly has a bit (but it actually is pretty easy going down.)
But maybe Powder Hollow knew exactly what they were doing here. A perusal down the untappd page shows an incredible diversity of reaction to this beer. Perhaps posting a vanilla description has allowed them to futz about with the recipe?
Seriously, I don't think I've ever seen such a variation on untappd in taste and aroma. In February 2016, we saw:
No citrus. Too much citrus.
Wonderful. Awful.
Resinous and bitter. Thin and way too sweet.
Soapy! Clean!
On and on. (My favorite: "Tastes like two guys from the west coast bathed in it.)
And that, my friends, is why "reviewing" new beers from new breweries is difficult. Oftentimes, these "little guys" have all sorts of variation in their beers. Should they? With no name/description change, I say absolutely not. Do they? Yes.
My first experience with the West Coast IPA during opening week was rather abysmal. It was a terrible beer. My experience with it many months later at Bobby V's was much more positive. It surprised the hell out of me – in that it was pretty good. The citrus notes were there and I got none of the negative notes others on untapped have mentioned.
Of course, I always thought a "west coast IPA" should be piney and resinous in favor of the New England orangey citrus bombs. But this beer is going for more of the latter, so what makes it "west coast?"
I have no idea.
And I have no idea what you'll get if and when you have this very "same" beer. I hope it's good.
Can Update: Yeah… no. I was surprised to learn these guys were canning and distributing. So I gave it a shot and bought a can. We've gone full circle here, as the canned version (April 2016) was awful again. Bitter, metallic, amateur-hour stuff. This seems to be a fairly common feeling.
And, just to reitterate the point because I'm very mean: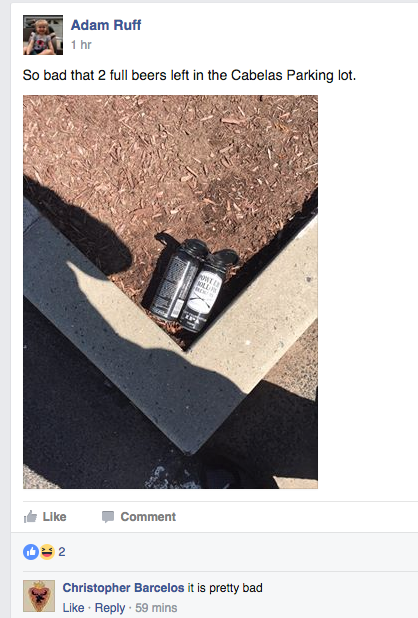 Overall Rating: D, then B at Bobby V's, then D in a can
Rating vs. Similar style: Variable
Powder Hollow Brewery
Back to CTMQ's Reviews of Powder Hollow Brewery's beers
Back to CTMQ's Connecticut Beer Page
Back to CT Breweries page