File this page under "I have no idea what I ever decided to document something so inane." So here you go; my incredibly uneducated commentary about a couple Westford Hill purchases.
Purchased at Parkview Wine & Spirits, West Hartford
200 ml Westford Hill Framboise: $26.99
I'll save you the math – this bottle of Framboise is $4 per ounce of the stuff. So before you make an eau-de-vie purchase, I suggest you find out if you like it or not. It's also 40% alcohol, so be prepared for that.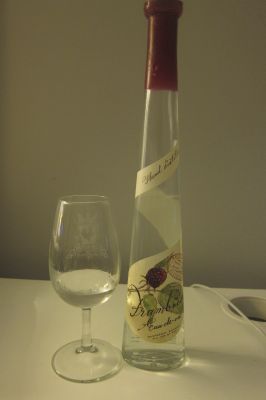 Unlike me. Or at least 2013 me.
Eau-de vie means "water of life." It is neither wine nor liqueur. It is fruit brandy, the clear, distilled natural essence of fresh fruit, captured in a bottle and unleashed in a single sip. Serve slightly chilled or at room temperature. Savor between courses, with dessert or after dinner. Try it in a martini or with your favorite mixer.
Since I bought and drank this, I've come to learn (and appreciate) eaux-de-vie much more than I did back then. Westford Hill makes very high-end spirits; pretty much as good as you can get. Not just in Connecticut, but in the world.
For me, the Framboise was intense. The raspberry flavor is definitely there, but so is the alcohol. I drank some over ice and declared it to be too much for me and gave the rest to my friend Emily at Get Baked bakery in Windsor to use in some muffins or something.
Of course, if you're into this type of drink, you can't do better than Westford Hill's Framboise.

Purchased at Parkview Wine & Spirits, West Hartford
200 ml Subarashii Kudamono Asian Pear: $34.99
"Taste something clearly different"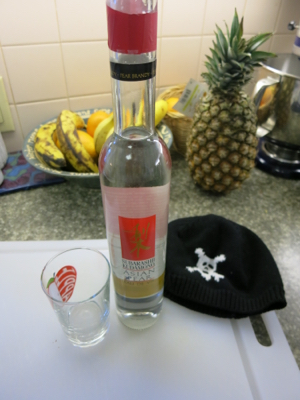 I don't think they distill this anymore, which is a shame because it's unique and cool. And let's not gloss over the fact that it was $5.18 per ounce (!) I'm not sure anything else made and sold in Connecticut is this pricey.
But I love, love Asian pears. So I was excited to drink the essence of them in this eau-de-vie. It didn't disappoint.
Steeped in honey-like tones and rich with nectar fragrances, our Asian Pear Eau-de-Vie creates a magical encounter as an after dinner refreshment. It is unlike any other Eau-de-vie experienced before.

Hand picked from our orchards in the Pennsylvania countryside, our extraordinarily juicy gourmet Asian pears lend themselves well through the exquisite and unique fruit essence of distilled spirits.
These were special pears and like I said, I think the relationship between Westford Hill and Subarashii Kudamono came to an end a few years ago. Who knows, you may still find a bottle of this stuff somewhere.
More on Subarashii Kudamono.
Westford Hill Distillery
Cocktail recipes
Our visit to Westford Hill
CTMQ's CT Spirits Trail Page
CTMQ's Booze Reviews