Kent Falls Brewing When Life Gives You Grapefruit Saison
750mL bottle, 5.2% ABV, $12
Purchased at New Milford Farmer's Market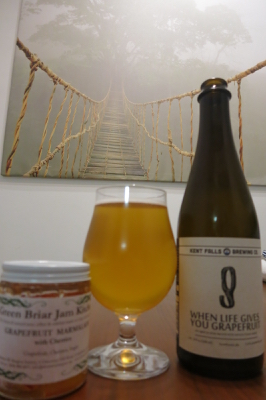 No one will accuse me of being lazy here, even though I'm totally being lazy.
In the curious case of this beer, Kent Falls has kindly written a nice little essay about how it came to be – and it's interesting enough that I think you all should read it. So instead of me blathering on in my usual way, I'm just going to reprint it with some comments of my own. Hell, I'm even going to steal some of their pictures.
When Life Gives You Grapefruit was the first barrel-aged effort by the boys in Kent, and it was also their first New Milford Farmer's MarketZ-only limited release. (One benefit of writing CTMQ is that I've made friends from all over the state, so yeah, I have a New Milford person. And let's be honest, even if I didn't, I'd sure as hell get one somehow for these Kent Falls releases.)
Ok, to the beer and its story…
A 5.4% abv barrel aged farmhouse ale with aged in barrel with locally grown grapefruit juice and zest added. And an incredible story behind the fruit that went into it.
See? I love this! I don't have to write the "incredible story" myself!
I first met Peter Talbot nearly three years ago when searching for architects to help convert our farm's old dairy barn into our farm's new brewery. Peter shared some of his personal and professional work history with us, both of which were very impressive. Eager to get started, the idea of a 100% locally sourced grapefruit farmhouse ale was one to hold onto.
Wait, what? Architects, remediation… locally sourced grapefruit ale? MUST KNOW MORE.
Two years later, with the brewery built and our barrel program underway it was time to reach back out to Peter and learn more about the grapefruit. And the timing was impeccable. Who knew mid-April was grapefruit season in Litchfield County. Peter invited us to his home where the tree resides in his greenhouse to show us around, tell us its history, and pick some 40 grapefruit to incorporate into this beer.
Ah, there we are. I sort of understand now. Back in the summer of '15 I was hanging out at the farm with Barry and Derek and they told me about this guy and his grapefruit tree. I was honestly more excited to learn about this man and his unique tree than in learning about whatever beer stuff they were telling me. If you read other non-beer posts on CTMQ, you know I love these things – and we agreed that I would get a VIP Talbot Greenhouse tour in 2016. I must make that happen.
About 70 years ago while living in New York City, I imagine as he was having breakfast, Peter's father William decided to take a seed from his grapefruit and plant it. Now, if you've ever tried to plant something from seed, you know what this experience can be like. A delicate and uncertain process to say the least. If you've ever tried to grow citrus on a NYC balcony…. well… not even sure what to say but we like your attitude!

In the 1950s, Peter's father purchased an old horse farm in Washington, CT to transform into a family home, art studio, and greenhouse space for his growing grapefruit tree. While showing us around the house, Peter often spoke of "Dad", with a remarkable sense of continuity, preservation and admiration; keeping him a part of what happens on his land today. Not to mention a genuine desire to share their work with others deep enough to make you feel as if you are a part of the family, or a new branch on the grapefruit tree.
Yeah. Okay. I love this story. At this point, if the beer was terrible, I'd still kind of love it. Y'know?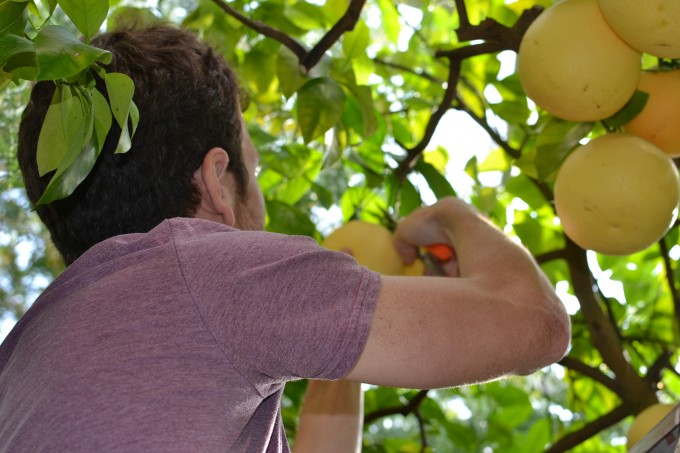 The undeniable living history to the house is inescapable. Peter's childhood bedroom and others, originally a horse stall and converted by his father is available to be rented out for weekend getaways, by those visiting the area. Over time, Peter and his wife have renovated the greenhouse to increase its energy efficiency and ability to produce a variety of citrus fruit. Radiantly heated soil, changing the original glass paneling on the roof, among some of the more intricate details. In the studio, you can see the raw materials his father used to make his sculptures dispersed among finished and unfinished sculptures used to create; them alongside a pottery wheel his son now uses to create his own pieces of art.
Must visit in 2016.
From what Peter has shared with us he often donates a good portion of the fruit from his tree to those in the area to carry on the legacy his parents planted. One particularly delicious example was the Grapefruit Mimosa named after Peter's mother made by the chefs at Community Table, a restaurant for which Peter was lead design.
Wow, I rather enjoy Peter's design style. You know what else I enjoy? I enjoy connecting dots – dots that don't have any business being connected, but here we go. Community Table, one of Connecticut's best restaurants, was founded by Joel Viehland. Chef Viehland worked at NOMA in Copenhagen, regarded as one of the best restaurants in the world for the last several years. Denmark is a wonderful country. It also spawned Evil Twin and Jeppe Jarnit-Bjergsø, who curates the tap list at Tørst in Brooklyn.
Guess which Connecticut brewery enjoys rotational spots at Tørst? Yup, Kent Falls. If you know anything about Tørst , you know how rather incredible this is. Their taps are probably some of the most sought after in the US. Just look. I'd guess you'll see some Hill-Farmstead, Omnipollo… Birrificio… And maybe some Kent Falls.
Which really, is super impressive.
To be welcomed into Peter's (green)house and given the opportunity to incorporate his family's grapefruit into a beer is beyond exciting and something we are very proud of. A desire to grow citrus in the Northwest Connecticut is certainly unique. It may not be something our farm will look to take on; but understanding the difficult decisions and challenges that come along with following a desire to uproot yourself from the city to pursue your passions in a place and manner that allows and encourages them is certainly something we share with Peter and I would like to think his father. And hope comes through in this beer.
Way on the other side of the state, in Danielson, there's a super old lemon tree. It's like 115 years old now. You know I've checked it out, here.
At the end of the day, Peter cut up a freshly picked so we could taste what we would be working with. The first thing we noticed as the beautiful, thick white rind on each fruit. Soft enough to the point it almost melted in your mouth, it adds a wonderful complexity and balance to the distinct white grapefruit and its juice. With only 40 grapefruit, it was certain we would be doing a small batch. The only decision would be which barrels to add the zest and the juice into.
It is at this point I want to say how lucky I am to have been able to enjoy a bottle of this beer.
From the get go our goal was to have the grapefruit character be noticeable but not the only flavor present. Similarly, we did not want a sour beer to overpower it and not have it come through at all. The fruit was added into a barrel containing a non-soured farmhouse ale and allowed to age. Four months later, after sampling at various points over that time we had achieved the flavors we desired.
Have I told you how much I love grapefruit? I've always loved it, going all the way back to being a kid in Lakeland, Florida and have a backyard full of grapefruit trees. I love Ballast Point's Grapefruit Sculpin.
This beer has grapefruit on the nose, funk at the front, and a soft rind finish that we are eager to finally share with you!
Thanks, Barry. You're too kind.
So forget lemons. When Life Gives Your Grapefruits… make beer.
Not just any beer, but really, really good and unique beer. I don't recall what type of wine was in the barrel the base beer was aged in, but I think it's safe to say that it was some sort of white wine. Fortunately, for me and my aversion to oak, I didn't really pick up too much of that in the flavor.
It was lovely. And if you were hoping for some sort of Grapefruit Sculpin or Sam Adams Rebel Grapefruit, you were disappointed. I was looking for a Kent Falls beer, and that's what I got. Tart and funky with a hit of true citrus sour from the grapefruits. This is one of the more challenging beers from the minds of Derrick and Barry.
That is to say, it's not for everyone, as it's slightly winey, farmhouse sour, citrus sour, saison yeasty, warm and slightly weird.
But it's exactly what Kent Falls wanted. And they used some dude's NYC-born prodigious grapefruit tree in Washington, CT that has a story of its own. They treated the fruit with respect, and made the beer respectfully, and a few of us were lucky enough to enjoy it.
Imagine if every beer came with such a cool story?
I do. Then I wouldn't have to make up most of them.
Overall Rating: A
Rating vs. Similar style: n/a
Kent Falls Brewing
Back to CTMQ's Reviews of Kent Falls beers
Back to CTMQ's Connecticut Beer Page
Back to CT Breweries page